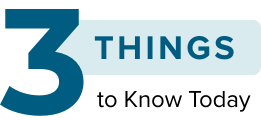 Psilocybin Eases Depression

A dose of psilocybin with psychotherapy eases symptoms of treatment-resistant depression (TRD) in the short-term, new research shows. Some 29% of patients with TRD who received a single 25-mg dose of synthetic psilocybin experienced a significant reduction in depressive symptoms for at least 3 weeks compared with those in a control group who got 10 mg or 1 mg, according to a large randomized double-blind study.
The study, published in The New England Journal of Medicine, was funded by COMPASS Pathways, the company that created the synthetic psilocybin used in the trial.
Therapy involved: Study participants also met with a therapist three times to build trust and prepare for the psychedelic experience.
More research: A phase 3 trial will launch in December.




Canada Advises Health Policy for Climate Change

Canada's medical pros recommended changes to the nation's healthcare system to account for climate change's effects on health, according to a new report. The changes include dealing with the health effects of climate change and extreme weather events, incorporating Indigenous viewpoints, and communicating evidence-based solutions, according to the report by the Canadian Medical Association, the Canadian Nurses Association, and the Canadian Public Health Association. The associations partnered with The Lancet to publish the report.
Already strained: "Climate change is undermining the foundations of human health and health systems," according to the report. "This taxes a health system already strained from COVID-19 and its fallout." The report outlines six targeted recommendations for a health-centered approach to climate change.
The threat: Fossil fuel–related air pollution is implicated in 1 in 5 global deaths. In Canada, extreme climate events included the 2021 British Columbia heat dome that resulted in hundreds of deaths.




Prostate Cancer's Mental Distress

Patients with prostate cancer and healthcare professionals created groups to address the anxiety and mental distress that accompany a diagnosis, which they argue have been largely ignored. In particular, they aim to deal with the so-called "anxious surveillance" that comes with a diagnosis that doesn't require immediate treatment.
About 268,000 men in the US will be diagnosed with prostate cancer this year, up about 10,000 from 2021, and 1 in 8 men will be diagnosed with the disease in their lifetime, according to the American Cancer Society.
Support groups: Rick Davis, a prostate cancer patient, of Tucson, Arizona, created AnCan Foundation, which runs support groups for people with prostate cancer.
Another patient with cancer, Mark Lichty of East Stroudsburg, Pennsylvania, launched Active Surveillance Patients International to help men with low-risk prostate tumors cope with the worry that their condition may evolve from benign to life-threatening.
Overdiagnosis? Prostate-specific antigen tests led to an epidemic of overdiagnosis of prostate cancer in the 1990s, which led to overtreatment that resulted in erectile dysfunction, incontinence, and other problems for many patients, advocates argue.
For more news, follow Medscape on Facebook, Twitter, Instagram, and YouTube
© 2022 WebMD, LLC

Send comments and news tips to news@medscape.net.
Cite this: Psilocybin Eases Depression; Canada Advises Health Policy for Climate Change; and Prostate Cancer's Mental Distress - Medscape - Nov 04, 2022.