An emergency deparment physician and a radiologist face a recent $75 million medical malpractice verdict linked to their care of a 32-year-old patient after he collapsed during a chiropractic neck treatment in 2015.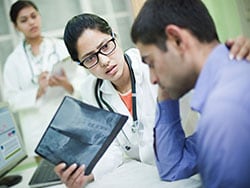 The patient, Jonathan Buckelew, was taken to North Fulton Regional Hospital in Roswell, Georgia, where imaging revealed that he had suffered a brainstem stroke.
The patient's attorney, Laura Shamp, alleged in the legal complaint that a series of miscommunications and negligence by multiple providers delayed the diagnosis and treatment of the stroke until the next day, which led to catastrophic brain damage for the patient, who developed locked-in syndrome. The rare neurologic syndrome causes complete paralysis except for the muscles that control eye movements.
"Mr Buckelew has expended millions of dollars for medical expenses for his care and he will need 24 hour a day care for the rest of his life," his lawyer said in court documents.
Both physicians' attorneys denied the claims and said their clients met the standard of care.
The jury attributed 60% fault to emergency department physician Matthew Womack, MD, and 40% to radiologist James Waldschmidt, MD.
Shamp alleged that Womack failed to inform the consulting neurologist of the chiropractic neck adjustment — a known stroke risk factor — and did not adequately communicate the results from CT angiography and lumbar puncture.
In addition, she said Womack failed to rule out a vertebral artery dissection and that Waldschmidt did not "[appreciate] an indisputable acute or subacute vertebral-basilar artery occlusion."
Further allegations were levied against several other members of the patient's care team, including the neurologist, a critical care physician, a physician assistant, and intensive care unit nurses, but they were not found liable by the jury.
The chiropractor, Michael Axt, DC, was named in the original complaint, but court documents filed earlier this year requested that he be dismissed from the lawsuit, stating that he and the patient had reached an amicable resolution.
"This is a very large verdict," James B. Edwards, JD, a medical malpractice attorney based in Texas who was not involved in the case, told Medscape. The diagnosis of locked-in syndrome likely contributed to the substantial monetary award, he said.
"The more sympathetic the plaintiff and the situation, the greater risk of a verdict [against] the defendants," Edwards said. "Cases that elicit significant and sometimes decisive sympathy include locked-in syndrome, permanent vegetative state, injury to the sexual or reproductive organs, burns, and blindness," he said.
Spinal Manipulation Can Have Near-Fatal Consequences
The effectiveness and safety of chiropractic adjustments often come under fire. Although postmanipulation injuries are not common, they can have near-fatal consequences when they do occur.
This past summer, a healthy 28-year-old college student experienced four artery dissections after a chiropractic visit for low back pain. She subsequently had a stroke and went into cardiac arrest. The patient survived but remains paralyzed.
Buckelew's legal team said in a statement that his injuries would have been completely avoided had "the slew of healthcare providers...acted according to the standard of care, caught and treated his stroke earlier, and communicated more effectively."
On the day of the chiropractic adjustment, Shamp said Axt had documented that Buckelew's primary complaints — neck pain, a headache, and bouts of blurred vision and ringing in the ears — began after exercise and had continued for several days.
In his closing statement, Womack's attorney said the "chiropractor is solely responsible" for the patient's injuries because he performed a manipulation despite the patient having a 2-week history of headaches.
Very few medical malpractice verdicts are appealed, though the sizeable award in this suit may increase the likelihood that the defense will do so, Edwards said.
Steph Weber is a Midwest-based freelance journalist specializing in healthcare and law.
For more news, follow Medscape on Facebook, Twitter, Instagram, and YouTube.
Credits:
Lead image: E+/Getty Images
Medscape Medical News © 2022

Cite this: Locked-In Syndrome Malpractice Case Ends With $75M Verdict Against Docs - Medscape - Oct 31, 2022.