DENVER – When Anne Chapas, MD, was asked to help conduct a clinical trial of a wearable, hands-free device for remodeling of the face and submental area, she responded with a healthy dose of skepticism.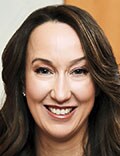 "My first thought was, 'this is crazy. It looks like a Storm Trooper helmet,' " Chapas, founder and medical director of UnionDerm, New York, said at the annual meeting of the American Society for Dermatologic Surgery. "But it's the first FDA-cleared device that uses bipolar radiofrequency to target the lower third of the face and the submental area of the face. We wanted to see how it works."
The device, Evoke, is the first cleared thermal facial and submental remodeling platform in the industry. Its bipolar radiofrequency (RF) component reaches 4 mm in depth and travels from central to outer electrodes. The device features real-time temperature monitoring and the ability to delivery energy at lower temps for longer periods of time compared with hands-on approaches. No cooling is required.
"It is able to treat a large surface area simultaneously to achieve maximal tissue contraction," Chapas said. "What we've learned in decades of RF technology is that it's not just about heat. It has to be the right amount of heat for the right amount of time. That's what's difficult when we're doing our own individual treatments. How many pulses do we need? How is that heat dissipating? Are we getting the amount of heat we need? Is the patient in pain? We need to take that data from the individual provider and come up with an automated system. That's what this device is trying to accomplish."
In a prospective trial, she and her colleagues enrolled 40 patients between the ages of 36 and 75 years with visible signs of facial aging who were seeking skin tightening treatments at one of three centers in the United States. They underwent three biweekly treatments with the Evoke device to the lower face and submental area where a target temperature of 42°-43° C was maintained for 41 minutes, or about 20 minutes for each site.
For the primary safety endpoint, investigators and blinded evaluators used a 4-point Likert scale before treatment, and 1, 3, and 6 months post-treatment. Follow-up visit satisfaction metrics were the patient's skin appearance evaluation and overall satisfaction, and the investigator improvement rating based on an analysis of volumetric data from 3D imaging software. Chin and cheek discomfort metrics were assessed at all treatments. The subject satisfaction metrics were measured on an 11-point scale where 0 is most comfortable and 10 is most uncomfortable.
In terms of safety, patients tolerated the treatments well and rated their average discomfort from 0.643 to 1.45 on the 11-point Likert scale. "The subject satisfaction rate was about 80%, which is in line with other devices, such as microfocused ultrasound," said Chapas, who is also a clinical instructor of dermatology at the Mount Sinai Medical Center, New York.
"The physicians were a little tougher on their assessments. We felt there was about a 65%-70% success rate after the three treatment timepoints." One possible reason for the disparity between the patient and physician assessments is that patients "may be more accepting of meager results from a hands-free treatment."
Expect to see more hands-free devices hit the dermatology market in the coming months and years ahead, Chapas said. Before clinicians incorporate such systems into their practices, she advises them to review existing evidence for the technology, including published data and asking for demonstrations. "If it's not efficacious, you've just wasted everybody's time," she said. "Also, is it practical for your office? Do you have the space for it? What staff training is involved? Is it truly automated?"
She added, "If you have a device that's hands-free but someone must stay in the room with the patient for an hour, does that really help the flow of your practice? And finally, what do your patients want? Do they want to come back multiple times, or do they prefer one-and-done treatments?"
Other questions to consider, she said, include, who benefits from these treatments. Does it fill an unmet need for patients, and for clinicians? Does it help with operator fatigue? How are more consistent treatments achieved? Can the technology be applied to broad body areas?
"The hands-free revolution has been building," Chapas commented. "The next generation of lasers and energy devices are going to be coming into our offices, so we should think carefully about how to incorporate them."
Chapas disclosed that she is an investigator for InMode (the manufacturer of Evoke), Cutera, and Galderma, and a speaker for Allergan.
This article originally appeared on MDedge.com, part of the Medscape Professional Network.
Credits:
Lead image: Tetra Images/Getty Images
Image 1: Dr Anne Chapas
© 2022 Frontline Medical Communications Inc.

Cite this: Ready or Not, Hands-Free Aesthetic Devices Are Coming - Medscape - Oct 25, 2022.