When Maria Cielito Robles began medical school at Michigan State University this year, she was "coated" by her older brother, a physician assistant (PA), who helped guide her career path. Robles' tweet about the coating ceremony that marked the start of her medical training went viral, with many applauding the siblings' inspirational story.
Robles is a first-year student at Michigan State's College of Human Medicine. Brother Carlito Robles has worked as a PA for about a year at an urgent care clinic near Flint, Michigan, after attending Central Michigan University.
Medscape Medical News caught up with Maria and Carlito Robles to talk about their shared pursuit of medical careers, how their childhood in the Philippines shaped their professional ambitions, and what it's like being siblings in fields that don't always see eye-to-eye, especially about scope of practice issues.
https://twitter.com/mcierobles/status/1561419247783497729
Medscape: What made you go into medicine?
Maria: It was a culmination of many different experiences throughout my life. One of the more influential events was an accident that left my younger brother with second-degree burns, and it was the kindness of this physician that brought a lot of comfort to my anxious and worried parents.
I was also inspired by the opportunity to work with and advocate for vulnerable populations, such as immigrants, who face unique barriers to accessing medical care. This was primarily due to my family's own experience in the US after we immigrated from the Philippines in 2003.
Carlito: Our mom played a huge role in my love for medicine. She is a nurse and I witnessed her make an impact on her community...I knew I wanted to go into the medical field at a young age but was not entirely sure which career path to choose until after college. I wanted to be able to care for patients in the community as well as participate in medical mission trips around the world.
I considered becoming a physician, along with an APRN [advanced practice registered nurse] and a PT [physical therapist]. The summer after I graduated undergrad, a friend of mine told me about PAs. I took prerequisite courses while working and applied the following year. I ultimately chose to become a PA because of their ability to practice medicine [under a physician's direct supervision] and have lateral mobility, [the ability to] switch specialties without additional training like residencies. I enjoy being able to diagnose and treat patients and perform minor procedures in my current role, but I also like the idea of being able to change specialties if and when I decide.
Medscape: Why not become a PA like your brother?
Maria: I was introduced to research shortly after graduating from undergrad and really enjoyed it. I liked the idea of potentially becoming a physician-scientist and conducting translational research to advance the science of medicine.
Medscape: How much did his career choice influence your decision?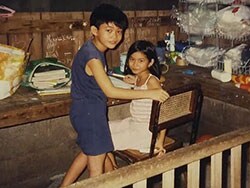 Maria: I don't think it influenced my decision, but more so enhanced my experience. We lived together in his final year of PA school while I was applying and interviewing for medical school. It was amazing having a built-in support system as we both navigated the respective challenges we faced. I'm also fortunate to have someone to study with. When I struggle learning a concept, it's nice to talk through the material with him as he helps me to identify and fill in knowledge gaps. He's also great at explaining concepts to me from a different perspective and explaining them in a different way if I have difficulty grasping something.
Medscape: How did you feel about your sister entering medical school?
Carlito: I am very proud of her. She has worked so hard for the opportunity to become a physician and I had no doubt that she would reach her goals.
Medscape: What are your relationships with doctors like? Will your sister being a doctor impact your relationship with doctors?
Carlito: I work under two ER physicians. My role has a lot of autonomy, but I also have a great working relationship with the other providers and can go to them for help. I have a lot of respect for physicians but can foresee myself gaining even more appreciation for their training as my sister advances in her journey.
In a nutshell, we believe physicians are experts in their respective specialties and PAs are an extension of that practice. – Carlito Robles
Medscape: Doctors and PAs seem to have a professional rivalry, at times, mostly over scope of practice. Do you think you'll have a different perspective as siblings in these fields?
Maria: I value and respect my brother's thoughts and opinions. I'm excited to learn more about his profession and learn from him in general. I see us being in different fields as an opportunity to share our individual knowledge with one another and support each other in continuing to grow in our clinical practice.
He'll also have about 5 years of clinical practice under his belt by the time I start residency, so I'm sure he'll have a wealth of knowledge to share with me and help me to grow as a physician.
Carlito: I think my sister and I share a similar perspective on the roles of physicians and PAs. In a nutshell, we believe physicians are experts in their respective specialties and PAs are an extension of that practice.
Medscape: What was it like to be coated by your brother?
Maria: It was a really special moment. For me, it represented the culmination of my parents' sacrifices and hard work. They took a chance and left everything behind in hopes of a better future for my siblings and I.
I thought it would be a beautiful moment to kind of thank them for making those sacrifices and difficult decisions, as well for all of their continuous support throughout our individual journeys.
Medscape: You've watched your brother's journey through medical training. What are you looking forward to most? Dreading based on his experiences?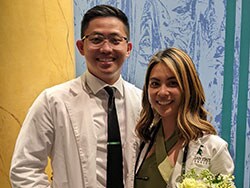 Maria: I'm most excited for the educational growth to becoming a clinician. I saw him manage the stress of learning so much material and slowly over time applying that newfound knowledge into clinical practice. It was also amazing to see him grow in his confidence as he mastered new clinical skills.
I'm only 5 weeks into medical school, but through our early experience curriculum and many hours spent in the sim lab, it has been really cool to witness this progression [while] learning and mastering new skills.
I'm dreading having to handle and deal with challenging personalities in the clinical setting. Medicine is a high-stress environment. I've heard stories and witnessed firsthand how stressful encounters with preceptors negatively impacted his experience. I would see the emotional toll it placed on him.
Medscape: Do you think you'll work together in the future?
Maria: I would be very honored to work with my brother. His general kindness and compassion translates into his medical practice, and I know I would learn a lot from him. I remember thinking while he was in PA school how lucky his future patients would be, as I saw how much time and effort he dedicated to studying medicine and strengthening his clinical skills.
Carlito: I think that would be amazing. It might just depend on the specialty that she chooses.
Medscape: What do your parents think of your medical careers?
Maria: I think they're very proud. They witnessed us have these dreams of entering the medical field since we were young, so I think it's exciting for them see us achieve these dreams. While my mom was initially worried about us pursuing medicine because of how gruesome the field can be, my parents are the most supportive people and have always encouraged us to pursue whatever careers would make us happy.
Carlito: Our parents are very happy and proud that we are in and pursuing careers that we love.
For more news, follow Medscape on Facebook, Twitter, Instagram, YouTube, and LinkedIn.
Credits:
Lead image: Richard Nguyen
Image 1: Carlos Robles
Image 2: Miguelito Robles
Medscape Medical News © 2022 WebMD, LLC

Send comments and news tips to news@medscape.net.
Cite this: Siblings in Medicine: A Future Doc Follows Her PA Brother's Example - Medscape - Oct 20, 2022.