Eric Winer, MD, the current president of the American Society of Clinical Oncology (ASCO), talks with great fondness about former patients, many of whom have given him mementos that hang in his office.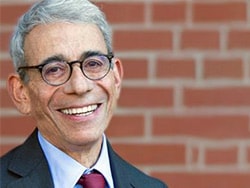 He jumps up from his desk, disappearing out of sight, from where his narrative continues amidst a series of clatters. Finally, emerging with a grin, he holds a single snowshoe, and tells the now-famous story: It was given to him by a patient who promised him the other half of the pair if he could keep her alive for 5 years. Despite his enthusiasm about the idea, he was not successful, yet the story represents to him the partnership he fosters with his patients. The exchange of that snowshoe was like a handshake — a deal — that they were fighting her breast cancer together.
That's why Winer's presidential theme for the year is "Partnering With Patients, the Cornerstone of Cancer Care and Research."
He believes that providing care to patients should not be like directing the show, but rather co-writing the script. It's like "finding out what it is that they want, what their values are, what their preferences are," Winer told Medscape Medical News. "And I think in oncology, that partnership is particularly important — because cancer is so scary to people that they need to feel like they have a partner in their experience."
His patients have clearly embraced his approach, judging from the keepsakes that fill his office, but he says his relationship with patients also feeds his own needs. Through working closely with patients, "you can really feel much more satisfied and can experience what I think is the joy of providing care," he said. "And that joy, if you can get to it, is I think firstly what protects against burnout."
If there was ever a time in his career when he might be at risk for burnout, it's now. This year, not only did he start his tenure at ASCO's 59th president, but he also took on new positions as director of the Yale Cancer Center and physician-in-chief at Smilow Cancer Hospital at Yale.
He had previously been at the Dana-Farber Cancer Institute in Boston for more than 20 years, but moving to Yale was a homecoming of sorts: Winer had originally trained at the Yale School of Medicine.
Challenges appear to fuel rather than drain Winer's energy, possibly because of the many challenges he's already faced in life. In fact, his first experience of medicine was as a patient. He was born with hemophilia in 1956, at a time when the life expectancy for such patients was less than 20 years. But that changed with the development of factor VIII concentrate made from donated blood, which became available when he was about 13 years old. "Overnight, I was a normal teen," he recalled in a lecture he delivered in 2016.
However, some of these products were made from contaminated blood, and when Winer was at medical school, he contracted both HIV and hepatitis C from his treatment. The HIV was treated with highly active antiretroviral therapy, and the hepatitis C was cured after 2 years of treatment with interferon and ribavirin, he said during his talk.
In that lecture, Winer also recalled that the stigma associated with HIV was so immense that he led an "undercover life" in the late 1980s and 1990s. "I could barely tell my friends and colleagues," he said, fearing the loss of his career and financial vulnerability, as well as the social hardships his children would have to face. He provided one anecdote that reflected the level of fear about HIV at the time ― his dentist "fired" him, citing staff concern about his infection.
"The stigma…based on medical illness can be devastating," he said at the time.
Now, in an interview with Medscape Medical News, Winer says he considers himself "a really lucky guy," where others in his situation might see their lot quite differently.
"I thought that I was going to die young — maybe tragically young — and instead, now I'm an old guy and I have to deal with all the same things that everybody deals with, like this crazy gray hair," he said. "I just can't believe that I have children so old, and that I have grandchildren."
Widening of Viewpoint
Winer's new roles will require widening his oncologic viewpoint, after 32 years of focusing only on breast cancer, but he says his primary concern of healthcare disparities applies equally across all cancers.
"I can imagine that for many, many cancers within the next decade, we're going to have treatment that essentially will allow us to prevent people from dying from cancer," he predicted. "They'll either be cured, or they'll be able to live with it as a chronic and manageable disease."
"But that's only going to be the case if we have equitable care across the board, " he continued. " And at the moment, we're not even close to that…. We know that if you're Black and you have breast cancer, you are way more likely to die from it than if you're White. We know that if you're uninsured, or poorly educated, that you're more likely to die from cancer."
"We have to fix these things. I think social issues are going to be our biggest challenge in the years ahead, which is why ASCO is working on this, trying to focus on research that addresses the issue of disparities. And why we at Yale, and at many cancer centers, are very much focused on this."
Kate Johnson is a Montreal-based freelance medical journalist who has been writing for more than 30 years about all areas of medicine.
For more news, follow Medscape on Facebook, Twitter, Instagram, and YouTube
Credits:
Lead image: American Society of Clinical Oncology
Image 1: American Society of Clinical Oncology
Medscape Medical News © 2022 WebMD, LLC

Send news tips to news@medscape.net.
Cite this: Partnering With Patients Is Cornerstone, Says New ASCO President - Medscape - Oct 17, 2022.