A radiation oncologist embroiled in the 2019 "Operation Varsity Blues" college admissions scandal may lose his medical license after being convicted, fined, and sentenced to 8 weeks in prison.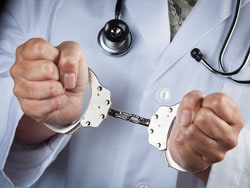 The California Medical Board in September filed a first amended accusation against Gregory Colburn, MD, of Palo Alto, for unprofessional conduct and ethical violations tied to his involvement in the scheme. As a result, Colburn could see his license suspended or revoked. His professional experience includes serving as a medical director at O'Connor Hospital in San Jose, according to his LinkedIn profile.
Colburn, 65, and his wife Amy, 53, each pleaded guilty in December 2021 to one count of conspiracy to commit mail and wire fraud and honest services mail and wire fraud. The federal plea deal, finalized in April, requires the couple to each complete a year of supervised release, pay a $12,500 fine, and perform 100 hours of community service.
Prosecutors said the Colburns paid college consultant William "Rick" Singer $25,000 to work with others to inflate their son's SAT scores. Singer used the money to bribe Igor Dvorskiy, who acted in a corrupt manner as a test administrator. Dvorskiy then allowed Mark Riddell, a test proctor, to correct answers on the son's SAT to improve his final score. All three were convicted.
The Colburns are among nearly 60 people, many of them well-to-do parents and athletic coaches, who have been charged in the scandal. Others who have been sentenced include actresses Felicity Huffman and Lori Loughlin, as well as Loughlin's husband, fashion designer Mossimo Giannulli. The scheme involved not just falsifying test scores but also paying off athletic coaches to help students gain admission to top US universities.
The California Medical Board will now deliberate on whether to revoke, suspend, or otherwise restrict Colburn's medical license. The board also may require Colburn to pay for related investigation and enforcement costs or for monitoring if he's placed on probation.
For more news, follow Medscape on Facebook, Twitter, Instagram, and YouTube.
Credits:
Images: iStock/Getty Images
Medscape Medical News © 2022

Cite this: Doctor in College Admission Scandal May Lose Medical License After Prison Stint - Medscape - Oct 11, 2022.