Electric vehicles have become supercharged in popularity. Sales of electric cars in the United States (including fully electric and plug-in hybrids) doubled in 2021 to 630,000. Sales rose even further in the first half of 2022, with over 414,000 electric cars sold.
Electric vehicles (EVs) are also making inroads with US physicians. In the last two Medscape Lifestyle & Happiness reports, 5% of physicians said they drive Teslas, (which are Battery Electric Vehicles (BEVs). Many are motivated by the environmental benefits. There are also other electric vehicle choices, including Fuel-Cell Electric Vehicles (FCEVs), which combine hydrogen gas from the car's tank and oxygen from the air to produce electricity; Hybrid Electric Vehicles, which don't require a charger; and Plug-in Hybrid Electric Vehicles (PHEVs), which do require a charger. Both types of hybrid vehicles have a gas-powered engine and an electric motor.
When deciding whether to buy an electric car, automobile experts recommend that you consider your driving habits, priorities, and what's realistic for you.
"An EV can be a huge time-saver as a daily driver, as long you have the ability to charge at night at home and even at the office during the day. Most models now have at least 250 miles of range before you need to plug them in," says Erik Johnson, digital director of MotorTrend magazine.
"If you find yourself frequently on call across a large region, though, a plug-in hybrid might make more sense. Many have 35 miles or more of electric range for shorter drives, but still offer the peace of mind and convenience of a gas engine for unexpected longer drives or road trips," says Johnson.
The pros and cons vary, as do the price tags. Many car brands have now added electric vehicles.
The Appeal of Electric Vehicles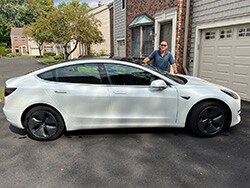 Charles Gelber, MD, a retired nephrologist in Summit, New Jersey, owns a Tesla and finds it "cool" to drive. Affordability of the Tesla 3 compared with the Tesla S and Y appealed to him. Gelber paid $36,000 in 2019 for his Tesla 3, which has a driving range of 250 miles on a fully charged battery.
"I bought an electric car to do my part to help minimize the adverse climate consequences of fossil fuels," says Gelber. "It feels great driving without exhaust and without going to gas stations."
Gelber particularly enjoys playing with his car's computerized "Toybox."
"There's a silly feature that makes whoopee cushion sounds come from any seat. No matter how rigid or proper my passengers are, that always gets a laugh," he says. Other Toybox features include "car-aoke," where you can sing along to onscreen lyrics, and other little gags and tricks.
Richard Nitzberg, MD, a general and vascular surgeon in Summit, raved after driving a Tesla S for years.
"It's the first time in my life that I really love driving a car," he says. "The acceleration is off the charts." Nitzberg paid $90,000 for his first Tesla S in 2014 and sold it this year to help pay for a new Tesla at $99,000. That car has a mileage range of 400 miles.
Besides the tricks and gags, what are the pros and cons of an electric car?
How EVs Save or Cost You
EV owners like that they never have to stop at gas stations and pay for gas again. "I find that very liberating," says Nitzberg. A 2020 Consumer Reports study showed that electric car drivers tend to spend about 60% less each year on fuel costs compared with drivers of gas-powered cars.
Also, because electric cars don't have engines, some owners say there is less maintenance and repairs.
On the cost side of the equation, EV owners usually see their monthly power bills rise from charging at home. You may also want or need to pay an electrician to add a 220-volt outlet in your garage for fast charging. Gelber and Nitzberg said this cost them $1200 to $1500.
Plus, replacing an EV battery after several years to a decade or so is expensive. New batteries can run from about $5000 for a Nissan Leaf to $20,000 for a Tesla, according to an Electronics360 article.
Some EV Headaches
The short supply of EV charging stations — there are now about 45,000 nationwide — could create a big headache for physicians planning a longer drive.
"I know some Tesla enthusiasts enjoy taking a long trip and planning ahead, but I would rather not worry about where I can charge," Nitzberg says. Instead, he has been driving his gas-powered Honda SUV on long-distance trips, although he might reconsider driving the new Tesla with the 400-mile range.
Another issue is the long time required to fully charge a car; depending on the size of the battery and the speed of the charging station, times can range from about a half hour to up to 8 or 12 hours. EVs also lose battery performance in very cold weather.
Overall, though, Gelber loves driving his electric vehicle and expects more doctors to switch to EVs as gas-powered cars become unavailable over time. Six automakers including General Motors and Ford recently pledged to try and phase out internal combustion engine-vehicles by 2040.
Are You Eligible for a Tax Credit?
The Inflation Reduction Act and Infrastructure Investment and Jobs Act that President Biden recently signed into law have important implications for EV buyers, including:
Extending of the $7500 federal tax credit for qualifying EV buyers

Eliminating the cap of 200,000 US sales per EV manufacturer, after which those cars don't qualify for a tax credit

Investing $5 billion in EV charging stations

Suggesting a cap on EV sales prices
Many doctors won't qualify for the revised federal tax credit because they earn more than the new income caps ($150,000 for single tax filers, $300,000 for joint filers). If you do qualify, be aware that the EV must be assembled in the US, its sales price can't exceed $55,000 for sedans or $80,000 for pickups and SUVs, and the dealer must give you a certificate showing the EV meets these requirements.
Even if you're ineligible for the tax credit, you may be able to claim a federal tax deduction. Also, a number of states offer tax incentives for EV purchases, according to Kelly Blue Book.
A doctor in Colorado commented on a blog post that he would receive $11,000 in state tax credits for buying a Tesla 3 for $60,000. "That puts the car in a more normal nice car price range, after tax credits. We can look forward to minimal maintenance, and electricity is cheap compared to gasoline," he wrote.
What Type of Electric Vehicle?
Tesla easily leads the US market in EV sales and particularly dominates the luxury sector. Luxury EV competitors include Lucid Air (which starts at $77,000 new with a 520-mile range on a fully charged battery, according to US News & World Report) and Mercedes-Benz EQS ($102,310 new, 310-mile range).
But doctors can enjoy more affordable electric car choices. Examples: The Chevrolet Bolt sedan ($31,500, up to 259 miles on a full charge) and the Kia Electric SUV ($40,900, 310 miles), according to US News & World Report's Best 2022 and 2023 Electric Cars.
With more EV options, doctors can compare reliability, cost, and driving range. "It will just come down to how you feel about it," says Gelber.
Christine Lehmann, MA, is a senior editor and writer for Medscape Business of Medicine based in the Washington, DC area. She has been published in WebMD News, Psychiatric News, and The Washington Post. Contact Christine at clehmann@medscape or via Twitter @writing_health
For more news, follow Medscape on Facebook, Twitter, Instagram, YouTube, and LinkedIn
Credits:
Images: Rosemarie Gelber
Medscape Medical News © 2022 WebMD, LLC

Send news tips to news@medscape.net.
Cite this: Should Doctors Buy an Electric Car? What You Need to Know - Medscape - Oct 07, 2022.