CHICAGO — Children with a rare, inherited retinal disorder who were treated with the first Food and Drug Administration-approved gene therapy had noticeable improvements in vision that may be related to recovery of photoreceptor health, according to a study of six patients in Italy presented at the annual meeting of the American Academy of Ophthalmology.
The patients all had an inherited retinal dystrophy caused by mutation of the biallelic RPE65 gene. An estimated 1000 to 2000 people in the United States have the disease, with 10 to 20 new patients born with it each year, according to information from Spark Therapeutics, the company that developed the gene therapy.
The FDA approved the gene therapy, voretigene neparvovec-rzyl (Luxturna), in 2017, followed by the European Commission a year later. Spark claimed it's the first gene therapy approved for a genetic disease and the first adeno-associated virus (AAV) vector gene therapy approved in the United States. Francesco Testa, MD, of the University of Campania Luigi Vanvitelli in Naples, Italy, presented results from six patients aged 7-16 treated with voretigene neparvovec-rzyl (VN) in both eyes. It's one of the first postmarket studies of VN to be presented at an ophthalmology meeting in the United States.
"We observed significant improvement in best-corrected visual acuity (BCVA), no significant change in central foveal retinal thickness, and no significant change in central foveal outer nuclear layer (ONL) thickness," Testa said in presenting the results.
BCVA began improving at day 30 to 45 with further improvement at day 180 (P < .001 for both), Testa said. All treated patients gained at least 1 Early Treatment Diabetic Retina Study (ETDRS) line in BCVA. One line equals five letters on the ETDRS chart.
The study found a potential correlation between BCVA and anatomical changes, specifically in a virtual ring imposed 1 to 3 mm from the fovea to plot areas for measuring macular thickness. Known as the ETDRS ring, it consists of an inner central ring and an outer ring sectioned into four quadrants. The fovea itself lacks rods, but the area 1 to 3 mm from the fovea has a high density of both rods and cones, Testa said.
"Analyzing the relationship between BCVA gain and change in ONL thickness at the 6-month timepoint compared to baseline, we observed that a higher improvement in BCVA was significantly associated with a higher increase in ONL thickness in the internal ETDRS ring," Testa said. The beta value was –.001, and the P value .010.
"These findings suggest that treatment with VN halts photoreceptor degeneration, with a partial recovery of retinal morphology, particularly in the perifoveal area," Testa said. "These changes are consistent with the BCVA improvement recorded in our patients."
This indicates that ONL thickness could be used as a surrogate measure to evaluate the treatment effects of VN, particularly in nonverbal children, Testa added.
He noted two limitations of the study: its small sample size, and that it measured changes only out to 6 months.
Jason Comander, MD, PhD, director of the inherited retinal disorders service at Massachusetts Eye and Ear and assistant professor of ophthalmology at Harvard Medical School in Boston, said that although this isn't the first report of children who received VN, the results were "particularly positive."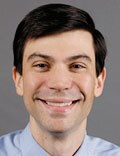 "Their visual results were particularly good," said Comander, who's performed the gene therapy procedure himself but was not involved in Testa's study. "It's interesting that they had so many patients who were visual acuity responders. In other studies, many patients do not gain acuity, but in those that do it's often due to a decrease in nystagmus, which blurs the vision."
He also said the study's finding of increased ONL thickness was "encouraging as well," adding, "instead of seeing a temporary thinning of the retina, as in other studies, they measured an increase in thickness, which is often seen as a sign of photoreceptor health."
Testa disclosed he is a consultant to Novartis, which has the franchise for VN in Europe. Comander disclosed he received nonfinancial support from Spark Therapeutics for a study he is participating in.
American Academy of Ophthalmology: Poster 401. Presented September 29, 2022.
Richard Mark Kirkner is a medical journalist based in the Philadelphia area.
For more news, follow Medscape on Facebook, Twitter, Instagram, YouTube, and LinkedIn
Credits:
Lead image: Spark Therapeutics, Inc
Image 1: Massachusetts Eye and Ear
Medscape Medical News © 2022 WebMD, LLC

Send news tips to news@medscape.net.
Cite this: Gene Therapy Shows Potential for RPE65-Related Retinal Dystrophy - Medscape - Oct 06, 2022.