Hi, everyone. I'm Dr Kenny Lin. I am a family physician and associate director of the Lancaster General Hospital Family Medicine Residency, and I blog at Common Sense Family Doctor.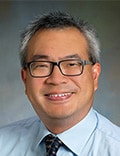 When I entered medical school, I intended to become a general pediatrician. I enjoy counseling healthy children and their parents about developmental milestones and injury prevention, and providing age-appropriate immunizations. After realizing that I also liked providing preventive care and treating acute and chronic conditions in pregnant women and adults, I chose to become a family physician. For several reasons, however, my previous practice in Washington, DC, attracted a limited number of elementary school–age and younger children. As a result, throughout the past decade, I mostly saw adolescents and adults and did almost no prenatal care.

Although a rising number of family medicine residency graduates no longer receive sufficient exposure to maternity care to feel comfortable delivering babies in practice, Lancaster's program has a busy obstetrical service and a strong emphasis on prenatal continuity of care. In addition, although I no longer deliver babies, most guardians of the newborns delivered in our program choose family physicians to provide well-child care. So, when I transitioned to my new practice, I needed to brush up on the care of pregnant patients, infants, and young children.
In counseling medical students and residents about the many types of settings and patient populations they will experience in a typical family medicine career, I emphasize that clinical skills are like riding a bike: As long as you receive a firm grounding in the basics, you will be able to pick them back up quickly even years later. Now I am testing the truth of this philosophy at the program where I received my own training nearly two decades ago. Fortunately, I have the advantage of practicing in an academic environment with plenty of smart and well-trained colleagues.
Recent US studies suggest that a smaller proportion of children are receiving primary care from family physicians, and the proportion of family physicians who care for children is declining. In 2018, 83% of family physicians who sat for the American Board of Family Medicine certification exam reported caring for children between ages 5 and 18 years, while 67% reported seeing patients younger than age 5. Younger physicians and physicians in rural practices, independently owned practices, group practices, and areas with a lower density of pediatricians were more likely to see children.
If you don't deliver babies or practice with colleagues who do, it's natural that your patient panel will age as you progress further into your career. But that doesn't mean that you can't continue to care for the whole family as a family physician. A few years ago, in an article about "reclaiming young patient care," Dr Sumana Reddy argued that family physicians need not passively accept having a reduced scope of practice. She suggested that those who want to provide care to more children measure the market for pediatric services, get needed training, create a kid-friendly space, establish a competitive advantage (eg, offering more convenient office hours for families with children), get the word out in their communities, and ask for referrals from ob/gyn practices.
For me, providing care to younger patients and families again has been clinically and personally rewarding. At the conclusion of a recent well visit for a 1-month-old child, the patient's mother asked if I would be able to see her and her husband as new patients too. "Of course," I replied. "I would be happy to." I am looking forward to building my new practice with an expanded spectrum of patients' ages and life stages.
Follow Medscape on Facebook, Twitter, Instagram, and YouTube
Credit:
Lead image: Dreamstime
Headshot: Penn Medicine Lancaster General Health
Medscape Family Medicine © 2022 WebMD, LLC

Any views expressed above are the author's own and do not necessarily reflect the views of WebMD or Medscape.
Cite this: Why I'm Back to Seeing Kids and Pregnant Patients in Family Practice - Medscape - Sep 29, 2022.