Nicholas Vogelzang, MD, a world-renowned medical oncologist who dedicated his life to advancing genitourinary (GU) oncology and mesothelioma through clinical trials, died on Sept. 20, 2022. He was 72.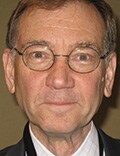 Vogelzang's cause of death has not been announced. However, on Aug. 12, Charles D. Blanke, MD, wrote a column on the SWOG (Southwest Oncology Group) Cancer Research Network's website stating that Vogelzang had entered hospice care because of health issues.
Blanke referred to Vogelzang as "one of those one in a million people," who transformed the lives of many colleagues and patients.
"He is always the smartest person in the room but doesn't feel a need to inform you of that fact," Blanke wrote. "He is warm, caring, professional, and knowledgeable to a fault. And he is an amazing physician and researcher."
Vogelzang sat on Medscape's Oncology editorial board and contributed numerous expert interviews and opinions on many cancer types, including prostate, kidney, and bladder.
In 1974, Vogelzang earned his medical degree from the University of Illinois, Champaign-Urbana, and completed his residency and chief residency in internal medicine at Rush Presbyterian St. Luke's Medical Center in Chicago, Illinois.
From there, Vogelzang joined the faculty at the University of Minnesota, Minneapolis. He later accepted a position as an assistant professor at the University of Chicago, Chicago, Illinois, in 1982 and was promoted to professor a year later.
While at the University of Chicago, he served as director of the Cancer Research Center from 1999 to 2003 and became the inaugural Fred C. Buffett Professor in Medicine and chair in GU Oncology during that time as well.
In 2004, he became director of the Nevada Cancer Institute until 2009, and in 2009, joined the Comprehensive Cancer Centers of Nevada in Las Vegas as a medical oncologist.
Vogelzang was a distinguished cancer investigator. He was the principal or coprincipal investigator in groundbreaking clinical trials that led to the regulatory approval of new therapeutics such as atezolizumab (Tecentriq) for bladder cancer, pemetrexed (Alimta) for mesothelioma, abiraterone acetate (Zytiga) for prostate cancer.
In March, Vogelzang retired from his position on the Board of Directors for the Kidney Cancer Association (KCA), which he had helped cofound in 1990.
"Without Dr. Vogelzang, the KCA simply would not exist to serve the many patients, families, medical professionals, and countless others that it has," said Gretchen Vaughan, KCA president and CEO in a statement announcing Vogelzang's retirement. "For his heart, dedication, and vision for a brighter future for everyone impacted by kidney cancer, we are extremely humbled and grateful."
For more news, follow Medscape on Facebook, Twitter, Instagram, and YouTube.
Medscape Medical News © 2022

Cite this: Renowned Oncologist Nicholas Vogelzang, MD, Dies at 72 - Medscape - Sep 27, 2022.