The path through the US Senate is not yet certain for a bill intended to speed the prior authorization process of insurer-run Medicare Advantage plans, despite the measure having breezed through the House.
House leaders opted to move the Improving Seniors' Timely Access to Care Act of 2021 (HR 3173) without requiring a roll-call vote. The measure was passed on September 14 by a voice vote, an approach used in general with only uncontroversial measures that have broad support. The bill has 191 Democratic and 135 Republican sponsors, representing about three quarters of the members of the House.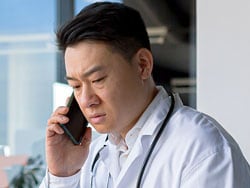 "There is no reason that patients should be waiting for medically appropriate care, especially when we know that this can lead to worse outcomes," Rep. Earl Blumenauer (D-OR) said in a September 14 speech on the House floor. "The fundamental promise of Medicare Advantage is undermined when people are delaying care, getting sicker, and ultimately costing Medicare more money."
Rep. Greg Murphy, MD (R-NC), spoke on the House floor that day as well, bringing up cases he has seen in his own urology practice in which prior authorization delays disrupted medical care. One patient wound up in the hospital with abscess after an insurer denied an antibiotic prescription, Murphy said.
But the Senate appears unlikely at this time to move the prior authorization bill as a stand-alone measure. Instead, the bill may become part of a larger legislative package focused on healthcare that the Senate Finance Committee intends to prepare later this year.
The House-passed bill would require insurer-run Medicare plans to respond to expedited requests for prior authorization of services within 24 hours and to other requests within 7 days. This bill also would establish an electronic program for prior authorizations and mandate increased transparency as to how insurers use this tool.
CBO: Cost of Change Would Be Billions
In seeking to mandate changes in prior authorization, lawmakers likely will need to contend with the issue of a $16 billion cumulative cost estimate for the bill from the Congressional Budget Office (CBO). Members of Congress often seek to offset new spending by pairing bills that add to expected costs for the federal government with ones expected to produce savings.
Unlike Blumenauer, Murphy, and other backers of the prior authorization streamlining bill, CBO staff estimates that making the mandated changes would raise federal spending, inasmuch as there would be "a greater use of services."
On September 14, CBO issued a one-page report on the costs of the bill. The CBO report concerns only the bill in question, as is common practice with the office's estimates.
Prior authorization changes would begin in fiscal 2025 and would add $899 million in spending, or outlays, that year, CBO said. The annual costs from the streamlined prior authorization practices through fiscal 2026 to 2032 range from $1.6 billion to $2.7 billion.
Looking at the CBO estimate against a backdrop of total Medicare Advantage costs, though, may provide important context.
The increases in spending estimated by CBO may suggest that there would be little change in federal spending as a result of streamlining prior authorization practices. These estimates of increased annual spending of $1.6 billion to $2.7 billion are only a small fraction of the current annual cost of insurer-run Medicare, and they represent an even smaller share of the projected expense.
The federal government last year spent about $350 billion on insurer-run plans, excluding Part D drug plan payments, according to the Medicare Advisory Payment Commission (MedPAC).
As of last year, about 27 million people were enrolled in these plans, accounting for about 46% of the total Medicare population. Enrollment has doubled since 2010, MedPAC said, and it is expected to continue to grow. By 2027, insurer-run Medicare could cover 50% of the program's population, a figure that may reach 53% by 2031.
Federal payments to these plans will accelerate in the years ahead as insurers attract more people eligible for Medicare as customers. Payments to these private health plans could rise from an expected $418 billion this year to $940.6 billion by 2031, according to the most recent Medicare trustees report.
Good Intentions, Poor Implementation?
Insurer-run Medicare has long enjoyed deep bipartisan support in Congress. That's due in part to its potential for reducing spending on what are considered low-value treatments, or ones considered unlikely to provide a significant medical benefit, but Blumenauer is among the members of Congress who see insurer-run Medicare as a path for preserving the giant federal health program. Traditional Medicare has far fewer restrictions on services, which sometimes opens a path for tests and treatments that offer less value for patients.
"I believe that the way traditional fee-for-service Medicare operates is not sustainable and that Medicare Advantage is one of the tools we can use to demonstrate how we can incentivize value," Blumenauer said on the House floor. "But this is only possible when the program operates as intended. I have been deeply concerned about the reports of delays in care" caused by the clunky prior authorization processes.
He highlighted a recent report from the internal watchdog group for the Department of Health and Human Services (HHS) that raises concerns about denials of appropriate care. About 18% of a set of payment denials examined by the Office of Inspector General of HHS in April actually met Medicare coverage rules and plan billing rules.
"For patients and their families, being told that you need to wait longer for care that your doctor tells you that you need is incredibly frustrating and frightening," Blumenauer said. "There's no comfort to be found in the fact that your insurance company needs time to decide if your doctor is right."
Trends in Prior Authorization
The CBO report does not provide detail on what kind of medical spending would increase under a streamlined prior authorization process in insurer-run Medicare plans.
From trends reported in prior authorization, though, two factors could be at play in what appear to be relatively small estimated increases in Medicare spending from streamlined prior authorization.
One is the work already underway to create less burdensome electronic systems for these requests, such as the Fast Prior Authorization Technology Highway (Fast PATH) initiative run by the trade association America's Health Insurance Plans.
The other factor could be the number of cases in which prior authorization merely causes delays in treatments and tests and thus simply postpones spending while adding to clinicians' administrative work.
An analysis of prior authorization requests for dermatologic practices affiliated with the University of Utah may represent an extreme example. In a report published in JAMA Dermatology in 2020, researchers described what happened with requests made during one month, September 2016.
The approval rate for procedures was 99.6% ― 100% (95 of 95) for Mohs surgery, and 96% (130 of 131) for excisions. These findings supported calls for simplifying prior authorization procedures, "perhaps first by eliminating unnecessary PAs [prior authorizations] and appeals," wrote Aaron M. Secrest, MD, PhD, of the University of Utah and co-authors in the article.
Still, there is some evidence that insurer-run Medicare policies reduce the use of low-value care.
In a study published September 9 in JAMA Health Forum, Emily Boudreau, PhD, of insurer Humana Inc, and co-authors from Tufts University and the University of Pennsylvania investigated whether insurer-run Medicare could do a better job in reducing the amount of low-value care delivered than the traditional program. They analyzed a set of claims data from 2017 to 2019 for people enrolled in insurer-run and traditional Medicare.
They reported a rate of 23.07 low-value services provided per 100 people in insurer-run Medicare, compared with 25.39 for those in traditional Medicare. Some of the biggest differences reported in the article were in cancer screenings for older people.
As an example, the US Preventive Services Task Force recommends that women older than 65 years not be screened for cervical cancer if they have undergone adequate screening in the past and are not at high risk for cervical cancer. There was an annual count of 1.76 screenings for cervical cancer per 100 women older than 65 in the insurer-run Medicare group, vs 3.18 for those in traditional Medicare.
The Better Medicare Alliance issued a statement in favor of the House passage of the Improving Seniors' Timely Access to Care Act.
In it, the group said the measure would "modernize prior authorization while protecting its essential function in facilitating safe, high-value, evidence-based care." The alliance promotes use of insurer-run Medicare. The board of the Better Medicare Alliance includes executives who serve with firms that run Advantage plans as well as medical organizations and universities.
"With studies showing that up to one-quarter of all health care expenditures are wasted on services with no benefit to the patient, we need a robust, next-generation prior authorization program to deter low-value, and even harmful, care while protecting access to needed treatment and effective therapies," said A. Mark Fendrick, MD, director of the University of Michigan's Center for Value-Based Insurance Design, in a statement issued by the Better Medicare Alliance. He is a member of the group's Council of Scholars.
On the House floor on September 14, Rep. Ami Bera, MD (D-CA), said he has heard from former colleagues and his medical school classmates that they now spend as much as 40% of their time on administrative work. These distractions from patient care are helping drive physicians away from the practice of medicine, he said.
Still, the internist defended the basic premise of prior authorization while strongly appealing for better systems of handling it.
"Yes, there is a role for prior authorization in limited cases. There is also a role to go back and retrospectively look at how care is being delivered," Bera said. "But what is happening today is a travesty. It wasn't the intention of prior authorization. It is a prior authorization process gone awry."
Kerry Dooley Young is a freelance journalist based in Miami Beach. Follow her on Twitter @kdooleyyoung.
For more news, follow Medscape on Facebook, Twitter, Instagram, and YouTube.
Credits:
Lead image: iStock/Getty Images
Medscape Medical News © 2022

Cite this: House Passes Prior Authorization Bill, Senate Path Unclear - Medscape - Sep 19, 2022.