PARIS — Adding cabozantinib (Cabometyx) to standard-of-care immunotherapy with nivolumab (Opdivo) plus ipilimumab (Yervoy) markedly improved progression-free survival (PFS) in advanced renal cell carcinoma (aRCC), particularly in intermediate-risk patients, suggest results from the COSMIC-313 trial.
At present, dual checkpoint inhibition with nivolumab and ipilimumab is a standard of care for first-line treatment of aRCC that is deemed to be of intermediate or poor risk on the International Metastatic RCC Database Consortium (IMDC) risk score.
Cabozantinib, a tyrosine kinase inhibitor (TKI), is also a standard of care in aRCC, both as a single agent and in combination with nivolumab
The new study investigated the use of the three drugs together as upfront first-line treatment and suggests that this triplet may become a new standard of care, especially in patients with intermediate-risk disease.
The research was presented here at the European Society for Medical Oncology Congress 2022 in Paris, France.
The trial involved 855 previously untreated patients with aRCC, all of whom received dual immunotherapy with nivolumab and ipilimumab, who were randomly assigned to also receive either cabozantinib or matched placebo.
Patients given the triplet therapy had a significant 27% reduction in the risk for progression vs the doublet in the overall patient population.
The difference increased to 37% in patients with intermediate-risk disease on the IMDC risk score.
However, patients with poor-risk disease appeared not to derive any benefit from adding cabozantinib to nivolumab plus ipilimumab.
In addition, grade 3 or 4 treatment-related adverse events were more common with the triplet therapy.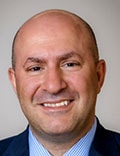 The results suggest that adding cabozantinib results in a "statistically significant and clinically meaningful" PFS benefit, study presenter Toni Choueiri, MD, director of the Lank Center for Genitourinary Oncology at the Dana-Farber Cancer Institute in Boston, Massachusetts, told a press conference.
He added that the safety profile of the triplet therapy was "generally manageable" and "consistent with the profiles of the treatment components."
"The study will continue to the next analysis of overall survival, as this secondary endpoint was not met at first interim analysis," Choueiri commented.
He told Medscape Medical News that, based on the current results, the triplet combination "may end up in intermediate-risk" patients, although it is not clear why there is a difference in response between risk groups, and the finding is "quite intriguing."
Asked which therapy to choose now for first-line treatment of aRCC, given that there are now so many options, he said that there is now such "an embarrassment of riches of trials in the first-line" that it is perhaps easier to talk about which therapies "not to use."
"We cannot use single TKIs anymore, so you have to use doublets and possibly now triplets," he said.
"In my practice, patients that are progressing rapidly…need a VEGF [vascular endothelial growth factor]–based combination. In patients that can wait and…do not have a heavy disease burden, I still believe in nivolumab and ipilimumab, which has the longest the follow-up, and the responses are durable."
Approached for comment, Dominik Berthold, MD, Centre hospitalier universitaire vaudois, Lausanne, Switzerland, said that this is a "really important study" because it has a "modern" study comparator in the control arm.
He told Medscape Medical News, however, that the question now is "obviously" how much treatment should be escalated to triple therapy "upfront vs the sequencing of active drugs." The answer, he said, is currently unclear and overall survival data are awaited.
Alongside the potential "challenge" of the toxicity to patients of the triplet therapy, Berthold also highlighted that it is "currently a challenge for health systems to imagine giving such expensive combinations."
So though it is "really interesting data" and potentially represents a "step forward" in the field, the combination of cabozantinib and nivolumab plus ipilimumab is "not for everybody."
Choueiri said that he does "agree" that adding a third drug to an already expensive doublet therapy can mean that the costs end up being "exorbitant."
However, he noted that in aRCC, "the paradigm is sequential, so if we're able to delay the second line, and give drugs later, especially if there is some quality of life [benefit], I'm not sure it is more expensive" to give the three-drug combination.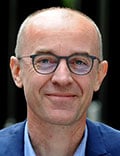 Commenting for ESMO, Viktor Grünwald, MD, West German Cancer Center, University Hospital Essen, Germany, noted that this is the "first study" to report "successful treatment intensification" in metastatic RCC through the use of triple therapy.
"However, treatment intensification is rarely seen without additional risks. Patients experienced the benefit of superior disease control but also additional toxicities, treatment pauses and discontinuations," he pointed out.
"The triplet may compete in the clinical landscape with recommended life-prolonging immune doublets but mature overall survival data is needed for it to become a novel standard of care," Grünwald commented.
Details of the New Results
The phase 3 COSMIC-313 trial enrolled intermediate- or poor-risk patients with aRCC and good performance status who had received no prior systemic therapy and had a clear cell component on histology, which, Choueiri noted, represents around 80% of patients.
They were randomly assigned to cabozantinib or a matched placebo against a background of four cycles of nivolumab plus ipilimumab followed by nivolumab for up to 2 years. No crossover was allowed between the two arms. Tumor assessment was performed every 8 weeks.
Overall, 855 patients were randomly assigned, 75% of whom had an intermediate risk on the IDMC risk score, and 25% had a poor risk. The median age of the patients was around 60 years, and between 73% and 76% were men. Prior nephrectomy had been performed in 65%.
The study met its primary endpoint of a significant improvement in PFS as assessed by blinded independent central review. The median PFS was not reached for the triplet vs 11.3 months for patients given the doublet, at a hazard ratio (HR) of 0.73 (P = 0.013).
At 12 months, 57% of patients in the triplet-therapy arm remained disease-free vs 49% of those on dual immunotherapy.
Moreover, there was a higher objective response rate with the triplet therapy, at 43% vs 36% for the doublet, and the median duration of response was not reached in either group.
Prespecified subgroup analysis suggested that most subgroups responded similarly to the overall patient population.
However, breaking the results down by IMDC risk group, Choueiri showed that PFS benefit was even greater in intermediate-risk patients, at an HR for the triplet vs the doublet therapy of 0.63 (95% CI, 047-0.85), and a similar response rate as in the overall analysis.
But the benefit of adding cabozantinib to nivolumab plus ipilimumab appeared to be lost in poor-risk patients, at an HR for the triplet vs the doublet of 1.04 (95% CI, 0.65-1.69). And in this subgroup, the objective response rates were similar: 37% with the triplet and 38% with the doublet.
Also, the triplet had a higher rate of adverse events. Grade 3 or 4 treatment-related adverse events were observed in 73% of patients on the triplet vs 41% with the doublet; 1% of patients in each group had a grade 5 event.
Treatment-related adverse events leading to discontinuation of all treatment components occurred in 12% of patients receiving triplet therapy and in 5% of those assigned to placebo and nivolumab plus ipilimumab.
Choueiri highlighted that some adverse events, including elevated liver transaminases, diarrhea, and skin toxicity, were markedly more frequent with cabozantinib and nivolumab plus ipilimumab than with the doublet therapy.
Discussing the study, Sumanta K. Pal, MD, co-director of the Kidney Cancer Program at City of Hope, Irvine, California, said that ESMO Congress 2022 has been a "high watermark" for trials in the RCC field, and congratulated the researchers of COSMIC-313 for the number of "firsts" that it achieved.
However, he continued, the "elephant in the room" is the current lack of overall survival, and he pointed out that those hotly anticipated results could have a major impact on the future use of the triplet combination.
Pal questioned whether, in the meantime, it is even possible to make a decision about the combination and urged investigators of all trials to make overall survival data available sooner.
He also highlighted the high rates of elevated liver transaminases, and the apparent overlapping toxicities between the TKI and the immune checkpoint inhibitors, asking: "Does toxicity stand in the way of treatment?"
Concluding, Pal acknowledged that the study did meet its PFS primary endpoint but asked whether a risk-adapted approach could be used to optimize delivery of triplet therapy.
He also called for investment into biomarker studies for regimens that are "actually used in the clinic" and wondered whether there could be a shift toward using drugs with novel modes of action that do not yield overlapping toxicities.
The study was funded by Exelixis, Inc.
Choueiri reports relationships with Bristol-Myers Squibb; Pfizer; Lilly; Merck; Exelixis; AstraZeneca; EMD Serono; Calithera; Ipsen; Infinity; Surface Oncology; Analysis Group; ww2.peerview.com: gotoper.com: researchtopractice.com: ResearchToPractice; National Association of Managed Care: Orien Network; Aptitude Health; Advent health; UAE Society of Onc; MJH life sciences; MDACC; Cancernet; Kidney Cancer Association; Springer; WebMed; ASiM, Caribou Publishing; Aravive; Roche, and others.
ESMO Congress 2022. Presented September 12, 2022. Abstract LBA8
For more news, follow Medscape on Facebook, Twitter, Instagram, and YouTube
Credits:
Lead image: iStock/Getty Images
Image 1: European Society for Medical Oncology
Image 2: European Society for Medical Oncology
Medscape Medical News © 2022 WebMD, LLC

Send news tips to news@medscape.net.
Cite this: Cabozantinib Boosts Dual Immunotherapy in Advanced RCC - Medscape - Sep 12, 2022.