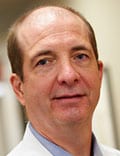 PARIS — New disappointing results from a trial of adjuvant immunotherapy for patients with renal cell carcinoma who underwent nephrectomy contrast with those from a previous trial that showed benefit with another agent.
The new results, from CheckMate 914, show that adjuvant treatment with the combination of nivolumab (Opdivo) plus ipilimumab (Yervoy) did not improve disease-free survival (DFS) compared with placebo.
The finding was presented here at the European Society for Medical Oncology (ESMO) Annual Meeting 2022 in Paris, France.
CheckMate 914 "did not meet the primary endpoint," study presenter Robert J. Motzer, MD, a medical oncologist at Memorial Sloan Kettering Cancer Center, New York City, told a press conference.
The results contrast with those seen with pembrolizumab (Keytruda) in the same setting, where the drug achieved a 32% reduction in risk of recurrence or death over placebo in KEYNOTE-564. This led to the US Food and Drug Administration granting approval for the drug as adjuvant treatment following surgery in patients with renal cell carcinoma at intermediate or high risk for recurrence after nephrectomy or after nephrectomy and resection of metastatic lesions.
Another trial of adjuvant immunotherapy in renal cell carcinoma, also presented at ESMO 2022, the IMmotion010 trial with adjuvant atezolizumab (Tecentriq), also did not show any clinical benefit over placebo.
However, Motzer said that despite both of these new trials showing no benefit, "I don't think it takes away from standard of care pembrolizumab" in this setting.
There is a great need for adjuvant therapy for patients who undergo surgery, Motzer commented. The standard treatment for stage I-III localized nonmetastatic renal cell carcinoma is radical or partial nephrectomy, but there remains a "substantial risk" of relapse after surgery, occurring in up to 50% of patients.
In the past, the standard of care for these patients would be watch and wait and "hoping that the patient doesn't relapse," he said, and if they did, then "we would treat accordingly for metastatic disease."
Differences Between Trials
When asked about the contrast between the latest trial with the adjuvant nivolumab-ipilimumab combination and the earlier trial with adjuvant pembrolizumab, Motzer told Medscape Medical News there are differences in the designs of the two studies. "Although they are both global phase 2 trials...[there are] some differences in the patient population."
However, the "main differences" are the duration, intensity, and tolerability of the treatment regimens. "I suspect that's impacted on the outcome of our trial," he said, as "many of our patients didn't complete even that 6 months of the more toxic immunotherapy [nivolumab-ipilimumab combination]."
Motzer also noted that, compared with the metastatic setting, patients "do not tolerate therapy as well" in the adjuvant setting. Consequently, the risk–benefit of a drug is "slightly different...as we have to be much more concerned about toxicity."
In addition, he said, "our trial also used these kind-of gross clinical features that were developed years ago" to select patients, but now "there's other much more refined techniques" that look at the underlying biological signatures "to identify who responds to immunotherapy."
"So I think we have to do a deep dive into the biology in this trial and in the Merck trial [of pembrolizumab] to see if we can better define who is going to relapse and who is going to benefit," he said.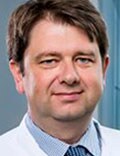 Commenting on the new results, Dominik Berthold, MD, Centre Hospitalier Universitaire Vaudois, Lausanne, Switzerland, also wondered whether differences in trial design and study populations could explain the divergent results between the CheckMate and KEYNOTE trials.
"Investigators will need to look in detail at subpopulations and biomarkers to guide treatment decisions and trial design for current and future patients," he added.
Speaking to Medscape Medical News, Berthold said he agrees that pembrolizumab remains standard of care, but "I'm not really sure that we have really to offer all patients" the drug.
He explained that, on the one hand, there is the risk of over-treating many patients, depending on their stage, and on the other hand, "many patients who get pembrolizumab actually do progress."
In addition, there is the question of the treatment sequence in patients who are already exposed to immunotherapy and when to start tyrosine kinase inhibitors, as well as the much broader issue of the lack of long-term overall survival data with pembrolizumab.
Berthold noted the issue of whether the high treatment discontinuation rate in CheckMate 914 affected the efficacy of nivolumab plus ipilimumab raises the question of whether, from an immunological point of view, 1 year of pembrolizumab is more effective than 3 months of the combination therapy.
"I think it might be one of the explanations," he said, adding, however, that these are just "hypotheses" at this stage.
Details of the New Results
Previous results with the nivolumab-ipilimumab combination, from the CheckMate 214 trial in patients with advanced renal cell carcinoma, had demonstrated that upfront nivolumab plus ipilimumab offered significantly longer treatment-free survival than the VEGF inhibitor sunitinib. The "striking results" from that trial indicated the combination was not only associated with a survival benefit, but also "high response rates, durable responses, complete responses, and even treatment responses that continue after treatment is discontinued," Motzer commented.
So his team set out to test the combination in the adjuvant setting in the CheckMate 914 trial, designed in two parts: Part A, comparing nivolumab plus ipilimumab with placebo, and Part B, adding nivolumab monotherapy as another comparator.
Reporting on Part A of the trial, Motzer explained that they included 816 patients with renal cell carcinoma who had undergone radical or partial nephrectomy with negative surgical margins and had a predominantly clear cell histology.
They also selected patients based on their pathologic TNM staging, choosing "high-risk" individuals, Motzer explained, but who nevertheless had no evidence of residual disease or distant metastases following nephrectomy.
Between 4 and 12 weeks after surgery, patients were randomized to receive 12 doses of nivolumab plus four doses of ipilimumab or matched placebos for an expected treatment duration of 24 weeks.
The median age of patients was 58–59 years, and approximately 71% were men. By far the most common type of surgery was radical nephrectomy, in 93%, and Motzer noted that most patients (77%-78%) had pT3 disease without nodal involvement.
After a median follow-up of 37.0 months, there was no significant difference between groups in the primary endpoint of DFS, as assessed by blinded independent central review.
Median DFS was not reached for nivolumab plus ipilimumab versus 50.7 months for placebo, at a hazard ratio of 0.92 (P = .5347). At 24 months, DFS was 76.4% with the combination therapy versus 74.0% for placebo.
Subgroup analysis did not reveal any patient groups that significantly benefitted from the combination therapy, although there was a signal of greater benefit in those with other than pT3 disease.
While tumors with sarcomatoid features appeared to have a significant benefit from nivolumab plus ipilimumab therapy, they represented only 5% of the study population.
During his presentation, Motzer showed the median duration of therapy was 5.1 months in both groups, but only 57% of nivolumab plus ipilimumab patients completed all doses versus 89% of those assigned to placebo.
In addition, 33% of patients given nivolumab plus ipilimumab discontinued due to study drug toxicity and 29% had a treatment-related adverse event that led to treatment discontinuation. This compared with only 1% of patients for both outcomes with placebo.
The most common treatment-related adverse events in the combination therapy group were pruritus (27%), fatigue (25%), diarrhea (20%), rash (19%), hyperthyroidism (16%), and hypothyroidism (16%), and the vast majority of events were grade 1–2.
Motzer said that, following these negative results, they are "certainly digging deeper into the details to see which particular groups may have benefited and when toxicity occurred.
Then, more importantly, the team will look out for the results of Part B of the trial to assess the impact of nivolumab monotherapy. "I'm hoping it's better tolerated," he said.
Discussant James Larkin, MD, PhD, a consultant medical oncologist at The Royal Marsden, London, UK, said the results from CheckMate 914 came "as a bit of a surprise."
As did Motzer, Larkin singled out the high number of patients who could not complete the full dosing schedule and discontinued treatment.
He added that, while one has to be "cautious" when comparing trials, KEYNOTE-564 was "relatively similar" in design, and it's "unlikely there's any significant difference in activity" between the two drugs.
Larkin also believes data from Part B of CheckMate 914 will be "illuminating."
There are nevertheless a number of outstanding questions about the results from Part A, he said, the main one being how to better select patients who might respond to the combination, which currently is not possible due to the lack of clinically relevant biomarkers.
The study was funded by Bristol Myers Squibb. Motzer has disclosed relationships with AstraZeneca, Aveo Pharmaceuticals, Bristol Myers Squibb, Eisai, EMD Serono, Exelixis, Genentech/Roche, Incyte, Lilly Oncology, Merck, Novartis, and Pfizer.
ESMO Congress 2022. Abstract LBA4. Presented September 11, 2022.
Follow Medscape on Facebook, Twitter, Instagram, and YouTube.
Credit: E+/Getty Images
Medscape Medical News © 2022 WebMD, LLC

Send comments and news tips to news@medscape.net.
Cite this: Adjuvant Nivo+Ipi Fails in Kidney Cancer, in Contrast to Pembro - Medscape - Sep 11, 2022.