PARIS — Desmoid tumors are rare, locally aggressive, soft-tissue tumors for which there is no approved systemic therapy — but a novel drug may become the first.
Nirogacestat, under development by Connecticut-based SpringWorks Therapeutics, is an oral, selective, small-molecule gamma secretase inhibitor (GSI) that targets the Notch signaling pathway, which is involved in cell differentiation. Desmoid tumors express high levels of Notch, so there is a "clear mechanistic rationale" for using such drugs in these patients.
Now, nirogacestat has shown a significant improvement in progression-free survival (PFS) and also a reduction in symptoms and better quality of life when compared with placebo in the phase 3 DeFi trial.
The company has said that, by the end of this year, it will file these data for US Food and Drug Administration approval of the drug for use in desmoid tumors.
Trial results were presented here at the European Society for Medical Oncology (ESMO) Congress in Paris, France.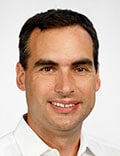 Overall, nirogacestat demonstrated "rapid, sustained, and statistically significant improvements in all primary and secondary endpoints," study presenter Bernd Kasper, MD, PhD, Sarcoma Unit, Mannheim Cancer Center, Mannheim, Germany, told a press conference.
There were "really impressive" reductions in pain scores and symptom burden, as well as improvements in health-related quality of life.
Kasper highlighted that this is the "first phase 3 trial…to demonstrate a clinical benefit with a gamma secretase inhibitor in any indication."
With the drug showing a "manageable safety profile," despite a high rate of ovarian dysfunction, Kasper believes it "has the potential to become the standard of care for patients with desmoid tumors requiring systemic treatment."
Asked by Medscape Medical News how long patients could take the drug, he replied, "Usually you take a drug as long as the patient benefits" from it.
"That means as long as there is no progression," Kasper said, noting that there are patients from the earlier phase trials of nirogacestat who have been taking the drug "for years."
However, there is a "very important question that is not answered" by the current study: "How long should we treat our patients?"
Kasper said to answer that question will require further trials, including those focused on treatment discontinuation.
Large Trial in Rare Cancer
DeFi is a "unique study" and "very important in many aspects," commented Jean-Yves Blay, MD, PhD, professor of medicine at the University Claude Bernard in Lyon, France, in an ESMO press release. Blay was not involved with the DeFi research.
"The results show benefit for the first time with a novel treatment with a new mode of action in patients where treatment options are currently limited," he said, adding that the findings are "practice changing."
Blay also praised the study for being "smart," as it showed that large, placebo-controlled trials can be conducted in a rare cancer, and demonstrated the "importance of targeting the right patients with right drug."
"The success of this study puts even more emphasis on the concept of having patients with rare cancers referred into reference centers, where clinical studies can be accomplished in record times, with the potential to deliver new treatments to patients with orphan diseases," he said.
Discussing the results following their presentation, Blay said there are nevertheless a number of different treatment options for desmoid tumors, including sorafenib (Nexavar), and it is not clear whether patients with nonprogressive disease would experience any symptomatic benefit with nirogacestat.
Biomarkers of treatment efficacy and resistance are also required, he continued, and the drug's long-term toxicity profile needs to be understood. In addition, its impact on ovarian dysfunction, as well as on future pregnancies, is currently unclear.
Details of the Results
Presenting the study, Kasper explained that desmoid tumors have a variable presentation and an "unpredictable disease course," and this together with the lack of approved therapies means they are "challenging to manage."
Moreover, "due to local and aggressive growth, desmoid tumors can cause pain, disfigurement, and functional problems that can be a real burden for patients," Kasper stressed.
Treatment should therefore be individualized to each patient to "optimize tumor control and improve the symptom burden," he told the audience, including the impact on pain, physical function, and overall quality of life.
Indeed, a recent global consensus-based guideline for the management of desmoid tumors recommended a five-step model for treatment selection based on the level of evidence, overall response rate, PFS rate, ease of administration, and expected toxicity.
The DeFi trial enrolled patients with progressive desmoid tumors, stratified by target tumor location (intra-/extra-abdominal), who were either treatment-naive and not amenable to surgery, or were treatment refractory or had recurrent disease after one prior line of therapy.
Kasper told Medscape Medical News that they required the patient to have at least 20% disease progression at the tumor sites so that they would include only those "who are in need of treatment."
He explained that requirement was "quite strict" to ensure they excluded patients with "smaller-scale disease" and those with spontaneous regression, which can occur in desmoid tumors.
In all, 142 patients from 37 sites worldwide were randomly assigned to receive either nirogacestat 150 mg or placebo twice daily in 28-day cycles until radiographic progression, at which point patients were moved into an open-label phase and placebo patients could switch to nirogacestat.
The median age of the patients was 34 years, and two thirds were female. Kasper underlined that there was a "rather high" prevalence of multi-focal disease, at around 40%.
At the data cutoff for the primary analysis on April 7, nirogacestat was associated with a significant reduction in disease progression, at a median PFS that was not reached vs 15.1 months for placebo, or a hazard ratio of 0.29 (P < .001).
This effect was seen across all subgroups included in the analysis, including when stratifying patients by age, gender, tumor characteristics, and prior treatment.
The objective response rate was also significantly higher with nirogacestat, at 41% vs 8% in patients assigned to placebo (P < .001). A complete response was seen in 7% of patients given active treatment vs 0% of those in the placebo group.
The median time to response was 5.6 months with nirogacestat and 11.1 months for patients given placebo.
Kasper also showed that nirogacestat was associated with significant reductions in pain severity compared with placebo at treatment cycle 10, as measured on the Brief Pain Index-Short Form of -1.5 (P < .001).
There were also significant improvements with nirogacestat over placebo in the DT Symptom and DT Impact Scales (P < .001 for both), and on the global health status/quality of life scale (P = .007), physical functioning scale (P < .001), and role functioning scale (P < .001) of the EORTC Quality of Life Questionnaire-Core 30.
After a median exposure of 20.6 months, grade 3 or higher treatment-emergent adverse events were observed in 57% of patients treated with nirogacestat vs 17% of those given placebo, who had a median treatment exposure of 11.4 months.
The most commonly reported adverse events of any grade with the active drug were diarrhea (84%), nausea (54%), fatigue (51%), and hypophosphatemia (42%), but Kasper noted that 95% of treatment-emergent adverse events were grade 1 or 2, with the first onset typically during cycle 1.
Ovarian dysfunction was observed in 75% of women of childbearing age, at a median onset at 9 weeks and a median duration of 21 weeks. However, the dysfunction resolved in 74% of patients, including those who continued active therapy.
The study was funded by SpringWorks Therapeutics, Inc. Kasper declares relationships with Bayer, Blueprint, Boehringer Ingelheim, SpringWorks, GSK, PharmaMar, and Ayala.
2022 Congress of the European Society for Medical Oncology (ESMO): Abstract LBA2. Presented September 10, 2022.
Credits:
Image 1: ESMO
Medscape Medical News © 2022 WebMD, LLC

Send news tips to news@medscape.net.
Cite this: First Drug for Desmoid Tumors: 'Impressive' Data for Nirogacestat - Medscape - Sep 10, 2022.