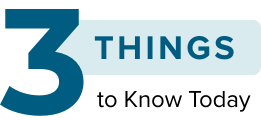 PAs Want Permanent Autonomy
Physician assistants gained greater autonomy during the COVID-19 pandemic and now want to make that change permanent.
The federal Coronavirus Aid, Relief, and Economic Security, or CARES, Act expanded the authority of PAs to write home health orders without a supervising physician as a way to meet growing primary healthcare needs.
Now, PAs want that change to become permanent.
Less supervision: Some 91% of PAs favor the permanent expansion of their scope of practice, according to the Medscape Physician Assistant Career Satisfaction Report 2022.
Good for patients? The American Medical Association opposes expanding the PA scope of practice permanently, arguing that it would be detrimental to patient safety.




Hip Fractures to Increase
A study predicts that the incidence of hip fractures globally will rise dramatically in the next few decades as the population ages.
The rate of such fractures is expected to double by 2050 as the cohort of people aged 85 years or older increases 4.5-fold, according to the study by Chor-Wing Sing, presented September 9 at the American Society of Bone and Mineral Research 2022 Annual Meeting.
Worse for men: The incidence of hip fractures was expected to increase more among men (2.4-fold) than among women (1.7-fold). Men were also more likely than women to die within 1 year of a hip fracture.
Mitigating the problem: "A greater effort on fracture prevention should be made to avoid the continuous increase in the number of hip fractures," said study senior co-author Ching-Lung Cheung. He also advised increasing the rate of antiosteoporosis medication treatments after hip fracture.




Do Good Genes Make a Fast Runner?
A person's genes may play a role in whether they succeed in high-level running competition.
A runner with a "relatively narrow, flat torso" had an edge in competitions requiring 100% effort, according to a study out of Spain.
Other genetic factors may also offer an advantage, including how efficiently a body uses oxygen.
Torso shape didn't matter: At levels below all-out effort, torso shape didn't appear to matter much, the study said.
Room for improvement: All runners can push themselves to build mental toughness and confidence, which come with harder or longer workouts.
For more news, follow Medscape on Facebook, Twitter, Instagram, and YouTube
© 2022 WebMD, LLC

Send comments and news tips to news@medscape.net.
Cite this: PAs Want Permanent Autonomy; Hip Fractures to Increase; Do Good Genes Make a Fast Runner? - Medscape - Sep 12, 2022.