The number of doctors of osteopathic medicine (DOs) is enjoying a significant growth pattern. This year alone, 7300 osteopathic physicians are entering the workforce, and they make up more than 25% of the medical student population. The pipeline of future DOs is at an all-time high of 36,500 students, according to the American Osteopathic Association (AOA).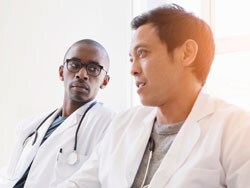 All 50 states plus Washington, DC, have DO practices, and Florida ranks third in terms of states with the most practicing DOs, topped by California in the No. 1 spot and Pennsylvania in second. New York and Michigan round out the top 5.
The pipeline to the profession is in a growth mode, too. For the upcoming academic year, the AOA's Commission on Osteopathic College Accreditation will accredit 38 colleges of osteopathic medicine in about 60 different locations.
Although DOs have existed for more than 100 years, historically they have sat somewhat in the shadow of their MD peers. That tide has turned, for a variety of reasons — one of which is recognition via several high-profile DOs. Look no further than the White House, for instance, where President Biden's physician is Kevin O'Connor, DO — the second DO to hold the position.
"The misrepresentation of osteopathic physicians has been a recent issue outside the nation's healthcare delivery system," says the American Medical Association's (AMA's) Robert Mills. "To combat this mischaracterization, the AMA and the AOA issued a joint statement [in 2020] highlighting the fact that DOs are licensed physicians who practice in every specialty area and have equivalent training and practice rights to their MD peers."
Attraction to the DO Philosophy
For many DOs, the path to osteopathic medicine was always a clear one. "I wanted to go into osteopathic medicine from the age of 17," says Nehal Gheewala, DO, national director of growth at ChenMed, a national primary care medical center.
Gheewala, who graduated from medical school in 2014, says he first spent time learning about the DO's holistic philosophy, which appealed to him. "I liked how they were invested in their patient's care, and that they first tried to treat musculoskeletal pain with manipulation. The result were quick, sometimes on the spot."
While in medical school, Gheewala was joined by 250 peers seeking a DO rather than an MD. "I never felt like I was in the minority," he says, "and today, as a practicing physician in Florida, we have a good number of DOs."
Like Gheewala, Samuel Werner, a New Jersey–based DO, was inspired by his father, a DO who has served as a small-town general practitioner. "Growing up, I saw how well-respected my dad was in the community and watched his connection with patients," Werner says. "He had the ability to pick up on small details others didn't."
Today, Werner sees the recognition and respect of DOs growing beyond where it was several decades ago.
One factor that is helping raise the DO profile is that residencies fall under the same umbrella for matching. In most states, medical licensing is the same, as well. Choosing to pursue a DO career requires additional training in wellness and manipulation. "In every specialty of medicine, DO students train alongside MD students," Werner says. "In practice, most patients are unaware if they're treated by a DO or an MD."
That has sometimes been Gheewala's experience. "Plenty of patients don't ask whether I'm an MD or a DO," he says, "and it doesn't matter. We're all board-certified doctors and as long as we're taking care of, and spending time with, our patients, that's what they want."
Joseph A. Giaimo, a DO in Florida who has practiced for more than 30 years and is a former past president of the AOA, says that some patients will seek out a DO instead of an MD. "Many patients see me because they specifically want to work with a DO; many of them are snowbirds who come to Florida during the winter," he explains.
In his long career as a DO, Giaimo has witnessed the profession's growth alongside a fading stigma that it's somehow less "authentic" than allopathic medicine. "There are still people who need to be educated on osteopathic medicine, but much of that has simply been a lack of understanding," he says. "That's changing, and it's our role to continue to educate people on what we're about."
Giaimo says that osteopathic medicine is striking the right tone in the moment, which is helpful to recognition and growth. "Coming out of the pandemic, people are more focused on staying healthy, and osteopathy offers an appealing approach," he says. "There's no better time for the two houses of medicine to come together, and it's a great time to be in osteopathy."
Moving Forward
One of the biggest places the physician shortage is problematic is in rural America. The federal government estimates that by 2025, there will be a physician shortage of 25,000 primary care doctors in these areas. This is another way in which the growing osteopathic field is having an impact.
"We have a number of schools in underserved areas, such as Oklahoma and on indigenous lands," says Giaimo. "There is a concerted effort to reach these communities, and we're getting some recognition for those efforts, too."
Gheewala also sees a greater emphasis on primary care physicians today, something that he believes has led more people to explore becoming or seeing a DO instead of an MD.
A full 57% of DOs focus on primary care, such as family practice, pediatrics, and internal medicine, with the others in specialized care. If those focused on primary care can fill some of the physician shortages, Gheewala says, it can help keep patients out of hospitals for their first line of care, reducing healthcare costs.
The tides are turning in the medical profession, as well, when it comes to respecting the osteopathy field. Students who graduate from osteopathic programs also have a high acceptance rate into residencies, which Giaimo credits to several factors.
He also doesn't discount the fact that DOs are talking more about their practice approaches these days. "It hits the right note for modern medicine, and it's also what the consumer is looking for today," he adds. Moving forward, this will be helpful to greater acceptance of DOs as equals to MDs.
For more news, follow Medscape on Facebook, Twitter, Instagram, and YouTube
Credits:
Lead image: DigitalVision/Getty Images
Image 1: DigitalVision/Getty Images
Medscape Medical News © 2022 WebMD, LLC

Send news tips to news@medscape.net.
Cite this: More DOs Join Physician Ranks as Osteopathic Pipeline Heats Up - Medscape - Sep 08, 2022.