Federal authorities have reached an agreement with the Indiana State Nursing Board regarding claims the board violated the Americans With Disabilities Act (ADA) by discriminating against nurses with opioid use disorder (OUD), according to a statement released yesterday.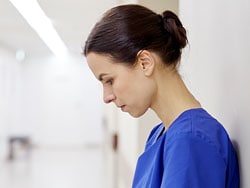 In March, the US Department of Justice (DOJ) announced the findings of its investigation, stating that the board "violated the ADA by prohibiting nurses who take medication to treat OUD from participating in the Indiana State Nursing Assistance Program [ISNAP]."
ISNAP rehabilitates and monitors nurses with substance use disorders, and the nursing board contracts with vendors to administer the program. Nurses seeking recovery must typically enroll in ISNAP and complete the 1-year program to maintain an active nursing license or have a license reinstated.
Following the investigation, the nursing board was instructed to implement corrective measures, such as revising policies and handbooks and training nursing board staff and vendors on ADA guidelines and nondiscriminatory practices.
The state's professional organization for nurses said the remediation efforts will help nurses who are struggling with opioid addiction.
Katherine Feley, DNP, RN, chief executive officer of the Indiana State Nurses Association, told Medscape Medical News, "Allowing nurses who take medication to treat OUD to remain on their medication when participating in [ISNAP] will avoid making nurses choose between their health and their profession. This improvement will increase access to treatment resources, enabling more nurses to complete treatment and progress toward a safe return to work."
The DOJ opened an investigation after receiving a complaint from a nurse in which she alleged that she was denied participation in ISNAP because of her use of prescription medication for OUD. In 2013, while participating in a methadone maintenance program, the nurse was told she had to taper off the medication because ISNAP utilizes an "abstinence-based" model. Because of these restrictions, she could not complete the program, and her nursing license was suspended in late 2014.
In 2016, her physician prescribed a new medication, buprenorphine, and the nurse attempted to enroll in ISNAP again. The program vendor instructed her to taper off the drug within 3 months of enrollment, something her physician believed "would come with a significant risk of relapse [and possibly] death." The nurse was unable to qualify for reinstatement of her license.
As part of the settlement, the nursing board has agreed to pay a total of $70,000 in damages to the complainant and report compliance with new guidelines to the DOJ every 6 months.
Nurses Allowed Access to "Lifesaving" OUD Medications
The DOJ says ISNAP's OUD abstinence policy does not conform with the state's statute, which mandates that substance abuse rehabilitation services be provided for nurses.
"Indiana may not deny individuals life-saving medications, including medications that treat [OUD], based on stereotypes and misinformation," Assistant Attorney General Kristen Clarke of the Justice Department's Civil Rights Division said of the settlement. "Requiring nurses to stop taking prescribed medication as a condition of maintaining a nursing license violates the ADA, and not only creates barriers to recovery but inappropriately limits employment opportunities based on disability."
In April, the DOJ issued guidance for protecting the civil rights of people with OUD under the ADA to ensure that individuals seeking treatment or recovery can continue participating in society and the workplace.
"The opioid epidemic has greatly impacted professionals and families of all walks of life, and Indiana nurses have the right to seek medically approved treatment for [OUD] under federal law," US Attorney Zachary A. Myers, of the Southern District of Indiana, said of the settlement. "Following the Justice Department's findings and the parties' settlement agreement, Indiana must now enact policies to ensure that Hoosier nurses will not be forced to choose between their recovery and their livelihoods."
Under the terms of the agreement, the nursing board must allow nurses who are taking OUD medication to participate in ISNAP when the medication is prescribed by a licensed practitioner as part of a medically necessary treatment plan and is incorporated into a recovery monitoring agreement.
Steph Weber is a Midwest-based freelance journalist specializing in healthcare and law.
For more news, follow Medscape on Facebook, Twitter, Instagram, and YouTube.
Credits:
Images: Syda Productions/Dreamstime
Cite this: DOJ: Indiana Nurses Allowed Controlled Substances During Opioid Recovery - Medscape - Sep 02, 2022.