Editor's note: Find the latest COVID-19 news and guidance in Medscape's Coronavirus Resource Center.
The California legislature has approved a bill that will allow the state medical board to discipline physicians who spread misinformation about COVID-19.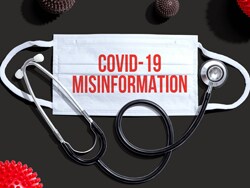 The legislation, AB 2098, finds "the dissemination of misinformation or disinformation related to the SARS-CoV-2 coronavirus, or 'COVID-19,' as 'unprofessional conduct.' " The directive covers "misleading information regarding the nature and risks of the virus, its prevention and treatment; and the development, safety, and effectiveness of COVID-19 vaccines."
Although the nature of the disciplinary action is not specified in the bill, owing to the fact that the state's licensing entities — the Medical Board of California and the Osteopathic Medical Board of California — are involved, it is assumed license suspension or revocation could be involved.
The legislation awaits the signature of Governor Gavin Newsom (D), who has 3 weeks to act. He has not yet indicated his stance.
The Federation of State Medical Boards warned last year that physicians who spread misinformation were at risk of disciplinary action by medical boards, but no states have codified that policy. California would be the first.
"Purposefully spreading false information is a violation of public trust that can cost people's lives," California Medical Association President Robert E. Wailes, MD, told Medscape Medical News. "AB 2098 will help preserve the integrity of the medical profession," he added.
Other California medical associations support the bill, including the state chapter of the American College of Emergency Physicians, although some physicians have criticized it as possibly infringing on free speech.
Taylor Nichols, MD, an emergency medicine physician, tweeted, "So grateful to see this pass," adding, "Of note, this was supported by both @californiaacep and @CMAdocs, and of course, with vocal advocacy from @NLFD_org [No License for Disinformation] and [its] executive director @NickSawyerMD."
No License for Disinformation (NLFD), a group seeking to make state medical boards hold doctors who spread disinformation accountable, supported AB 2098.
NLFD tweeted that the legislation, if passed, "will not have a chilling effect on free speech as there is no evidence COVID vaccines contain microchips, or have killed more people than COVID." The group said that the Medical Board of California "should lead in defense of truth."
Earlier in August, a group called Physicians for Informed Consent sued the Medical Board of California, seeking to stop it from investigating or disciplining physicians "who publicly disagree with the government's ever-evolving, erratic, and contradictory public health Covid-19 edicts."
Action Left to Medical Board
The bill defines misinformation as "false information that is contradicted by contemporary scientific consensus contrary to the standard of care." It defines disinformation as misinformation that has been "deliberately disseminated with malicious intent or an intent to mislead."
The California Medical Board of California and Osteopathic Medical Board of California will ultimately decide whether a physician should be disciplined.
Assembly member Evan Low, a Democrat who co-sponsored the legislation with Sen. Richard Pan, MD (D), said that physicians need to be held to a higher standard because they are held in such high regard by the public. Spreading misinformation "contradicts that responsibility and threatens to further erode the public trust in the medical profession and puts all patients at risk," he said in a statement when introducing the bill in February.
Kristina Lawson, president of the Medical Board of California, tweeted her support on August 30: "While other states are rolling back patient protections and amplifying dangerous voices, the California legislature is leading the way to ensure the @MedBoardOfCA has the tools it needs to take action against bad doctors who spread harmful misinformation that hurts patients," she tweeted.
Alicia Ault is a freelance journalist whose work has appeared in JAMA and on Smithsonian.com. You can find her on Twitter @aliciaault.
For more news, follow Medscape on Facebook, Twitter, Instagram, and YouTube.
Credits:
Images: iStock/Getty Image
Medscape Medical News © 2022

Cite this: California Bill: Docs Spreading Misinformation Is 'Unprofessional Conduct' - Medscape - Aug 31, 2022.