This transcript has been edited for clarity.
Neil Skolnik, MD: I'm Dr Neil Skolnik. The arts are important. We all know that. That's why we're drawn to art. Some of us have the talent and drive to create art. Today, we are privileged to have two physician artists join us.
Dr Stephanie Cohen is a second-year surgical resident and clinical fellow in surgery at Beth Israel Deaconess Medical Center in Boston. Dr Cohen came to her love of art and drawing early in her life. Welcome, Dr Cohen.
Stephanie Cohen, MD: Thank you, Dr Skolnick. It's an honor to be here today.
Skolnik: And Dr Dakshesh Parikh is a cardiologist in practice at the Victoria Heart and Vascular Center in Victoria, Texas, about 2 hours southwest of Houston. Dr Parikh came to his passion for painting just a couple of years ago, when he was in his 50s. Welcome, Dr Parikh.
Dakshesh Parikh, MD: Thank you. Pleasure being here.
Skolnik: Stephanie, let's start with you. How old were you when you began to draw?
Cohen: I have been drawing since I was a child. I always loved drawing. I drew pretty much any chance that I got, to the point that the only time that I really got in trouble in school was when I used to hide inside during recess to escape the brutally cold Illinois winters. Just to draw.

Skolnik: The first piece of art that you have chosen to share with us is a piece titled Equilibrium. Can you tell us a bit about that as we display it on the screen?

Cohen: I pursued a dual degree in biochemistry and art as an undergraduate and was doing all kinds of artwork from figure drawing to sculpture, but I hadn't really visited the theme of human anatomy. After finishing my first year of surgical residency, I had the opportunity to do medical illustrations for an Absite and Boards book, which is the end-of-training exam that we take every year. I wanted to come full circle and draw what inspired me to become a physician in the first place.
Skolnik: Fantastic. This piece is just amazing — the way that you make the point visually about how everything works together and how there is music to the way our bodies work.
Cohen: Multiple people in my family are musicians, and the thought that I had was that in an orchestra, when one instrument is out of tune, it really compromises the harmony of the entire piece. If somebody is not listening to the director, it's like a cancer cell that's bypassing checkpoints and being unresponsive to its environment. To play off of that theme, I created this art that incorporated human anatomy and musical instruments. In doing so, I really learned about the architecture of the human body and a little bit about its functions and how beautiful that it really is. And it made me want to pursue medicine.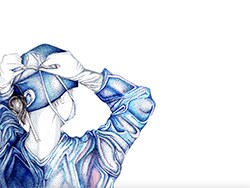 Skolnik: Your second piece is titled Potential. Can you tell us a bit about this while we display it?

Cohen: I created this piece during the last weeks of medical school prior to starting residency. I think that the pandemic, as well as the Black Lives Matter movement, made us realize that art is important to spread public health messages. And art was everywhere — encouraging people to socially distance or to wear masks. I wanted to create something about the pandemic, to communicate the uncertainty that we were experiencing, but also potential and excitement. The face of this woman is blank. She could be anybody. She could be preparing to do anything. That's why the background is also blank.
Skolnik: I love this piece. It really shows courage. It's bold, yet it's filled with promise.
Dr Parikh, I have the same question for you. How old were you when you started painting?
Parikh: I was 55 years old.
Skolnik: And what led you to it?
Parikh: At the height of the pandemic, I was quarantined away from my family.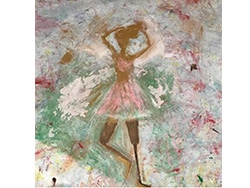 Skolnik: Can you share one or two of your favorite paintings? Let's start with the painting you titled The Ballerina With the Twin Prostheses. I was moved by this. Can you tell us when you painted it and what the painting means to you?

Parikh: This painting was about 6 months into my work in art. To me, this implies the insurmountable odds that the ballerina overcame to bring in the spring in the form of a ballet.
Skolnik: Beautiful. Let's look at your second painting, which is incredibly large. Can you give us a sense of its dimensions?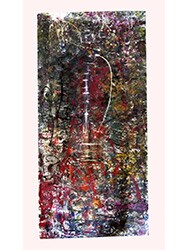 Parikh: It's about 18 feet high by 5 feet wide, and is called Cosmic Guitar. It speaks to the cosmic background radiation from the time of the Big Bang.

Skolnik: How does your art inform your practice as a physician?

Parikh: It does so, deeply. Creating art makes me empathize more with my patients and find a common avenue to talk about their lives; to be more observant and a keen listener.
Skolnik: Stephanie, how has your perspective on what you've learned from art influenced the way you approach practice as a doctor?
Cohen: Fundamentally, art teaches us about communication and perspective-taking. As physicians, nurses, physician assistants, or nurse practitioners, we all have something to bring to the table. And we all notice different things about our patients, even when different providers are looking at the same objective data. When I'm looking at something I plan on drawing, I have to take in the data, interpret it, and come up with a plan to achieve a goal. We may have a common goal, but different ways to go about achieving it. By communicating and taking other people's perspectives into consideration, we do a much better job at treating the patient as a whole.
Skolnik: What an incredibly important message. Dr Stephanie Cohen, Dr Dakshesh Parikh, thank you for joining us. I'm Dr Neil Skolnik, and this is Medscape.
Follow Medscape on Facebook, Twitter, Instagram, and YouTube
Credits:
Image 1: Stephanie Cohen, MD
Image 2: Stephanie Cohen, MD
Image 3: Dakshesh Parikh, MD
Image 4: Dakshesh Parikh, MD
Medscape Family Medicine © 2022 WebMD, LLC

Any views expressed above are the author's own and do not necessarily reflect the views of WebMD or Medscape.
Cite this: Neil Skolnik. Art Makes These Artists Better Doctors - Medscape - Sep 20, 2022.