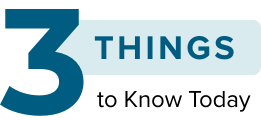 Free Second Opinions for Patients With Cancer
A San Francisco organization called thesecondopinion is offering free second opinions to patients with cancer — and saving lives in the process.
The group meets with at least three California patients with cancer each week. Patients meet for an average of 30-40 minutes with a panel of doctors who have expertise in their specific case. A team of four to five doctors spends a week reviewing each case. Then, they meet directly with the patient and their doctor to answer questions and deliver their consensus.
Big business: Medical second opinions are a large and growing industry projected to be worth more than $9.7 billion by 2027. A virtual second opinion at the Cleveland Clinic comes at a flat rate of $1850; at the Dana-Farber Cancer Institute in Boston, the cost is $2400.
Not just misdiagnosis: Many second opinions refine or redefine a patient's diagnosis. But that's rare at thesecondopinion. Instead, their role is usually clarifying and helping patients understand the disease and options that they have.




Fauci Stepping Down From NIAID
Anthony Fauci, MD, advisor to seven presidents and a key figure in the US fight against the coronavirus pandemic, announced Monday that he will step down from National Institutes of Health (NIH) in December.
Fauci, who has led the National Institute of Allergy and Infectious Diseases (NIAID) for nearly four decades, says he will not be retiring.
Inspire and mentor: "After more than 50 years of government service, I plan to pursue the next phase of my career while I still have so much energy and passion for my field," Fauci said. He noted that he would "continue to advance science and public health and to inspire and mentor the next generation of scientific leaders."
Science first: Fauci's insistence that science dictate the fight against coronavirus infection and COVID-19 often put him at odds with Trump and other conservatives.
His public profile under President Joe Biden has been much lower, but his words continue to have the power to influence public behavior. He first joined the NIH in 1968 and has advised every president since Ronald Reagan.




Leukemia Rates Higher in Kids Born Near Fracking
Children who are born near fracking and other "unconventional" drilling sites are at two to three times greater risk for childhood leukemia, according to a new study.
Widespread threat: Researchers looked at 405 children aged 2-7 years diagnosed with leukemia in Pennsylvania between 2009 and 2017. These children were compared with a control group of 2080 children without the disease who were matched on the year of birth.
Four million children: About 17 million Americans live within a half-mile of active oil and gas production, according to the Oil & Gas Threat Map. That number includes four million children.
In the water: The study also found that drinking water could be an important pathway of exposure to oil and gas-related chemicals.
"Previous health studies have found links between proximity to oil and gas drilling and various children's health outcomes," said one co-author. "This study is among the few to focus on drinking water specifically and the first to apply a novel metric designed to capture potential exposure through this pathway."
For more news, follow Medscape on Facebook, Twitter, Instagram, and YouTube
© 2022 WebMD, LLC

Send comments and news tips to news@medscape.net.
Cite this: Free Second Opinions for Patients With Cancer; Fauci Retiring; and Leukemia Linked to Fracking - Medscape - Aug 23, 2022.