In patients with moderate-to-severe atopic dermatitis, abrocitinib showed consistent treatment responses and no new safety issues, whether or not they had already been treated with the biologic dupilumab, an industry-sponsored study reports.
"In this post hoc analysis, both the efficacy and the safety profiles of abrocitinib were consistent in patients with moderate-to-severe atopic dermatitis, regardless of prior biologic therapy use," lead author Melinda Gooderham, MD, medical director of the SKiN Centre for Dermatology in Peterborough, Ontario, Canada, said during an oral presentation at the Society for Investigative Dermatology (SID) 2022 Annual Meeting.
"These results...support the use of abrocitinib in patients who might have received biologic therapy prior," she added.
"Prior biologic use did not reveal any new safety signals...keeping in mind the key limitation of this analysis is that it was done post hoc," she noted.
Guidelines for moderate-to-severe atopic dermatitis refractory to topical or systemic therapy include systemic immunosuppressants and dupilumab, a monoclonal antibody that inhibits interleukin-4 and interleukin-13 cytokine-induced responses, Gooderham said.
The US Food and Drug Administration (FDA) recently approved abrocitinib, an oral once-a-day Janus kinase 1 (JAK1) inhibitor, to treat the disease. The approval came with a black-box warning about increased risk for serious infections, mortality, malignancy, and lymphoproliferative disorders, major adverse cardiovascular events, thrombosis, and laboratory abnormalities.
Comparing the Bio-Experienced With the Bio-Naive
Gooderham and colleagues investigated whether patients who'd been treated with a biologic would respond to abrocitinib differently than patients who had not received prior biologic treatment.
Researchers pooled data from two phase 3 placebo-controlled trials of abrocitinib that led to approval and an earlier phase 2b study. They identified 67 patients previously treated with dupilumab and 867 patients who were bio-naive. They repeated their analysis using data from another phase 3 study of abrocitinib on 86 patients previously treated with dupilumab and 1147 who were bio-naive. On average, the bio-experienced patients were in their mid-30s to early 40s and the bio-naive group was several years younger.
In the pooled phase 2b and phase 3 JADE MONO-1 and JADE MONO-2 monotherapy trials, patients received once-daily abrocitinib 100 or 200 mg or placebo for 12 weeks. In the phase 3 JADE REGIMEN, which they analyzed separately, eligible patients were enrolled in a 12-week open-label run-in period during which they received an induction treatment of abrocitinib 200 mg once a day.
Researchers compared results of two assessments: the IGA (Investigator Global Assessment) and EASI-75 (Eczema Area and Severity Index, 75% or greater improvement from baseline).
At week 12, IGA 0/1 dose-dependent response rates were similar in the pooled groups, regardless of whether they had received prior biologic therapy. With abrocitinib 200 mg, 43.5% of those with prior dupilumab therapy responded versus 41.4% of bio-naive patients; with abrocitinib 100 mg, 24.1% vs 26.7% responded. In JADE REGIMEN, corresponding response rates with abrocitinib 200 mg were 53.5% vs 66.9%, respectively.

At week 12, EASI-75 responses were also comparable. In the pooled groups by dose, with abrocitinib 200 mg, EASI-75 response rates were 65.2% in patients with prior dupilumab therapy vs 62.4% in those without; at abrocitinib 100 mg, 34.5% vs 42.7% responded. Corresponding rates in JADE REGIMEN were 64.0% vs 76.4%, respectively.

Treatment-emergent adverse event rates among patients with vs without prior biologic therapy were, respectively, 71.7% vs 69.9% (abrocitinib 200 mg + 100 mg groups) in the pooled population. Rates in JADE REGIMEN with abrocitinib 200 mg were, respectively, 66.3% vs 66.5%.

Abrocitinib efficacy and safety were consistent in patients with moderate-to-severe atopic dermatitis, regardless of prior biologic therapy. Adverse events in the pooled monotherapy trials and in JADE REGIMEN included acne, atopic dermatitis, diarrhea, headache, nasopharyngitis, nausea, upper abdominal pain, and upper respiratory tract infection.
The authors acknowledge that the post hoc study design is a limitation and recommend confirming these findings in a large, long-term prospective study.
JAK Inhibitors Expand Treatment Options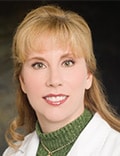 The results will help doctors treat their patients, Jami L. Miller, MD, associate professor of dermatology and dermatology clinic medical director at Vanderbilt University Medical Center in Nashville, Tennessee, told Medscape Medical News.
"Because JAK inhibitors have potentially more side effects than inhibitors of interleukin-4 and interleukin-13, in clinical practice most dermatologists are more likely to treat patients first with dupilumab or similar meds and step up to a JAK inhibitor if they do not respond," she added in an email.
"With more meds coming out to meet the needs of this population, this is an exciting time for patients with moderate-to-severe atopic dermatitis," she commented.
Lindsay C. Strowd, MD, associate professor and vice chair of the Department of Dermatology of Wake Forest University School of Medicine in Winston-Salem, North Carolina, said JAK inhibitors are increasingly being studied and approved for use in various dermatologic diseases.

An oral JAK inhibitor (upadacitinib) is currently FDA approved for moderate-to-severe atopic dermatitis, and a topical JAK inhibitor (ruxolitinib) is also approved for use in atopic dermatitis, Strowd noted.
"The study results give providers important practical information," added Strowd, who also was not involved with the study. "Those of us who care for patients with severe atopic dermatitis need to know how patients with prior biologic exposure will respond as newer agents come to market and the options for biologic use in atopic dermatitis continue to grow."
The study was sponsored by Pfizer. All study authors have reported relevant financial relationships with, and several authors are employees of, Pfizer, the developer of abrocitinib. Strowd and Miller have reported no relevant financial relationships.
SID 2022 Annual Meeting. Poster 310. Presented May 20, 2022 (virtual presentation June 13 through August 14, 2022).
Follow Medscape on Facebook, Twitter, Instagram, and YouTube.
Lead image: Pfizer
Headshots: Wake Forest University School of Medicine, Jami L. Miller
Medscape Medical News © 2022 WebMD, LLC

Send comments and news tips to news@medscape.net.
Cite this: Abrocitinib Evaluated in Patients With And Without Prior Dupilumab Treatment - Medscape - Aug 18, 2022.