A low-level light therapy cap may be a safe, convenient treatment for some patients with central centrifugal cicatricial alopecia, though the treatment effects from a small prospective trial appear to be subtle.
Central centrifugal cicatricial alopecia (CCCA) is a form of scarring hair loss with unknown etiology and no known cure that affects mainly women of African descent.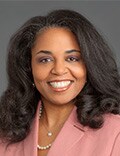 "The low-level light therapy (LLLT) cap does indeed seem to help with symptoms and mild regrowth in CCCA," senior study author Amy J. McMichael, MD, told Medscape Medical News in an email. "The dual-wavelength cap we used appears to have anti-inflammatory properties, and that makes sense for a primarily inflammatory scarring from of alopecia."
"Quality of life improved with the treatment and there were no reported side effects," McMichael, a professor of dermatology at Wake Forest University School of Medicine in Winston-Salem, North Carolina, added.
The results of the study were presented in a poster at the Society for Investigative Dermatology (SID) 2022 Annual Meeting in Portland, Oregon.
The REVIAN RED cap (REVIAN Inc) used in the study contains 119 light-emitting diodes (LEDs) arrayed on the cap's interior surface that emit orange (620 nm) and red (660 nm) light.
The hypothesis for how the dual-wavelength lights work is that light is absorbed by the chromophore cytochrome c oxidase in the mitochondrial membrane. This induces the release of nitric oxide and the production of adenosine triphosphate (ATP), which leads to vasodilation, cytokine regulation, and increased transcription and release of growth factors.
LLLT is approved to treat androgenetic alopecia, the authors write, but has not been studied as a treatment for CCCA.
To assess the effects of LLLT on CCCA, McMichael and her colleagues at Wake Forest followed the condition's progress in five African American women over their 6-month course of treatment. Four participants completed the study.
At baseline, all participants had been on individual stable CCCA treatment regimens for at least 3 months. They continued those treatments along with LLLT therapy throughout the study. The women ranged in age from 38 to 69 years, had had CCCA for an average of 12 years, and their disease severity ranged from stage IIB to IVA.
They were instructed to wear the REVIAN RED cap with the LEDs activated for 10 minutes each day.
At 2, 4, and 6 months, participants self-assessed their symptoms, a clinician evaluated the condition's severity, and digital photographs were taken.
At 6 months
3 patients showed improved Dermatology Life Quality Index (DLQI)

3 patients showed decreased loss of follicular openings and breakage

A dermoscopic image of the scalp of one patient revealed short, regrowing vellus hairs and minimal interfollicular and perifollicular scale

No patients reported side effects
Small Study Raises Big Questions
"I hope this study will lead to a larger study that will look at the long-term outcomes of CCCA," McMichael said. "This is a nice treatment that does not require application of something to the scalp that may affect hair styling, and it has no systemic side effects."
McMichael acknowledges that the small sample size, participants continuing with their individual stable treatments while also undergoing light therapy, and the lack of patients with stage I disease, are weaknesses in the study.
"However, the strength is that none of the patients had side effects or stopped using the treatment due to difficulty with the system," she added.
McMichael would like to investigate the effects of longer use of the cap and whether the cap can be used to prevent CCCA.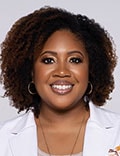 Chesahna Kindred, MD, MBA, FAAD, an assistant professor of dermatology at Howard University College of Medicine in Washington, DC, and founder of Kindred Hair & Skin Center in Columbia, Maryland, told Medscape Medical News that she uses LLLT in her practice.
"I find that LLLT is mildly helpful, or at least does not worsen, androgenetic alopecia," she said.
"Interestingly, while all four patients had stable disease upon initiating the study, it appears as though two of the four worsened after the use of LLLT, one improved, and one remained relatively stable," Kindred, who was not involved in the study, noted. "This is important because once there is complete destruction of the follicle, CCCA is difficult to improve.
"Given that there are several options to address inflammation and follicular damage in CCCA, more studies are needed before I would incorporate LLLT into my regular treatment algorithms," she added.
"Studies like this are important and remind us to not lump all forms of hair loss together," she said.
Revian Inc provided the caps, but the study received no additional funding. McMichael and Kindred report relevant financial relationships with the pharmaceutical industry. Study co-authors have disclosed no relevant financial relationships.
Society for Investigative Dermatology (SID) 2022 Annual Meeting: Poster 688. Presented May 20, 2022 (virtual presentation June 13 through August 14, 2022).
For more news, follow Medscape on Facebook, Twitter, Instagram, and YouTube.
Credits:
Lead Image: Dreamstime
Image 1: Wake Forest University School of Medicine
Image 2: Kindred Hair & Skin Center
Medscape Medical News © 2022

Send news tips to news@medscape.net.
Cite this: Lorraine L. Janeczko. Low-Level Light Therapy Cap Shows Subtle Effects on Central Centrifugal Cicatricial Alopecia - Medscape - Aug 10, 2022.