Single-use electronics, such as point-of-care diagnostic devices, may become more environmentally friendly thanks to an experimental water-activated, biodegradable battery.
In standard batteries, water can cause a short circuit by disrupting the flow of electrons from the positive to the negative terminal. Researchers from the Swiss Federal Laboratories for Materials Science and Technology, in Dübendorf, Switzerland, have harnessed the electrochemical properties of water and have used it as a catalyst.
When water is absorbed through the battery wick, it dissolves sodium chloride dispersed through the base of the battery and activates the electrochemical cell. The battery uses other biodegradable materials, such as zinc for the metal anode, graphite for the nontoxic cathode, and paper for the substrate.
The researchers developed sustainable materials and processing techniques that allow the printing of paper-based batteries that are "safe and nonharmful," according to co-author Gustav Nyström, PhD, and that "can therefore be disposed of with a minimum impact on the environment."
e-Waste, waste generated by electronics, has been steadily increasing. Each year, the total amount of electronic equipment used across the world grows by 2.5 million tonnes. With an increase in use comes an increase in waste.
Globally by 2030, the total amount of e-waste is expected to reach 74.7 million tonnes, which is equivalent to the weight of nearly 490 cruise ships.
The healthcare industry uses a variety of electronics that contribute to e-waste, including computers, tablets, mobile devices, and a slew of other small devices ― as well as all the batteries that power them. The researchers anticipate that devices such as point-of-care diagnostic equipment (eg, blood-glucose monitors and blood cell count measurers) could be powered by these batteries.
"We think it can be useful to power low-power electronics and sensors, for instance, for agricultural, environmental, or food sensing, but also, for instance, for biomedical diagnostic kits," said Nyström.
To demonstrate the energy capabilities, the researchers fabricated a two-cell battery and used it to power a digital alarm clock. The battery was designed to remain inactive until water is applied and absorbed by the paper substrate component of the battery.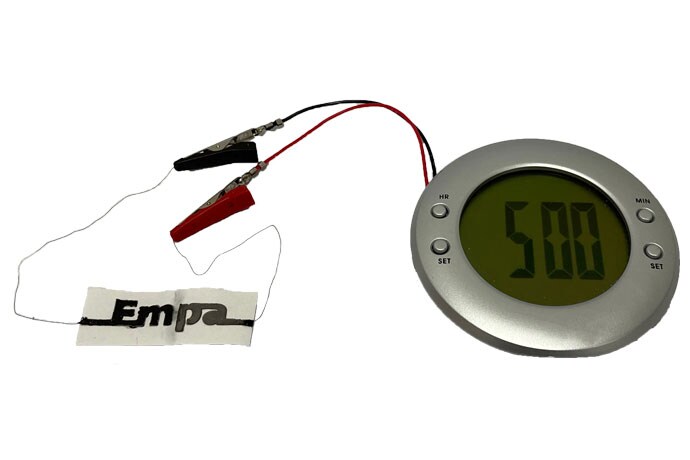 Digital clock being powered by a battery made out of a piece of paper.
Once activated, a single battery cell can provide an open circuit potential of 1.2 V and a peak power density of 150 µW/cm2 at 0.5 mA. For comparison, a AAA alkaline battery has a voltage potential of about 1.6 V.
In the experiments, the battery operated for about an hour before performance decreased as a result of the drying of the paper substrate. When rehydrated, the battery rapidly recovered its performance capabilities.
A larger or thicker wick might extend the battery life by acting like a water reservoir, according to the researchers.
"Paper has been an information carrier for thousands of years. Now in the current connected society, we see a new role of paper as a safely disposable digital carrier of information," said Nyström. "Hopefully, our research can contribute to new ways to integrate energy storage."
Nyström reports no relevant financial relationships.
Sci Rep. Published online July 28, 2022. Full text
Kaitlin Edwards is a staff medical editor based in New York City. You can follow her on Twitter @kaitmedwards. For more news, follow Medscape on Facebook, Twitter, Instagram, and YouTube.
For more news, follow Medscape on Facebook, Twitter, Instagram, and YouTube.
Credits:
Images: Dr Gustav Nyström/Swiss Federal Laboratories for Materials Science and Technology
Medscape Medical News © 2022

Cite this: Just Add Water: A Biodegradable Paper Battery Could Power Medical Devices Someday - Medscape - Aug 05, 2022.