For the first time in its 175-year history, a nurse will lead the New York Academy of Medicine (NYAM). Ann Kurth, PhD, MSN, CNM, dean of the Yale School of Nursing, will be the first nonphysician president of NYAM, which promotes innovation in public health and health inequity.
Medscape Medical News spoke with Kurth, an epidemiologist and certified nurse midwife, to talk about this historic leadership change and what it means to nurses and the medical community.
Medscape: Tell us about this move by NYAM to break with tradition and select a nurse instead of a medical doctor to lead the organization.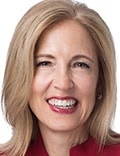 Kurth: It's a good moment. NYAM has always been a pioneer [in improving] the health of the population and drawing on science to do so.... There are not many medical associations that have as long a history. The board and a national search firm had the foresight to be open to non-MD leadership. It brings things up to the 21st century.
Medscape: What does this mean for nurses as leaders?
Kurth: Health takes a team. Healthcare and public health require multiple disciplines.... It's great to have a nurse move into a role traditionally filled by a physician.... Nurse leaders are breaking the barrier.
Medscape: What do nurses bring to the table?
Kurth: They bring a sense of equity.... NYAM has [about 2000 elected members and] fellows. Nurse fellows are one of the fastest-growing groups. It speaks to the interaction between nurses and doctors in the fellowship,... that there are more of us, we all stay engaged and fill health needs.
Medscape: You've been a leader in the American Academy of Nursing and the American College of Nurse-Midwives. You were past chair of the Consortium of Universities for Global Health and served on the US Preventive Services Task Force, and you co-chair the National Academy of Medicine's Board on Global Health. You've also conducted research funded by the National Institutes of Health and others on HIV/reproductive health, global health systems, climate change, and other areas that disproportionately affect marginalized populations. How does your background align with your new role?
Kurth: I embody an interdisciplinary base. I've worked in academia, nonprofits, healthcare delivery, and public health. NYAM issued one of the first national maternal mortality reports. My own great-grandmother died because she had no postpartum care. My [close family member] was a gay physician back when NYAM considered homosexuality a disease as opposed to honoring human diversity. [The current NYAM president issued an apology earlier this year.] These issues still exist; not all have gone away.
Medscape: What are the big issues on your agenda as president?
Kurth: How public health, health systems, and communities adapt for the climate crisis is going to be a feature for the next few decades. Collaborating with our communities and partners is going to be an ongoing theme and tool.... Health systems and public health also have to decide how to ensure the resilience of the health workforce itself....
It's a really crucial time, and it requires all hands on deck. NYAM is going to step up as it enters its 176th year and use health evidence to make an even greater health impact. Honestly, with all our professions and skill sets, we can do a better job around that. It's a great moment to come together and use science to advocate for health, and that's exactly the mission I'm excited to be part of.
For more news, follow Medscape on Facebook, Twitter, Instagram, and YouTube.
Credits:
Images: Mara Lavitt
Medscape Medical News © 2022

Cite this: First Nurse to Lead New York Medical Association - Medscape - Aug 05, 2022.