Every time I go to the beach, I bring a book but hardly open it. Instead, I look at the waves and listen to the gulls. My eyelids get heavy and my heart rate decreases. My stiff joints relax as I walk along the shore. The fatigue in my feet melts away as they sink in the sand. The beach at Sandy Hook National Recreation Area is one of my happy places. It revives me and reminds me that nature is good medicine.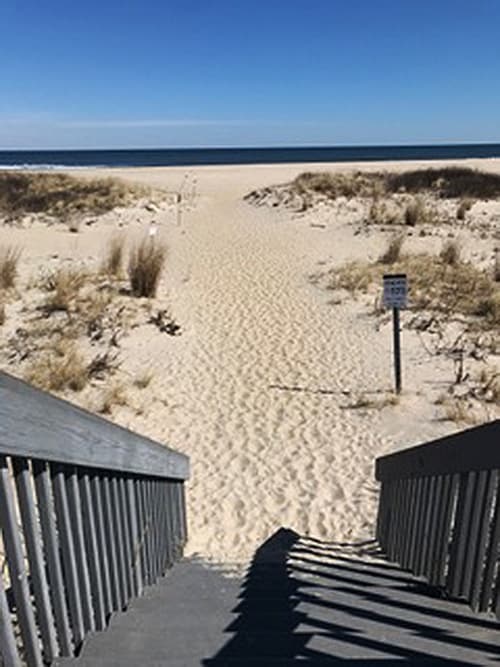 Doctors in Canada can give patients a prescription for nature that is essentially a free pass to Canada's national parks for 1 year. The recommended "dose" 2 hours a week in at least 20-minute intervals — is based on research. In a survey of over 19,000 participants, spending at least 2 hours per week in nature was associated with an increase in self-reported well-being and good health compared with no contact with nature. The benefit was seen across all age groups and in those with chronic health conditions.
The psychological benefits of nature have been shown in validated questionnaires and verified through neural imaging. In one study, 38 healthy adults were randomized to a 90-minute walk in either a natural or urban environment. Those who walked in nature had decreased self-reported rumination and decreased activity in the subgenual prefrontal cortex, an area of the brain associated with rumination, before and after the walk. The urban walkers showed no such decreases.
In the US, more physicians have been writing nature prescriptions. The National Park Service and some schools and insurance companies are starting to promote nature as an adjuvant treatment for depression, anxiety, and diabetes, among other chronic diseases. Green spaces promote physical activity and decrease risks for cardiometabolic disease. A 2018 meta-analysis of observational and interventional studies concluded that exposure to green space was associated with low salivary cortisol, lower blood pressure, and better heart rate variability, along with decreased cardiovascular and overall mortality.
Urbanization, the COVID-19 pandemic, and the expansion of the virtual world has resulted in limited access to green space for many people. But nature can be found in unlikely places. In one of the most concrete-laden areas in the US, Brooklyn Bridge Park runs along the East River. The towers of the financial district are postcard pretty when glimpsed through the trees and bushes that line the meandering trails.
Abandoned piers have been repurposed as arboretums and athletic courts with water views. When nature cannot be reached through the outside world, it can be brought indoors with plants, sounds, fragrance, and photos.
As medical providers, we must promote health and not simply attempt to put out the fires of chronic diseases. We should also epitomize health. Give your patients and yourself a prescription for nature: dig in the dirt, walk on the beach, hike a trail.
Join Medscape's new blog initiative! We're looking for physicians, nurses, PAs, specialists, and other healthcare professionals who are willing to share their expertise in one to two paid blog posts per month. Please email Medscape-Blogs@webmd.net for more information.
Follow theheart.org | Medscape Cardiology on Twitter
Follow Medscape on Facebook, Twitter, Instagram, and YouTube
About Dr Vivian Kominos
Vivian Kominos, MD, is an integrative cardiologist with a practice in Oceanport, New Jersey. She is an assistant professor of medicine at the Andrew Weil Center for Integrative Medicine, University of Arizona, and a founding member of the American Board of Integrative Medicine.
Credit:
Image 1: Vivian Kominos, MD
© 2022 WebMD, LLC

Any views expressed above are the author's own and do not necessarily reflect the views of WebMD or Medscape.
Cite this: Vivian A. Kominos. Recreation as Rx? Why You Should Prescribe Nature - Medscape - Aug 09, 2022.