Despite most healthcare executives acknowledging the importance of health equity for their patient populations, most have no idea how to accomplish it, according to recent survey findings published this week by consulting firm BroadReach Group.
The first annual State of US Health Equity Survey collected data from 192 senior healthcare decision-makers over 5 weeks in June and July. Respondents were contacted via email, through a targeted LinkedIn campaign, and during attendance at the Special Needs Plans (SNP) Alliance Conference in May and America's Health Insurance Plans (AHIP) Conference in June.
Participants completed an online survey containing 12 multiple-choice questions intended "to understand how important health equity is within their organizations and what steps they are taking to addressing health inequities today and in the future."
More than half (59.4%) of respondents work for payer organizations, 23.4% for research, consulting, or tech services companies, and 17.2% for provider organizations. Most (> 75%) of the participating organizations manage patient populations larger than 100,000 members, with 33.8% offering single-state coverage, 29.2% serving multiple states, and 14.6% offering national coverage.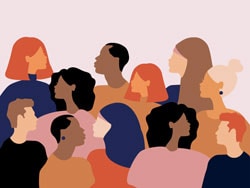 Nearly all (95%) participants agree that organizations should address disparities in health outcomes and quality measures — and 24.5% define it as "mission critical" — but most (> 88%) have no formal, comprehensive roadmap for "promoting health equity across their people, process, and technology," including 43.5% with no plan at all and 45.3% with only a partial plan.
Of those with a partial plan, 53.1% are unsure if health equity will be a priority within the next 12-18 months, and only 8% are committed to prioritizing such measures in the short term.
While addressing health disparities is the right thing to do, said John Sargent, MD, co-founder of BroadReach Group, during a briefing about the survey, there is also an economic incentive.
"In the United States, it's estimated that we waste roughly $320 billion a year due to inequities in care, and that's estimated to go up to close to $1 trillion per year by 2040," he said. "Additionally, poor outcomes due to health disparities lead to roughly $42 billion in lost productivity."
Data Collection Should Be Top Priority
To improve health equity, organizations must have a solid understanding of employee and patient demographics and "how best to connect with the [care] population within cultural and linguistic parameters," notes the survey, particularly when the workforce differs significantly from the patients served.
Survey respondents cite data challenges as the primary barrier to advancing health equity initiatives, including incomplete or inaccurate data and the lack of infrastructure necessary to capture it successfully.
This points to "a fundamental disconnect when it comes to data and health equity," Sargent told Medscape Medical News. "Many people simply aren't aware of all the data they have, but also where they can get data to fill in missing gaps." Converting the data to something actionable often requires additional "resources to dig in and connect the dots," he adds.
Surprisingly, just 4.2% of participants have racial and linguistic data on more than 75% of their care populations, while 43.8% do not know if the information is being collected. Employee demographics are equally sparse; only 7.8% of those surveyed have amassed substantial employee data, and approximately half (55.2%) are unsure if the metrics are tracked.
Although government agencies have announced plans to reduce disparities, like the CMS Framework for Health Equity, many organizations struggle to offer even basic culturally competent care. According to the survey, more than half (55.7%) do not consistently provide care in languages other than English, and 44.3% provide care solely in English.
In addition, 63.5% of respondents are unsure if their organizations will pursue health equity accreditation through the National Committee for Quality Assurance (NCQA) within the next 2 years. Because NCQA guidelines are the "gold standard" in measuring health plan performance, healthcare entities "will therefore likely see more fee-for-value contracts requiring … accreditations like NCQA," says the survey.
Since organizations may have a tenuous understanding of their patients, initial efforts to address health equity should focus on data collection.
"Get your baseline data and figure out what is happening at the neighborhood level," said Amy Helwig, MD, MS, FAAFP, executive vice president at RTI Health Advance, and a guest panelist at the briefing. "That's going to help identify either clinical or quality issues. Start small, build on success, and then scale."
Steph Weber is a Midwest-based freelance journalist specializing in healthcare and law.
For more news, follow Medscape on Facebook, Twitter, Instagram, and YouTube.
Credits:
Images: Dreamstime
Medscape Medical News © 2022

Cite this: Most Healthcare Leaders Lack Formal Plan to Address Care Disparities: Survey - Medscape - Jul 29, 2022.