A suburban Chicago general surgeon could face up to a decade in federal prison after allegations of submitting fraudulent claims to Medicare and a private insurer.
John A. Greager, MD, 74, specialized in mole removal and cancer screenings in his own practice, Cancer Therapy Associates S.C. in Lombard, Illinois, according to charging documents. From 2015 to 2021, Greager allegedly obtained $4.1 million from Medicare and Blue Cross Blue Shield of Illinois by submitting fraudulent claims, falsely indicating that mole removal procedures were performed for a number of patients.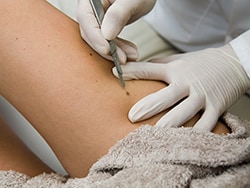 According to officials, when he did perform removal procedures, Greager was aware that they were hardly medically necessary. Charging documents indicate that Greager, along with an unnamed biller and two medical technicians, manipulated CPT codes for higher reimbursement.
It is also alleged that as part of the scheme, Greager and the employees, in order to keep track of when mole specimens were to be sent to a lab for pathology, maintained a surgery book with asterisks marked at patient names which falsely denoted appointment dates. The team would then alter dates when sending the specimens to the lab to make it appear the services happened on those dates.
For services performed and unperformed, Greager dictated notes and provided paperwork to the employees for submission as fraudulent claims.
Greager is charged with one count of healthcare fraud and faces arraignment at a future date.
According to the Illinois Board of Medical Licensure, Greager obtained his surgical license to practice in the state in 1975. His license expires in 2023.
Frankie Rowland is an Atlanta-based freelance writer.
Follow Medscape on Facebook, Twitter, Instagram, and YouTube
Credits:
All images: E+/Getty Images
Medscape Medical News © 2022 WebMD, LLC

Send news tips to news@medscape.net.
Cite this: Mole Removal Specialist Accused of $4.1M Healthcare Fraud Scheme - Medscape - Jul 21, 2022.