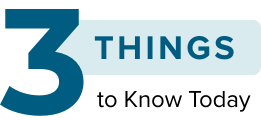 Job Market for Physicians Rebounds After COVID Slump
The job market for physicians returned to normal after a year of decline caused by the COVID-19 pandemic.
Uncertainty during COVID: Search engagements for physician jobs were down by over 30% in 2020.
Strong rebound: By the end of 2021, engagements spiked dramatically to a 34-year high.
Demand is up: Demand for physicians is owed to a backlog of patients needing care followed by a period of curtailed elective procedures and patients refraining from entering medical facilities. Widespread chronic illness and an aging population also contribute to demand.
Getting competitive: Along with increased salaries, many healthcare organizations added signing bonuses to create competitive recruiting packages. Ninety-two percent of candidates were offered signing bonuses in 2021-2022 compared with just 61% in 2020-2021.



How to Improve Fitness When You're Short on Time
Exercise can lead to considerable physical and psychological benefits, but it can be hard to find the time for long workouts when faced with demanding schedules.
Though short workouts probably won't lead to total-body transformations, even 10 -minute workouts can improve health, mental wellbeing, and fitness.
Short, intense bursts: Ten-minute workouts, like cycling as hard as you can for 4 seconds then resting for 15 seconds or climbing three flights of stairs three times, showed to improve fitness over time.
Accumulating a healthier lifestyle: The recommended 150 minutes of moderate-intensity aerobic exercise weekly doesn't have to be all at once. Research shows that 4 minutes here, 8 minutes there, another 5 minutes again later all add up.
Work harder, faster: The harder you work, the faster the fitness rewards. Vigorous exercise that causes breathing so hard only a few words can be gasped can half the minimum recommended exercise time to 75 minutes weekly.



Amazon Announces Plans to Acquire One Medical
Yesterday, Amazon announced plans of buying One Medical, a primary care company, in a $3.9 billion deal, according to Stat News.
The companies plan to offer more convenient and affordable healthcare in-person and virtually.
A more robust primary care: One Medical provides telehealth visits, in-person care, and utilizes tech-enhanced healthcare with online appointment bookings, text-messaging with clinicians, and their own health record software.
Amazon in the healthcare space: In recent years Amazon has been increasing its presence in healthcare fields. They acquired online pharmacy PillPack in 2018, launched their own prescription delivery service in 2020, and signed IT contracts with major health system Geisinger.
Kaitlin Edwards is a staff medical editor based in New York City. You can follow her on Twitter @kaitmedwards. For more news, follow Medscape on Facebook, Twitter, Instagram, and YouTube.
© 2022 WebMD, LLC

Send comments and news tips to news@medscape.net.
Cite this: Strong Physician Job Market; Quick Fitness; and Amazon Healthcare Acquisition - Medscape - Jul 22, 2022.