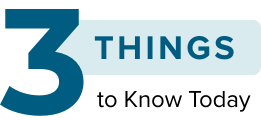 Two Congressmen Targeting "Gender Transition" Physicians
Two GOP Congressmen — Rep. Jim Banks (IN) and Sen. Tom Cotton (AR) — introduced a bill called the Protecting Minors from Medical Malpractice Act, aimed at holding doctors liable for their actions when performing gender transition surgeries on minors.
The bill would make doctors who perform any gender transition surgery on minors liable for any physical, psychological, emotional, or physiological injuries up to 30 years after the patients turn 18.
Other details: The bill also reduces federal funding to states requiring healthcare professions to provide gender transition procedures like puberty blockers, cross-sex hormones, and gender reassignment surgery.




US Accuses Fresenius Medical Care Unit of Fraud in Dialysis Treatment
The United States joined a whistleblower lawsuit against a unit of Fresenius Medical Care AG, based in Germany. The lawsuit accuses the company of defrauding Medicare by billing dialysis patients for medically unnecessary procedures.
The filing complaint states that Fresenius Vascular Care routinely performed unnecessary procedures in nine New York City facilities to drive up revenue and help meet performance metrics.
The victims: Many patients involved were older, low-income, or disadvantaged minorities, according to the US Department of Justice.




Feds Warn Pharmacists: Don't Refuse to Provide Abortion Pills
The Federal Government issued guidelines aimed at protecting abortion access.
Pharmacists must provide medication: The guidance reminded retail pharmacies of federal law obligations to supply prescribed medications and warned that withholding pills could be considered discrimination based on sex or disability.
Doctors must provide treatment: Additional guidance reminded hospitals that doctors have to provide stabilizing treatment for patients with emergency medical conditions, which could include an abortion for a life-threatening pregnancy issue, under federal law.
It is speculated that the guidance will be challenged in court.
Kaitlin Edwards is a staff medical editor based in New York City. You can follow her on Twitter @kaitmedwards. For more news, follow Medscape on Facebook, Twitter, Instagram, and YouTube.
© 2022 WebMD, LLC

Send comments and news tips to news@medscape.net.
Cite this: Liability for Gender Transition Procedures; Dialysis Treatment Fraud; and Federal Guidance on Abortion - Medscape - Jul 15, 2022.