Several states are in the midst of primary season, setting the final ticket for critical congressional showdowns this fall. Among those vying for a new role in Washington, DC are physicians of various specialties, ready to bring their experience helping others to government.
In South Carolina, pediatrician Annie Andrews, MD, is letting voters know, "you've trusted me with your kids…now trust me with your vote." In California, internist and Navy veteran Kermit Jones, MD, notes his firsthand view of "how broken our healthcare system is."
But perhaps the physician getting the most attention for his candidacy is in Pennsylvania.
Television personality and cardiothoracic surgeon Mehmet Oz, MD, declared his run for Congress in the state with the retirement of Republican Senator Pat Toomey, leaving a power vacuum in one of the country's biggest swing states.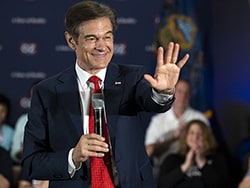 Oz's decision to run for Senate came amid the government's handling of the pandemic. He stated that Washington "took away our freedom," and vowed to voters throughout his campaign "to help fix problems and to help us heal." On his website, Oz says if elected he'll focus on expensive prescription drugs for seniors and expand access to private sector health plans expanded by President Trump, who has endorsed his candidacy.
Following his win against Dave McCormick in the GOP primary, Daniel J. Hopkins, PhD, political science professor at the University of Pennsylvania, presumes that the midterm race against Pennsylvania's Democratic Lt. Governor John Fetterman is going to be a "jump ball" — in other words, it's too close to call and anyone's race to win.
"I think that many people who are voting are going to be voting in the shadow of rising gas prices, inflation, and potentially dissatisfaction with the Democrats in power," said Hopkins.
The Benefits of Doctors in Congress
If elected, Oz would be among 17 other physicians in Congress, including the members of the GOP Doctors Caucus. Individuals who are clinically trained and knowledgeable about the workings of healthcare in our government can be a net positive, noted Hopkins, as healthcare spending will continue to grow at an average of 4.9% each year from 2022 to 2024.
"Considering that we have 435 members in the House along with 100 members in the Senate, you would hope that Congress members would represent a wide range of professions…given the size of the healthcare industry in the US you would want individuals whose profession is in healthcare," said Hopkins.
Sachin Jain, MD, president and CEO of SCAN Group and its Medicare Advantage health plans, believes that representatives who understand healthcare can allow the federal government to make more scientifically informed decisions about those allocations.
"There are a lot of complicated and complex issues that we need to unpack, so having people who are more informed is going to be important," said Jain, an internist in Los Angeles.
Nonetheless, Jain warns that physicians that choose to enter the political arena need to wear the Hippocratic Oath strongly. As a medical degree is highly respected, physicians in politics can have a significant amount of influence on the general public. There are many issues that physicians don't get exposure to in medical school, so they must be careful not to erode public confidence by stepping outside their areas of distinctive expertise, he explained.
"I watched more broadly through the pandemic a lot of physicians who had no particular expertise on COVID making a lot of statements about specific treatments, vaccinations, and the value of certain preventive measures, while we were operating at a time of a lot of ambiguity," said Jain.
Will Physician Candidates Restore or Further Erode Public Trust?
Timothy Caulfield, LLB, LLM, BSc, Canada Research Chair in Health Law and Policy at the University of Alberta, Canada, noticed this trait specifically in Oz. Caulfield addressed Oz's history of issuing science-free advice and doubt mongering around COVID, with concern that Oz's medical degree legitimizes his false claims. For example, for deceptive weight-loss products, Oz ended up admitting that a magic weight loss pill does not exist and that he had used "flowery" language.
Moreover, a 2014 study found that 46% of Oz's recommendations were backed by evidence, and 1 in 7 were actually contradicted by scientific data. The study found that he made an average of 12 recommendations per episode of his syndicated television program, indicating that he was giving false advice on average once or twice an episode. Assuming these statistics stayed the same over his show's 2305 episodes, math would suggest that he gave bad medical advice on his show more than 4000 times from 2009-2022.
Misinformation has been front and center during the pandemic, with several organizations, including the American Medical Association, noting the harm it has caused among the general public. Outgoing AMA President Gerald Harmon said the "pandemic of mistrust" was a major reason the US had a far higher COVID death rate than other well-resourced countries.
"When we take positions that are grounded more in dogma than science, we are invariably eroding the public's trust in the medical profession at large and it devalues the degrees of every single person that has gone to medical school in the country," added Jain.
Caulfield remains skeptical of Oz's campaign, as he feels it has adopted much of the Republican agenda. As an example, he points to Oz's soft support of masks before his candidacy and the shift afterwards.
"As soon as he became a GOP candidate he almost started mocking the [face] masks, and the policies surrounding them." Caulfield said. "There is no reason to suspect that he will do anything but focus on the Republican agenda and there is no reason to think he is going to be an advocate for good science and good research or for good public health policies."
Frankie Rowland is an Atlanta-based freelance writer.
For more news, follow Medscape on Facebook, Twitter, Instagram, YouTube, and LinkedIn
Credits:
Images: Rachel Wisniewski/Bloomberg via Getty Images
Medscape Medical News © 2022 WebMD, LLC

Send news tips to news@medscape.net.
Cite this: Dr Oz and the Lingering Question: Do Docs Make Good Politicians? - Medscape - Jul 12, 2022.