"My soul is in deep anguish. How long, Lord, how long?" – Psalm 6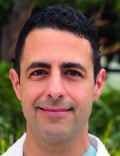 Lament is making a comeback. A once-common word in the 1800s, it fell steeply in popularity in the 20th century. Lately, I see it everywhere. It's a beautiful word, capturing not only sorrow, but also weariness. It is also audacious, facing injustice and acknowledging that it ought not be this way, and communal, bearing witness to the shared hardship of being human. The Hebrew scriptures captured the experience of lament in the form of psalms, from the Greek, psalmoi or "words to accompany the music." A few thousand years later, the words still resonate, especially in times of grief. "I am weary with my groaning; all the night make I my bed to swim; I water my couch with my tears."
"Hair loss" is not the chief complaint you want to see when running behind in clinic – it's never a 15-minute visit. A woman in her late 30s with wavy, light-brown hair that grew to her waistline was seated on the exam chair. When I sat across from her, I couldn't see her scalp. No erythema or scale. No frontal band of hair loss. Just a bit thin everywhere. Perhaps another post-COVID telogen? This might be easy. I blew right by her mother, who was sitting in the corner of the room. Her black and white horizontal striped shirt seemed to match her gray and white hair. She looked worried.
Having perused my patient's labs and done an exam, I announced that the diagnosis was telogen effluvium. "There are many possible causes, stress is a common one. Have you been under a lot of stress lately?" (The answer is always yes, thus providing a good foothold to climb out of a hair-loss visit). "Yes. My 1-year-old daughter died last year. She had choked on a cashew from a granola bar given by her sister." I gasped and turned from her green eyes to her mom's. Without saying a word, mom pleaded with me to help. "I don't know what to say," I said, "I'm so sorry." Neither replied.
On the commute home that day I listened to a live recording of the U2 song, "40." I had recently read about it in a touching essay about lament by Enuma Okoro of the Financial Times. I thought about my patient's suffering and the brutal injustice of fate. It feels like it's everywhere lately. Reporting from the events in Ukraine, Buffalo, Uvalde, Tulsa, Highland Park has put agonized faces like hers in the public square for us all to gape at and quietly mourn.
Even from a secular lens, it can be seen that a beauty of psalms is how they move from despair to hope. Prayers will be answered. Things will get better. Turn up the volume and feel the urgency and pathos Bono injects into your soul as he sings the refrain; "How long, how long? How long to sing this song?" In the live version we the audience take over for him. The words accompanying the music swell over the crowd. How much longer? How much more suffering? My patient's hair will grow back. It will take years. All we can do is lament with her.
Benabio is director of Healthcare Transformation and chief of dermatology at Kaiser Permanente San Diego. The opinions expressed in this column are his own and do not represent those of Kaiser Permanente. Benabio is @Dermdoc on Twitter. Write to him at dermnews@mdedge.com.
This article originally appeared on MDedge.com, part of the Medscape Professional Network.
Credit:
Lead image: iStock/Getty Images
Image 1: Dr Jeffrey Benabio
Medscape Dermatology © 2022 WebMD, LLC

Cite this: 'How Long, How Long to Sing This Song?' - Medscape - Jul 12, 2022.