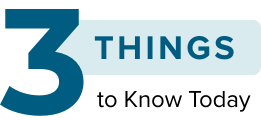 Inflation and Healthcare: The Prognosis for Doctors
Inflation is expected to have a significant impact on healthcare costs, according to a new report from McKinsey & Company.
How it will affect the cost of healthcare: Experts predict inflation will prompt healthcare providers to charge higher reimbursement rates and that both employers and consumers will feel the burden of it.
How to manage: Prioritizing excellent employees instead of hiring new ones, planning for insurance challenges, relying on affiliated healthcare organizations, examining vendor relations, cutting unnecessary inventory and overhead costs, flexibility, and transparency are all ways financial analysts recommend easing the effects of inflation.




Outcomes Improve When Patients, Doctors Speak Same Language
Patients who receive healthcare from physicians who speak the same language have better outcomes, according to new research in Canada.
Key findings: Allophone patients, those who speak primarily a language other than English or French, who received more than half of their care in their own language had a 74% lower risk of adverse events, including falls, infections, and medication errors. Additionally, they had a 54% lower risk of in-hospital death.
"Before this study, we didn't know how important it is for a physician to speak the same language as a patient who is admitted into hospital," said senior study author Peter Tanuseputro, MD. "We've always known that it's generally good, patient-centered care to do so, but our study showed that providing language-concordant care also reduces concrete outcomes such as death and potentially avoidable inpatient harms."




Dr Oz and the Lingering Question: Do Docs Make Good Politicians?
In the midst of primary season, several physicians are running for congressional office.
One notable physician, Mehmet Oz, MD, is running for Senate to represent Pennsylvania. Oz's campaign promises cutting prescription drug expenses for seniors and expanding private sector health plans if he's elected.
Currently, there are 17 physicians in Congress.
Benefits to doctors in Congress: Healthcare spending is projected to grow about 5% each year, and Congress members who are knowledgeable about the workings of healthcare can be an asset.
Potential concerns: Experts voice concern about whether medical degrees legitimize false claims. They also say doctors must be careful to avoid eroding public confidence in areas that they are not knowledgeable in.
Kaitlin Edwards is a staff medical editor based in New York City. You can follow her on Twitter @kaitmedwards. For more news, follow Medscape on Facebook, Twitter, Instagram, and YouTube.
© 2022 WebMD, LLC

Send comments and news tips to news@medscape.net.
Cite this: Inflation in Healthcare; Same Language, Better Outcomes; and Doctors in Congress - Medscape - Jul 13, 2022.