A retrospective investigation using medical claims data found no elevated risk of disease flares in patients with immune-mediated inflammatory diseases (IMIDs) who received the recombinant zoster vaccine (RZV), according to research published in Arthritis & Rheumatology.
The authors of the study noted that individuals with IMIDs are at increased risk for herpes zoster and related complications, including postherpetic neuralgia, and that vaccination has been recommended for certain groups of patients with rheumatoid arthritis, inflammatory bowel disease, and psoriasis, by the American College of Rheumatology and other professional organizations for individuals aged 50 and older.
The study investigators used medical claims from IBM MarketScan, which provided data on patients aged 50-64 years, and data from the Centers for Medicare and Medicaid Services' Medicare on patients aged 65 and older.
They defined presumed flares in three ways: hospitalization/emergency department visits for IMIDs, steroid treatment with a short-acting oral glucocorticoid, or treatment with a parenteral glucocorticoid injection. The investigators conducted a self-controlled case series (SCCS) analysis to examine any temporal link between the RZV and disease flares.
Among enrollees with IMIDs, 14.8% of the 55,654 patients in the MarketScan database and 43.2% of the 160,545 patients in the Medicare database received at least one dose of RZV during 2018-2019. The two-dose series completion within 6 months was 76.6% in the MarketScan group (age range, 50-64 years) and 85.4% among Medicare enrollees (age range, 65 years and older). In the SCCS analysis, 10% and 13% of patients developed flares in the control group as compared to 9%, and 11%-12% in the risk window following one or two doses of RZV among MarketScan and Medicare enrollees, respectively.
Based on these findings, the investigators concluded there was no statistically significant increase in flares subsequent to RZV administration for any IMID in either patients aged 50-64 years or patients aged 65 years and older following the first dose or second dose.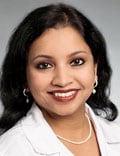 Nilanjana Bose, MD, a rheumatologist with Lonestar Rheumatology, Houston, Texas, who was not involved with the study, said that the research addresses a topic where there is uneasiness, namely vaccination in patients with IMIDs.
"Anytime you are vaccinating a patient with an autoimmune disease, especially one on a biologic, you always worry about the risk of flares," said Bose. "Any time you tamper with the immune system, there is a risk of flares."
The study serves as a clarification for the primary care setting, said Bose. "A lot of the time, the shingles vaccine is administered not by rheumatology but by primary care or through the pharmacy," she said. "This study puts them [primary care physicians] at ease."
Findings from the study reflect that most RZV vaccinations were administered in pharmacies.
One of the weaknesses of the study is that the investigators did not include patients younger than 50 years old, said Bose. "It would have been nice if they could have looked at younger patients," she said. "We try to vaccinate all our [immunocompromised] adult patients, even the younger ones, because they are also at risk for shingles."
Given that there are increasing options of medical therapies in rheumatology that are immunomodulatory, the subject of vaccination for patients is often one of discussion, added Bose.
Arthur Kavanaugh, MD, professor of medicine, University of California San Diego (UCSD), La Jolla, Calif., and director of the Center for Innovative Therapy in the UCSD Division of Rheumatology, Allergy, and Immunology, told this news organization that a strength of the study is its large numbers of patients but noted the shortcoming of using claims data. "Claims data has inherent limitations, such as the lack of detailed granular data on the patients," wrote Kavanaugh, who was not involved with the study. He described this investigation as "really about the first evidence that I am aware of addressing this issue."
No funding source was listed. One author disclosed having received research grants and consulting fees received from Pfizer and GSK for unrelated work; the other authors had no disclosures. Bose and Kavanaugh had no relevant disclosures.
This article originally appeared on MDedge.com, part of the Medscape Professional Network.
Credits:
Lead image: GSK
Image 1: Dr Nilanjana Bose
Medscape Medical News © 2022 WebMD, LLC

Cite this: Zoster Vaccine Does Not Appear to Increase Flares in Patients With Immune-Mediated Inflammatory Disease - Medscape - Jul 11, 2022.