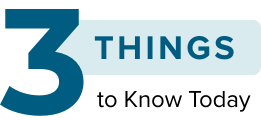 Medicare Proposes Physician Pay, Policy Changes Through Fee Schedule
Changes have been proposed in telehealth policy, opioid use disorder treatment, dental services, and fee-for-service funds in the 2023 Medicare physician fee schedule.
Other areas addressed in the draft include behavioral health services, accountable care organizations, and colorectal cancer screening.
The draft was announced last Thursday by the Centers for Medicare & Medicaid Services.
Backlash: "It is immediately apparent that the rule not only fails to account for inflation in practice costs and COVID-related challenges to practice sustainability but also includes a significant and damaging across-the-board reduction in payment rates," said American Medical Association President Jack Resneck, Jr, MD.




Sleep-Deprived Physicians Less Empathetic to Patient Pain?
Sleep-deprived physicians may have less empathy for patients who report pain, new research finds.
Key research findings: In a hypothetical situation, night shift physicians ending their day were less likely to prescribe pain medication than physicians who were just starting their day.
Real life is comparable: According to discharge notes from 13,000 electronic records, the likelihood of a patient being prescribed an analgesic was 9% lower in the night shift compared to the day shift.
Takeaway: The researchers urge physicians to be aware of the differences in empathy between morning and day shifts and note that scheduled naps may be beneficial at an institutional level.




Physician Side Hustles
Thirty-seven percent of all physicians report working a side gig, according to Medscape Side Gigs: Physicians Seek Extra Income, More Satisfaction.
Most popular medical gigs: Medical consulting, expert witness, medical moonlighting, chart review, and speaking engagements.
Most popular nonmedical gigs: Real estate, investing advice, consulting, teaching, writing.
Why? Forty-eight percent of physicians reported that the main goal of their side gig was money. The average time spent working a side gig was 16 hours each month.
Kaitlin Edwards is a staff medical editor based in New York City. You can follow her on Twitter @kaitmedwards. For more news, follow Medscape on Facebook, Twitter, Instagram, and YouTube.
© 2022 WebMD, LLC

Send comments and news tips to news@medscape.net.
Cite this: Medicare Physician Fee Schedule Change; Less Empathy From Sleep Deprivation; and Side Hustles - Medscape - Jul 11, 2022.