Almost half of adult patients with eosinophilic esophagitis (EoE) reported poor adherence to long-term medical and dietary therapy, with age younger than 40 years and low necessity beliefs being the strongest predictors, a new study finds.
Clinicians need to spend more time discussing the need for EoE therapy with their patients, especially if they are younger, according to lead author Maria L. Haasnoot, MD, of Amsterdam University Medical Center (UMC), the Netherlands, and colleagues.
"Chronic treatment is necessary to maintain suppression of the inflammation and prevent negative outcomes in the long-term," they write.
Until the recent approval of dupilumab (Dupixent) by the US Food and Drug Administration (FDA), patients with EoE relied upon off-label options, including proton pump inhibitors and swallowed topical steroids, as well as dietary interventions for ongoing suppression of inflammation. But only about 1 in 6 patients achieve complete remission at 5 years, according to Haasnoot and colleagues.
"It is uncertain to what degree limited adherence to treatment [plays] a role in the limited long-term effects of treatment," they write.
The findings were published online in American Journal of Gastroenterology.
Addressing a Knowledge Gap
The cross-sectional study involved 177 adult patients with EoE treated at Amsterdam UMC, who were prescribed dietary or medical maintenance therapy. Of note, some patients were treated with budesonide, which is approved for EoE in Europe but not in the United States.
Median participant age was 43 years, with a male-skewed distribution (71% men). Patients had been on EoE treatment for 2-6 years. Most (76%) were on medical treatments. Nearly half were on diets that avoided one to five food groups, with some on both medical treatments and elimination diets.
Using a link sent by mail, participants completed the online Medication Adherence Rating Scale, along with several other questionnaires, such as the Beliefs about Medicine Questionnaire, to measure secondary outcomes, including a patient's view of how necessary or disruptive maintenance therapy is in their life.
The overall prevalence of poor adherence to therapy was high (41.8%), including a nonsignificant difference in adherence between medical and dietary therapies.
"It might come as a surprise that dietary-treated patients are certainly not less adherent to treatment than medically treated patients," the authors write, noting that the opposite is usually true.
Multivariate logistic regression showed that patients younger than 40 years were more than twice as likely to be poorly adherent (odds ratio [OR], 2.571; 95% CI, 1.195-5.532). Those with low necessity beliefs were more than four times as likely to be poorly adherent (OR, 4.423; 95% CI, 2.169-9.016). Other factors linked to poor adherence were patients with longer disease duration and more severe symptoms.
"Clinicians should pay more attention to treatment adherence, particularly in younger patients," the authors conclude. "The necessity of treatment should be actively discussed, and efforts should be done to take doubts away, as this may improve treatment adherence and subsequently may improve treatment effects and long-term outcomes."
More Patient Education Needed
According to Jennifer L. Horsley-Silva, MD, of Mayo Clinic, Scottsdale, Arizona, "This study is important, as it is one of the first studies to investigate the rate of treatment adherence in EoE patients, and [it] attempts to identify factors associated with adherence both in medically and dietary treated patients."

Horsley-Silva commented that the findings align with recent research she and her colleagues conducted at the Mayo Clinic, where few patients successfully completed a six-food elimination diet, even when paired with a dietitian. As with the present study, success trended lower among younger adults. "These findings highlight the need for physicians treating EoE to motivate all patients, but especially younger patients, by discussing disease pathophysiology and explaining the reason for maintenance treatment early on," Horsley-Silva said.
Conversations should also address the discordance between symptoms and histologic disease, patient doubts and concerns, and other barriers to adherence, she noted.
"Shared-decision making is of utmost importance when deciding upon a maintenance treatment strategy and should be readdressed continually," she added.
Gary W. Falk, MD, of Penn Medicine, Philadelphia, said that patients with EoE may be poorly adherent because therapies tend to be complicated and people often forget to take their medications, especially when their symptoms improve, even though this is a poor indicator of underlying disease. The discordance between symptoms and histology is "not commonly appreciated by the EoE GI community," he noted.
Patients may benefit from knowing that untreated or undertreated EoE increases the risk for strictures and stenoses, need for dilation, and frequency of food bolus impactions, Falk said.
"The other thing we know is that once someone is induced into remission, and they stay on therapy…long-term remission can be maintained," he added.
The Impact of Dupilumab
John Leung, MD, of Boston Food Allergy Center, also cited the complexities of EoE therapies as reason for poor adherence, though he believes this paradigm will shift now that dupilumab has been approved. Dupilumab injections are "just once a week, so it's much easier in terms of frequency," Leung said. "I would expect that the compliance [for dupilumab] will be better" than for older therapies.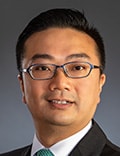 Leung, who helped conduct the dupilumab clinical trials contributing to its approval for EoE and receives speaking honoraria from manufacturer Regeneron/Sanofi, said that dupilumab also overcomes the challenges with elimination diets while offering relief for concomitant conditions, such as "asthma, eczema, food allergies, and seasonal allergies."
But Falk, who also worked on the dupilumab clinical trials, said the situation is "not straightforward," even with FDA approval.
"There are going to be significant costs with [prescribing dupilumab], because it's a biologic," Falk said.
Falk also pointed out that prior authorization will be required, and until more studies can be conducted, the true impact of once-weekly dosing vs daily dosing remains unknown.
"I would say [dupilumab] has the potential to improve adherence, but we need to see if that's going to be the case or not," Falk said.
The authors disclosed relationships with Dr Falk Pharma, AstraZeneca, and Sanofi/Regeneron (the manufacturers of Dupixent [dupilumab]), among others. Horsley-Silva, Falk, and Leung conducted clinical trials for dupilumab on behalf of Sanofi/Regeneron, with Leung also disclosing speaking honoraria from Sanofi/Regeneron. Horsley-Silva has acted as a clinical trial site principal investigator for Allakos and Celgene/Bristol-Myers Squibb.
Am J Gastroenterol. Published online June 3, 2022. Abstract
Follow Medscape on Facebook, Twitter, Instagram, and YouTube
Credits:
Lead image: Sebastian Kaulitzki/Dreamstime
Image 1: Mayo Clinic
Image 2: Mark Karlsberg, Studio Eleven, Inc.
Medscape Medical News © 2022 WebMD, LLC

Send news tips to news@medscape.net.
Cite this: What Explains Poor Adherence to Eosinophilic Esophagitis Therapy? - Medscape - Jul 05, 2022.