LONDON — Weight loss, lipid reductions, and "robust improvements" in lipid species associated with nonalcoholic fatty liver disease were achieved in patients who were treated with pemvidutide in a first-in-human, phase 1 clinical trial reported at the annual International Liver Congress, sponsored by the European Association for the Study of the Liver.
The presenting study investigator, Stephen A. Harrison, MD, said that pemvidutide, which is also being developed for the treatment of obesity, appeared to be well tolerated. There were no serious or severe adverse events, and no patient had to discontinue treatment because of side effects.
Overall, "pemvidutide represents a promising new agent," said Harrison, medical director of Pinnacle Research in San Antonio, Texas.
Dual Incretin Effect
Pemvidutide is a "balanced" dual agonist of glucagon-like peptide 1 (GLP-1) and glucagon, Harrison explained in his oral abstract.
"With glucagon, we are working to drive energy expenditure up, and with GLP-1, we're decreasing food intake," Harrison said.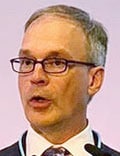 What might set pemvidutide apart from other incretins lies within its structure, Harrison suggested. The structure has two main regions — one with greater GLP-1 specificity and the other with greater glucagon specificity, and these two areas are linked by a propriety technology called a EuPort™ domain. This is an area which allows the drug to bind to albumin, which increases its serum half-life and enables weekly dosing while slowing its entry into the bloodstream.
"Ultimately, we think that this has impacts, hypothetically, on tolerability and potentially mitigating the need for dose escalation," said Harrison.
Weight Loss Results
The phase 1 study Harrison presented had a randomized, double-blind, placebo-controlled design with single and multiple ascending doses (SAD/MAD) of pemvidutide being tested. He presented data on the MAD phase only, noting that the SAD phase had been used to determine what doses to use in the latter.
Seventy individuals with a body mass index of between 25 and 40 kg/m2 were recruited and 34 of these were enrolled in the MAD phase of the study. Three doses of pemvidutide were used, given subcutaneously once a week for 12 weeks: Seven participants received 1.2 mg, 9 were given 1.8 mg, 11 had 2.4 mg, and 7 subjects were treated with placebo. Harrison noted that there were no caloric restrictions in the trial and no lifestyle modifications or interventions.
The average age of study participants ranged from 27 to 35 years and the mean BMI was 30-31 kg/m2 across each group, with their lipid parameters in the upper range of normal.
Clear weight loss reductions were seen across all the pemvidutide groups versus placebo, with the greatest percentage changes in weight loss seen with the two higher doses used. At week 12, there was a 4.9%, 10.3% and 9.0% weight loss in the 1.2-mg, 1.8-mg and 2.4-mg pemvidutide groups compared to 1.6% in placebo-treated individuals.
All patients in the 1.8-mg group achieved a 5% or greater weight loss, Harrison observed, but there "was a plateauing" effect with the 2.4-mg dose with 89% of patients achieving this target. In comparison, a third of patients on the lowest dose and 20% of those on placebo achieved this target.
The trajectory of weight loss seen in the trial suggests that "the rate of weight loss would continue beyond 12 weeks if we were to continue the therapy" Harrison said.
Lipid Changes and Liver Fat Reductions
Levels of serum lipids from baseline to week 12 fell to a greater extent with pemvidutide treatment than with placebo, in the range of —27% for total cholesterol in the two highest dose groups, —25% for LDL-cholesterol for those groups, —37% for triglycerides for the 1.2- and 1.8-mg groups, and reductions in apolipoprotein B were seen.
"We saw an initial decline in HDL [high-density lipoprotein]," Harrison said, noting that "this is consistent with prior studies looking at rapid weight loss, and over time, this mitigates as you continue to treat at least based on other mechanisms of action or other drugs with similar mechanisms."
Pemvidutide treatment was also associated with increased lipid oxidation and decreased lipid synthesis, and "there was a robust decrease in lipids implicated in NASH inflammation," Harrison pointed out.
Importantly, in five of eight participants who had high levels of liver fat at baseline — defined as a 5% or greater magnetic resonance imaging—derived proton-density-fat-fraction (MRI-PDFF) — showed a decrease to undetectable limits (1.5% or less). This was a greater than 90% reduction in liver fat, Harrison said. All five patients were in the 1.8-mg and 2.4-mg groups.
As for side effects, these were "predominantly upper GI, with nausea and vomiting." These were mild in most cases, but he pointed out that five patients treated with the 1.8-mg dose experienced moderate nausea and three experienced moderate vomiting. Mild diarrhea and constipation were also seen in two of patients given this dose but was not reported in any of the other groups.
During the discussion following the presentation, it was pointed out that there was no clear dose-dependent effect considering the 1.8-mg dose seemed to have a stronger effect in some areas than the 2.4-mg dose. That's a fair point, Harrison responded, reiterating it was a small study with a short treatment duration, but that there did look like a plateauing effect, "at least in patients with a mean BMI of between 30 and 31."
Harrison was asked about potential effects on insulin levels and if that was a worry because, if glucagon is stimulated, it could increase insulin. That in turn might encourage insulin resistance and promote worse outcomes.
"If you look outside of just this program, glucagon agonism has been dosed in a lot of patients over time, and we haven't seen that," Harrison replied. Pemvidutide is an agonist rather than antagonist, so perhaps the [nonalcoholic steatohepatitis]—inducing effects seen before with glucagon antagonism won't occur, he suggested.
Harrison disclosed ties to Altimmune (the study sponsor), Akero, Axcella, Bristol Myers Squibb, Cirius, CiVi Biopharma, Conatus, Corcept, CymaBay, Enyo, Galectin, Genentech, Genfit, Gilead, Hepion, Hightide, HistoIndex, Intercept, Madrigal, Metacrine, NGM Bio, Novartis, Novo Nordisk, NorthSea, Pfizer, Sagimet, Viking, and 89Bio.
This article originally appeared on MDedge.com, part of the Medscape Professional Network.
Credits:
Lead image: Dreamstime
Image 1: Sara Freeman/MDEdge News
Medscape Medical News © 2022 WebMD, LLC

Cite this: Pemvidutide Promising for Fatty Liver Disease - Medscape - Jun 30, 2022.