Republican and Democratic members of the House called for changes in how insurer-run Medicare plans manage the prior authorization process, following testimony from a federal watchdog organization about improper denials of payment for care.
About 18% of payment denials in a sample examined by the Office of Inspector General (OIG) of the Department of Health and Human Services (HHS) either met Medicare coverage rules or the rules of the insurance plan.
As such, they should not have been denied, HHS OIG said. That was the finding of an April HHS OIG report, based on a sample of 2019 denials from large insurer-run Medicare plans.
Erin Bliss, an assistant inspector general with HHS OIG, appeared as a witness at a June 28 Energy and Commerce Subcommittee on Oversight and Investigations hearing to discuss this investigation and other issues with prior authorization and insurer-run Medicare, also known as the Advantage plans.
Most of these payment denials of appropriate services were due to human error during manual claims-processing reviews, Bliss told the subcommittee, such as overlooking a document, and to system processing errors, such as a Medicare insurance plan failing to program or update a system correctly.
In many cases, these denials were reversed, but patient care was still disrupted and clinicians lost time chasing clearances for services that plans already had covered, Bliss said in her testimony.
The April report was not HHS OIG's first look into concerns about insurer-run plans inappropriately denying care through prior authorizations. HHS OIG in 2018 reported that insurer-run Medicare plans overturned 75% of their own denials during 2014-16 when patients and clinicians appealed these decisions, overturning approximately 216,000 denials each year.
'Numerous Hoops' Unnecessary for Doctors, Patients
Lawmakers at this week's hearing supported the idea of the need for prior authorization as a screening tool to prevent unneeded care.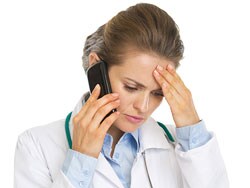 But they chided insurance companies for their execution of this process, with clinicians and patients often frustrated by complex steps needed. Medicare Advantage plans sometimes require prior authorization for "relatively standard medical services," said Subcommittee on Oversight and Investigations Chair Diana DeGette (D-CO).
"Our seniors and their doctors should not be required to jump through numerous hoops to ensure coverage for straightforward and medically necessary procedures," DeGette said.
Several lawmakers spoke at the hearing about the need for changes to prior authorization, including calling for action on a pending bill intended to compel insurers to streamline the review process. The Improving Seniors' Timely Access to Care Act of 2021 already has attracted more than 300 bipartisan sponsors. A companion Senate bill has more than 30 sponsors.
The bill's aim is to shift this process away from faxes and phone calls while also encouraging plans to adhere to evidence-based medical guidelines in consultation with physicians. The bill calls for the establishment of an electronic prior authorization program that could issue real-time decisions.
"The result will be less administrative burden for providers and more information in the hands of patients. It will allow more patients to receive care when they need it, reducing the likelihood of additional, often more severe complications," said Rep. Larry Bucshon, MD, (R-IN) who is among the active sponsors of the bill.
"In the long term, I believe it would also result in cost savings for the healthcare system at large by identifying problems earlier and getting them treated before their patients have more complications," Bucshon added.
Finding 'Room for Improvement' for Prior Authorizations
There's strong bipartisan support in Congress for insurer-run Medicare, which has grown by 10% per year over the last several years and has doubled since 2010, according to the Medicare Payment Advisory Commission (MedPAC). About 27 million people are now enrolled in these plans.
But for that reason, insurer-run Medicare may also need more careful watching, lawmakers also made clear at the hearing.
"We've heard quite a bit of evidence today that there is room for improvement," said Bucshon, who is a strong supporter of insurer-run Medicare, which can offer patients added benefits such as dental coverage.
Rep. Ann Kuster (D-NH) said simplifying prior authorization also would reduce stress on clinicians already dealing with burnout.
"They're just so tired of all this paperwork and red tape," Kuster said. "In 2022 can't we at least consider electronic prior authorization?"
At the hearing, Rep. Michael C. Burgess, MD, (R-TX) noted that his home state already has taken a step toward reducing the burden of prior authorization with its "gold card" program.
In 2021, a new Texas law called on the state department of insurance to develop rules to require health plans to provide an exemption from preauthorization requirements for a particular health care service if the issuer has approved, or would have approved, at least 90% of the preauthorization requests submitted by the physician or provider for that service. The law also mandates that physicians participating in a peer-to-peer review on behalf of a health benefit plan issuer must be a Texas-licensed physician who has the same or similar specialty as the physician or clinician requesting the service, according to the state insurance department.
Separately, Rep. Suzan DelBene (D-WA), the sponsor of the Improving Seniors' Timely Access to Care Act, told the American Medical Association in a recent interview that she expects the House Ways and Means Committee, on which she serves, to mark up her bill in July. (A mark-up is the process by which a House or Senate committee considers and often amends a bill and then sends it to the chamber's leadership for a floor vote.)
In a statement issued about the hearing, America's Health Insurance Plans (AHIP) noted that there has been work in recent years toward streamlining prior authorization (PA). AHIP said it launched the Fast Prior Authorization Technology Highway (Fast PATH) initiative in 2020 to study electronic procedures for handling these reviews.
"The findings of this study showed that ePA delivered improvements with a strong majority of experienced providers reporting faster time to patient care, fewer phone calls and faxes, better understanding of PA requirements, and faster time to decisions," AHIP said.
Kerry Dooley Young is a freelance journalist based in Miami Beach, Florida. She is the core topic leader on patient safety issues for the Association of Health Care Journalists. Follow her on Twitter at @kdooleyyoung.
For more news, follow Medscape on Facebook, Twitter, Instagram, and YouTube.
Credits:
Images: Citalliance/Dreamstime
Medscape Medical News © 2022

Cite this: Lawmakers Argue for Changes in Prior Authorization Processes - Medscape - Jun 30, 2022.