LONDON — The novel liver-targeting agent fazirsiran has fared well in a small, but significant, study looking at its ability to improve liver histology in adults with alpha-1 antitrypsin (AAT) deficiency.
Not only were serum and liver levels of the aberrant Z-AAT protein decreased, but also reductions in key liver enzymes were observed.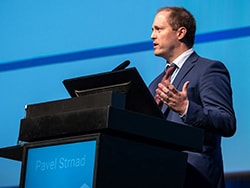 AAT is "a greatly understudied disease," said study investigator Pavel Strnad, MD, who presented the results of the phase 2 AROAAT-2002 study at a meeting sponsored by the European Association for the Study of the Liver. The results were published simultaneously in the New England Journal of Medicine.
There is currently no pharmacological treatment for AAT, observed Emmanuel Tsochatzis, MD, who chaired the late-breaker session during which the study findings were presented.
"It is a rare disease, but it really does affect the patients who have it. So it would be great to have a therapeutic solution for these patients," said Tsochatzis in an interview.
Tsochatzis, who is professor of hepatology and Consultant Hepatologist at the UCL Institute for Liver and Digestive Health, Royal Free Hospital in London, noted that AAT was associated with liver impairment, fibrosis and cirrhosis, and ultimately end-stage liver disease in which the only option for some patients would be a liver transplant.
"It depends on the stage; many patients are not at the stage that they require a liver transplant," he said. "For those with significant liver disease, not yet at the cirrhosis stage, you might be able to intervene early and prevent them from progressing to needing a liver transplant."
Tsochatzis speculated: "If this becomes an approved treatment, it is a breakthrough for patients."
New Hope for AAT Deficiency
There is still a long way to go before fazirsiran is anywhere near ready for clinical use, but the early data presented by Strnad offer a glimpse that a treatment could be on the horizon.
Naturally occurring AAT is produced in the liver and is thought to play a role in protecting against lung damage via its antiprotease activity. However, mutations in the SERPINA1 gene coding for the AAT protein leads to loss-of-function pulmonary disease and gain-of-function liver disease.
"The PI ZZ [proteinase inhibitor ZZ] genotype occurs in about one in 2,500 to 3,500 Caucasians, so actually is pretty common, and a third of them may actually have a clinically significant liver fibrosis," said Strnad.
As levels of Z-AAT accumulate in the liver this "presumably causes the liver toxicity," he observed. So, the thinking is that stopping the production of this mutant protein might help to reduce liver damage and allow the liver to regenerate and repair itself.
Study Details
To test out this theory, a phase 2, open-label study was performed in 16 patients with confirmed AAT deficiency, all of whom had the PI ZZ genotype.
Eight patients were treated with fazirsiran, also known as ARO-AAT, for 24 weeks (cohorts 1 and 1b), while the other eight were treated for 48 weeks (cohort 2); cohort 1 (n = 4) and cohort 2 (n = 8) received 200 mg, while cohort 1b (n = 4), which was added during the trial to evaluate dose response, received 100 mg. In all cases, fazirsiran was given as a subcutaneous injection on day 1, day 4, and then every 12 weeks. All patients had biopsies at baseline, then at either 24 weeks (cohorts 1/1b) or 48 weeks (cohort 2).
"We saw a dramatic reduction in Z-AAT both in serum and in liver biopsies," Strnad reported. Indeed, reductions in Z-AAT were around 80%-88%, he said, with a median reduction of 83% at week 24 or 48 according to the published paper.
To illustrate the clear results, Strand showed a sample biopsy slide where globules of Z-AAT present at the initial assessment were "virtually gone after 48 weeks of treatment."
"The change in the serum and hepatic Z-AAT levels translated into improvement in liver function tests," said Strnad.
Alanine aminotransferase levels were normalized in all patients and there was "marked improvement" in gamma glutamyl transferase (GGT) with the 200-mg dose of fazirsiran. Substantial changes in liver stiffness were recorded with the higher dose, –18% at 24 weeks and –15% at 48 weeks. There were also reductions in serum Pro-C3 of –36% and –17% at 52 weeks.
"Histological changes showed an improvement in liver inflammation and hepatocyte cell death in most of the patients," Strnad said. He also noted that there were multiple cases where there was no change and a few where there was a deterioration.
Liver fibrosis was improved in seven of 12 patients given the highest dose of fazirsiran; however, there was no change in three patients and a worsening of 1 point or more in two patients. None of the three patients with evaluable biopsies who received 100 mg showed regression of fibrosis.
Stopping or rolling back fibrosis will be the final goal of proving clinical benefit in liver disease associated with AAT, Strnad and coinvestigators observe in their published paper, and while the changes seen so far with fazirsiran may not be uniform, they appear to be in the right direction.
Safety Findings
"We didn't see any drug discontinuation, dose interruption, or premature study withdrawals," said Strnad.
"We had four different SAE [serious adverse events] which were kind of all over the place and did not seem to be related to treatment." Those SAEs included viral myocarditis associated with Epstein-Barr virus infection, diverticulitis, dyspnea in a subject with a history of lung disease, and vestibular neuronitis after COVID-19 vaccination.
No significant safety signals were seen regarding lung function. Time will of course tell, he said in response to a question, but "our hope, our hypothesis, is that this will not change lung function dramatically.
"I would not expect any major things over a few years. Of course, whether this can lead to something over 20 years it is difficult to say."
The current experience with fazirsiran looks good so far, but placebo-controlled, larger and longer studies are needed.
The study was funded by Arrowhead Pharmaceuticals. Strnad was an investigator in the study and acknowledged receipt of research funding via his institution from the company. Strnad also acknowledged paid and unpaid relationships with Alnylam Pharmaceuticals, Alpha1 Deutschland, Alpha1 Global, CSL Behring, Grifols Biologicals, Ono Pharmaceuticals, and Takeda California. Tsochatzis, chaired the late-breaker session at ILC 2022 during which the study findings were presented, was not connected to the study, and reported no relevant conflicts of interest.
This story originally appeared on MDedge.com, part of the Medscape Professional Network.
Credit:
Lead image: Dreamstime
Image1: Steve Forrest and Steve McConnel/EASL
Medscape Medical News © 2022

Cite this: Novel Liver-Targeting Drug Offers Hope for AAT Deficiency - Medscape - Jun 28, 2022.