Physician-musician Cleveland Francis responded to the recent mass shooting in Buffalo, New York, which left 10 dead, in the only way he knew how. He wrote and recorded a song to honor the victims as "a plea to the other side to recognize us as people," the Black cardiologist told Medscape.
He couldn't sleep after the shooting, and "this song was just in my head." In the 1990s, Francis took a 3-year sabbatical from medicine to perform and tour as a country singer. He leveraged his Nashville connections to get "Buffalo" produced and recorded.
Acclaimed artist James Threalkill created the accompanying art, titled The Heavenly Escort of the Buffalo 10, after listening to a scratch demo.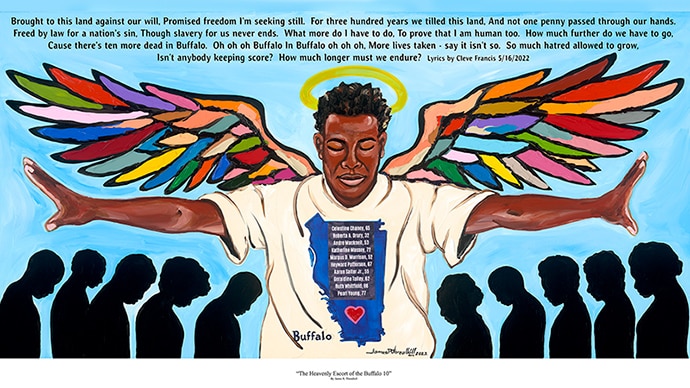 Francis doesn't want people to overlook the massacre as just another gun violence incident because this was "overt hate-crime racism," he said.
According to the affidavit submitted by FBI agent Christopher J. Dlugokinski, the suspect's "motive for the mass shooting was to prevent Black people from replacing white people and eliminating the white race, and to inspire others to commit similar attacks."
Francis views the Buffalo shooting as distinct from cases like the murder of George Floyd that involved crime or police. It immediately made him think of the Mother Emanuel Church shooting in Charleston, South Carolina. "Having a black skin is now a death warrant," he said.
The song is also an appeal for white people to fight racism. Francis is concerned about young men caught up in white supremacy and suggests that we be more alert to children or grandchildren who disconnect from their families, spend time on the dark web, and access guns. The lyrics deliberately don't mention guns because Francis wanted to stay out of that debate. "I just sang, 'What else do I have to do to prove to you that I'm human too?'"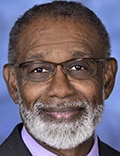 Despite his country credentials, Francis wrote "Buffalo" as a Gospel song because that genre "connects with Black people more and because that civil rights movement was through the church with Dr Martin Luther King," he explained. Although he sings all styles of music, the song is performed by Nashville-based singer Michael Lusk so that it's not a "Cleve Francis thing," he said, referring to his stage name.

Songwriter Norman Kerner collaborated on the song. The music was produced and recorded by David Thein and mixed by Bob Bullock of Nashville, who Francis had worked with when he was an artist on Capitol Records.
They sent the video and artwork to the Mayor of Buffalo, Byron Brown, but have yet to hear back. [Editor's note: After this story posted, Francis received a letter of appreciation from Mayor Brown.] Francis hopes it could be part of their healing, noting that some people used the song in their Juneteenth celebrations.
The Louisiana native grew up during segregation and was one of two Black students in the Medical College of Virginia class of 1973. After completing his cardiology fellowship, no one would hire him, so Francis set up his own practice in Northern Virginia. He now works at Inova Heart and Vascular Institute in Virginia. He remains optimistic about race relations in America and would love a Black pop or Gospel star to record "Buffalo" and bring it to a wider audience.
Francis is a regular blogger for Medscape. His contribution to country music is recognized in the National Museum of African American History and Culture in Washington, DC. You can find more of his music on YouTube.
Follow theheart.org | Medscape Cardiology on Twitter
Follow Medscape on Facebook, Twitter, Instagram, and YouTube
Credits:
Lead image: James R. Threalkill
Image1: James R. Threalkill
Image 2 Cleveland Francis Jr, MD
Medscape Medical News © 2022 WebMD, LLC

Send comments and news tips to news@medscape.net.
Cite this: Doc Releases Song About Racist Attack in Buffalo, NY - Medscape - Jun 27, 2022.