Simone Gold, MD, JD, a leader in the anti-vaccine movement and founder of noted anti-vaccine group America's Frontline Doctors, has been sentenced to 2 months in prison for her role in the storming of the US Capitol on January 6, 2021.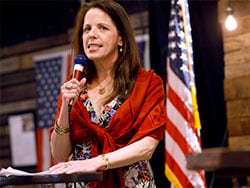 In March, the former emergency room physician pleaded guilty to unlawfully and knowingly entering and remaining in a restricted building or grounds. As a part of the plea agreement, additional charges of obstructing an official proceeding and intent to disrupt the orderly conduct of government business were dropped. Although she insisted at the time that her actions were peaceful, Gold did admit, according to news reports, that she witnessed the assault of a police officer while inside the building.
America's Frontline Doctors is an organization noted for spreading misinformation about COVID-19 and promoting unproven and potentially dangerous drugs, including ivermectin, for treating the illness. The group issued a statement saying that while Gold did express regret for "being involved in a situation that later became unpredictable," her sentence is an example of "selective prosecution."
"Dr Gold remains committed to her advocacy for physicians' free speech," the statement noted, adding that Gold has been targeted by attacks attempting to "cancel" her since July 2020, when the California Medical Board threatened to revoke her license for what the statement calls an "unfounded claim" that she was sharing dangerous disinformation.
According to Associated Press reporting, US District Judge Christopher Cooper did not consider Gold's anti-vaccine activity when determining the sentence. However, Cooper did say that Gold was not a "casual bystander" on January 6 and criticized the organization for misleading its supporters into believing that her prosecution was a politically motivated violation of her free-speech rights.
Prosecutors accused Gold of trying to profit from her crime, according to AP reports, noting in a court filing that America's Frontline Doctors has raised more than $430,000 for her defense. "It beggars belief that Gold could have incurred anywhere near $430,000 in costs for her criminal defense: after all, she pleaded guilty — in the face of indisputable evidence — without filing a single motion."
In the past, Gold has worked at Providence St. Joseph Medical Center in Santa Monica, California, and Cedars-Sinai in Los Angeles. These institutions have disassociated themselves from her. Her medical license remains active, but she noted on her website that she "voluntarily refused" to renew her board certification last year "due to the unethical behavior of the medical boards." Gold is also a licensed attorney, having earned a law degree in health policy analysis at Stanford Law School.
The AP reports that since her arrest, Gold has moved from California to Florida.
In addition to the prison time, Cooper ordered Gold to pay a $9500 fine, and she will be subject to 12 months of supervised release after completing her sentence, according to media reports. At press time, the US Department of Justice has not released an official announcement on the sentencing.
Avery Hurt is a Birmingham, Alabama-based freelance science writer who writes often about the science and practice of medicine.
Credits:
Images: John Clanton/Tulsa World via AP Images
Medscape Medical News © 2022 WebMD, LLC

Send news tips to news@medscape.net.
Cite this: Anti-Vaccine Physician Sentenced to Prison for Role in Capitol Riot - Medscape - Jun 16, 2022.