Medical students, residents, and fellows report higher rates of burnout, depression and anxiety than the general population, putting them at higher risk for suicide.
Wellness initiatives at medical institutions can help combat this, and the American Medical Association (AMA) said Monday at the annual meeting of its House of Delegates it will commit to developing a standardized way to collect information on these wellness initiatives.
"In the past few years issues of wellness and burnout have risen, not just with practicing physicians but among our residents and medical students. This needs to be studied and actively addressed," said psychiatrist Barbara Weissman, MD, alternate delegate from California, at a reference committee hearing Saturday. "Medical schools get the best and the brightest, but the system clearly causes stress as well."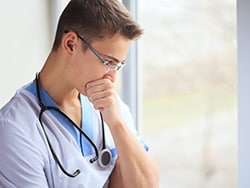 While medical schools and residency programs are required to promote mental health and wellness through programs or resources, some are more successful than others. Weissman recalled a resident's powerful statement to her that "some attempts at increasing wellness just felt like a further burden."
"Now they're telling me it's my fault I'm not doing well because I don't take time to meditate and get enough sleep," she said the resident told her.
The Medical Student Section said a public database of wellness initiatives of each medical school and residency program would help the institutions share ideas and implement new programs more quickly and easily, with best practices becoming evident.
Suicide Rate Reporting Rejected
A similar resolution discussed at the reference committee hearing proposed to collect information on suicide rates at medical institutions in order to "promote meaningful interventions at these institutions." The resolution also called for the AMA to create a public database that stratifies medical institutions based on relative rate of trainee suicide.
Many delegates supported the spirit of the resolution but had concerns about maintaining confidentiality when publishing such sensitive data. The resolution on suicide reporting was not adopted at the House of Delegates meeting on June 13.
"The [confidential] information perhaps could be spread," said Cheryl Hurd, MD, delegate for the American Psychiatric Association. She said the American Psychiatric Association also has concerns that schools that report more suicides would face a stigma.
Commander Kristie Clarke, MD, of the U.S. Public Health Service, spoke on behalf of the National Institutes of Health and shared the same concerns about privacy "given the low base rate of suicide in the identified population."
The Liaison Committee on Medical Education (LCME) "has stated that it will not collect such data as it may incorrectly establish a direct correlation between a medical student's suicide and a medical school, when there may be other contributory factors," said medical student Shefali Jain, alternate delegate from Georgia, on behalf of the Medical Student Section.
Internist Holly Rosencranz, MD, alternate delegate from Illinois, said it would be difficult to ensure the accuracy of suicide data because the cause of death is not always reported accurately when mental illness is involved.
Suicide Data Still Important
On behalf of the American College of Physicians, internist John Trickett, MD, said he supports further study on suicide reporting, including how best to report it and how to effectively use that information.
"It's no secret that physician suicide is an epidemic, and the status quo does not address mental health issues and burnout, especially amongst its trainees. It's very unhealthy and hazardous," Trickett said.
Weissman said, "It'll be very important to maintain confidentiality in any reporting of suicide information, but we need the information about this as well as the wellness initiatives as part of the solution to fully understand the problems and how to address them."
Alison Sherwood is a Chicago-based freelance journalist. She previously worked as a multimedia journalist and features writer and editor for the Milwaukee Journal Sentinel, where she was part of a team that won the Pulitzer Prize for explanatory reporting.
For more news, follow Medscape on Facebook, Twitter, Instagram, and YouTube.
Credits:
Lead image: iStock/Getty Images
Image1: iStock/Getty Images
Medscape Medical News © 2022

Cite this: As Medical Trainees' Mental Health Suffers, AMA to Collect Data on Wellness Programs - Medscape - Jun 15, 2022.