The American Medical Association (AMA) this week enacted a new policy designed to combat public health disinformation at the annual meeting of its House of Delegates.
The policy focuses on healthcare professionals who spread misinformation about COVID-19 vaccines and promote unproven treatments for the disease. But it has wider implications for other public health issues, as well. Some components of the policy could be brought to bear against the licensing and board certification of physicians who participate in this kind of disinformation.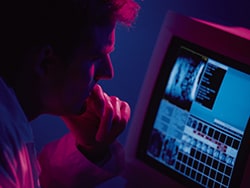 According to an AMA statement, the new policy "provides a comprehensive strategy aimed at stopping the spread of disinformation and protecting the health of the public, including actions that can be taken by the AMA, social medial companies, publishers, state licensing bodies, credentialing boards, state and specialty health professional societies, and by those who accredit continuing education."
In a news release, AMA President Gerald E. Harmon, MD, stated, "Physicians are a trusted source of information for patients and the public alike, but the spread of disinformation by a few has implications for the entire profession and causes harm. Physicians have an ethical and professional responsibility to share truthful information, correct misleading and inaccurate information, and direct people to reliable sources of health information."
While it's a bit late in the course of the pandemic to confront this problem, Harmon added, "we can act now to help prevent the spread of disinformation in the future."
Physicians Who Push Disinformation
In an investigative report published last October, CNN found that a number of physicians around the country were contributing to public distrust of the COVID-19 vaccines. Among those cited was Christiane Northrup, MD, whose Facebook page has 558,000 followers. According to CNN, Northrup used her Facebook page to direct followers to Telegram, another social media site that traffics in anti-vaccine misinformation and conspiracy theories.
Rashid Buttar, MD, has also shared lots of outrageous claims and misleading statements about the pandemic on his website, CNN said. Among these statements: most people who have taken the vaccine will be dead by 2025, and this is part of a plan to depopulate the United States. He also said, per CNN, that more people are dying from the COVID vaccines than from COVID itself.
Similarly, the report pointed out, Simone Gold, MD, JD, a former ER physician who pled guilty to entering the US Capitol building during the January 6 riot, has referred to the COVID vaccines as an "experimental biological agent whose harms are well-documented."
Gold, who helped found a group that opposes COVID-19 restrictions, has also promoted the use of hydroxychloroquine as a cure for the disease. There is no evidence that hydroxychloroquine is effective for that purpose. CNN also noted that the FDA has issued a warning to Joseph Mercola, DO, for hawking phony COVID cures. Other physicians have promoted and prescribed ivermectin, a cure for animal parasites that has not been shown to be effective in treating COVID.
The AMA report cites a Center for Countering Digital Hate study that found nearly two thirds of the 812,000 anti-vaccine social media posts that it turned up could be tracked to just 12 individuals. According to CNN, one of them was Buttar.
CNN cited Humayun Chaudhry, MD, president of the Federation of State Medical Boards, as saying that more than a dozen state medical board directors had told him they had received a lot of complaints about physicians sharing COVID misinformation. But few of these complaints had led to disciplinary action, he reportedly said.
New Authority for Licensing Boards
The new AMA policy is designed to change that. Its list of proposed actions includes the following: "Ensure licensing boards have the authority to take disciplinary action against health professionals for spreading health-related disinformation and affirm that all speech in which a health professional is utilizing their credentials is professional conduct and can be scrutinized by their licensing entity."
In addition, the statement said the policy aims to "ensure specialty boards have the authority to take action against board certification for health professionals spreading health-related disinformation, and encourage state and local medical societies to engage in dispelling disinformation in their jurisdictions."
It's unclear how many state medical boards have the authority to discipline doctors who mislead their patients or the public on COVID-related or other public health emergencies. The same question could be raised about medical specialty boards and board certification. No AMA official could be located to respond to queries about these issues at press time.
Under the new policy, the AMA said it would "work with health professional societies and other relevant organizations to implement a comprehensive strategy," including these priorities:
Maintain AMA as a trusted source of evidence-based information for physicians and patients

Ensure evidence-based medical and public health information is accessible by engaging with publishers, research institutions, and media organizations to develop best practices around paywalls and preprints to improve access to evidence-based information and analysis

Address disinformation disseminated by health professionals via social media platforms and address the monetization of spreading disinformation on social media platforms

Educate health professionals and the public on how to recognize disinformation as well as how it spreads;

Consider the role of health professional societies in serving as appropriate fact-checking entities for health-related information disseminated by various media platforms

Encourage continuing education to be available for health professionals who serve as fact-checkers to help prevent the dissemination of health-related disinformation.
Ken Terry is a healthcare journalist and author. His latest book is "Physician-Led Healthcare Reform: A New Approach to Medicare for All."
For more news, follow Medscape on Facebook, Twitter, Instagram, YouTube, and LinkedIn
Credits:
Images: Comstock/Getty Images


Medscape Medical News © 2022 WebMD, LLC

Send news tips to news@medscape.net.
Cite this: Doctor Deception: AMA Takes Aim Against Physician Disinformation - Medscape - Jun 14, 2022.