The potent oral FLT3 inhibitor quizartinib more than doubled overall survival among patients newly diagnosed with FLT3-ITD-positive acute myeloid leukemia (AML) compared with standard chemotherapy, new phase 3 data show.
Among adults who received quizartinib along with standard induction chemotherapy and as a single agent for up to 3 years, the median overall survival was 31.9 months, vs 15.1 months among those who received chemotherapy plus placebo.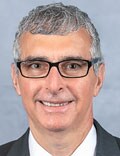 With no new safety signals identified, "we believe these data have the potential to change the standard of care for the treatment of adult patients with newly diagnosed FLT3-ITD-positive AML," said first author Harry Erba, MD, PhD, clinical investigator in the Division of Hematologic Malignancies and Cellular Therapy, Duke Cancer Institute, Durham, North Carolina.
Erba presented results from the phase 3 QuANTUM-First trial on June 11 at the 2022 European Hematology Association (EHA) Annual Meeting in Vienna.
António Almeida, MD, president-elect of the EHA, said the findings represent an important development for a difficult-to-treat subset of patients with AML.
"Patients [with FLT3-ITD-positive AML] represent a particularly poor prognostic group who, despite the current availability of FLT3 inhibitor midostaurin, still have an unmet need for more treatments," Almeida, of the Hospital da Luz, in Lisbon, Portugal, told Medscape Medical News. These positive phase 3 results suggest "a new treatment option for these patients."
For patients with AML, the 5-year survival rate is only about 29%, and about 1 in 4 newly diagnosed patients carry the FLT3-ITD mutation, which is associated with shorter survival and an increased risk of relapse.
An earlier phase 3 study found that quizartinib, given as a single agent, improved survival in patients with relapsed/refractory FLT3-ITD-positive AML compared with standard-of-care chemotherapy. The current QuANTUM-First trial, conducted at 193 sites in 26 countries, was designed to further investigate the drug's efficacy when added to induction therapy and when given over the longer term.
In the double-blind trial, 539 patients (median age, 56 years) with FLT3-ITD-positive AML were enrolled between September 2016 and August 2019. The patients were randomly assigned to receive treatment with quizartinib 40 mg oral tablets once per day on days 8–21 (n = 268) or placebo (n = 271) after initiation of standard induction therapy with anthracycline and cytarabine.
Those achieving complete remission (CR) or CR with incomplete hematologic recovery — 71.6% and 64.9%, respectively — could receive up to four cycles of high-dose cytarabine plus quizartinib 40 mg/day or placebo.
Overall, 157 patients underwent hematopoietic cell transplantation; 31% were treated with quizartinib, and 27% received placebo. Patients then received up to 3 years of continuation therapy with single-agent quizartinib or placebo. At a median follow-up of 39.2 months, 58 patients remained on the therapy.
Patients in the quizartinib group demonstrated significantly better overall survival — 31.9 months vs 15.1 months (hazard ratio [HR], 0.78; P = .032). In addition, among those in the quizartinib arm who underwent hematopoietic cell transplantation, there was a trend toward longer overall survival compared with those in the placebo group (HR, 0.75; P = .055).
Relapse-free survival was also longer in the quizartinib group (HR, 0.73), particularly among patients who achieved remission. Those achieving remission demonstrated a median relapse-free survival of 39.3 months, vs 13.6 months for those taking placebo (HR, 0.61).
Almost all patients in both arms experienced treatment-emergent adverse events. Of note, grade 3 or higher neutropenia was more frequent in the quizartinib arm in comparison with the patients who received placebo (18.1% vs 8.6%), and more patients in the quizartinib arm discontinued treatment because of adverse events (20.4% vs 8.6%).
Overall, 56 treatment-emergent adverse events were associated with a fatal outcome — 11.3% in the quizartinib arm and 9.7% in the placebo group. Most of these were due to infections during the induction period.
Erba said that to help prevent early deaths, the trial's protocol allowed for the use of the granulocyte colony-stimulating factor filgrastim as well as prophylactic antibiotics during chemotherapy. Data regarding those interventions are not yet available.
"In general, I do recommend prophylactic antifungal and antibacterial antibiotics to prevent infection, since survival benefits have been observed with these interventions in prior AML studies," he said.
Given that most relapses of AML, especially among patients with the FLT3-ITD-mutation, occur within 3 years of achieving a remission, Erba and his colleagues recommend continuing FLT3 inhibition with quizartinib for up to 36 cycles or for about 3 years.
"We believe this will be sufficient," Erba said.
Erba has relationships with AbbVie, Agios/Servier,ALX Oncology, Amgen, Ascentage, BMS, Celgene, Daiichi Sankyo, Forma, Forty-Seven/Gilead, Genentech, Glycomimetics, Immunogen, Incyte, Jazz, Kura, Macrogenics, Novartis, PTE, Takeda and Trillium. Almeida had no disclosures to report.
European Hematology Association (EHA) 2022 Annual Meeting: Abstract S100. Presented June 10, 2022.
For more news, follow Medscape on Facebook, Twitter, Instagram, and YouTube.
Credits:
Lead image: iStock/Getty Images
Image 1: Dr Harry Erba
Medscape Medical News © 2022

Cite this: Nancy A. Melville. Quizartinib Doubles Overall Survival in FLT3-ITD-Positive AML - Medscape - Jun 13, 2022.