A Los Angeles County internist will pay nearly $9.5 million to resolve accusations that he submitted false claims to Medicare and California's Medicaid program.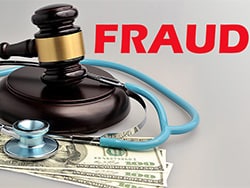 Part of the payment was a settlement in a civil case in which Minas Kochumian, MD, an internist who ran a solo practice in Northridge, California, was accused of submitting claims to Medicare and Medi-Cal for procedures, services, and tests that were never performed. The procedures he falsely billed for included injecting a medication for treating osteoarthritis and osteoporosis, draining tailbone cysts, and removal of various growths.
As part of the settlement, Kochumian admitted that he intentionally submitted false claims with the intent to deceive the United States and the State of California. The damages and penalties were possible under the federal False Claims Act and the California False Claims Act.
According to the Medical Board of California, Kochumian's license is current and set to expire next July.
The allegations against Kochumian were first brought to the attention of authorities in a whistleblower lawsuit filed by Elize Oganesyan, Kochumian's former medical assistant, and Damon Davies, former information technology consultant for the practice. Among her other duties, Oganesyan was responsible for verifying insurance eligibility and obtaining authorization for drugs, procedures, services, and tests.
The medical assistant first realized that something was amiss when a patient brought her a Medicare Explanation of Benefits document that included charges for an injection the practice had not administered, according to court records. Oganesyan then realized the clinic was filing claims for other services that were never provided. She stated in the original complaint that the clinic did not even have the necessary equipment for providing some of these tests — skin allergy tests, for example.
The False Claims Act permits private parties to sue on behalf of the government for false claims for government funds and to receive a share of any recovery. Oganesyan and Davies will receive more than $1.75 million as their share of the recovery. The whistleblowers' claims for attorneys' fees are not resolved by this settlement, according to a statement from the US Attorney's Office, Eastern District of California.
The $9.5 million payment includes $5.4 million owed by Kochumian as criminal restitution following his guilty plea to one count of healthcare fraud in a separate criminal case filed in the Central District of California. In addition to the fine, Kochumian was sentenced to 41 months in prison, according to a statement by California Attorney General Rob Bonta.
"When doctors misuse the state's Medi-Cal funds, they violate their Hippocratic Oath by harming a program which exists to help California's Medi-Cal population, including the elderly, the sick, and the vulnerable," said Bonta. "Dr Kochumian's alleged misconduct violated the trust of the patients in his care, and he selfishly pocketed funds that would otherwise have gone toward critical publicly funded healthcare services."
Avery Hurt is a Birmingham, Alabama-based freelance science writer who writes often about the science and practice of medicine.
Credits:
Images: Dreamstime
Medscape Medical News © 2022 WebMD, LLC

Send news tips to news@medscape.net.
Cite this: California Internist to Pay $9.5 Million in Medicare, Medi-Cal Fraud Scheme - Medscape - Jun 13, 2022.