The pandemic has been hard on physicians' incomes, but last year brought some relief as practices reopened, patients returned to their doctors' offices, and physician incomes ticked back up.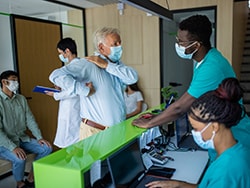 For Medscape's Wealth and Debt Report 2022, more than 13,000 physicians in more than 29 specialties shared details about their compensation, as well as insights into how they save and invest, manage their budgets, and how well they live within their means.
In 2021, average earnings for physicians overall were $339,000. Primary care physicians pulled in $260,000, while specialists averaged $368,000. In addition to earnings, physicians continued to accrue wealth, thanks in part to a rising stock market. About 46% of physicians have a net worth between $1 million and $5 million. Twenty-eight percent stated a net worth of less than $500,000.
The percentage of physicians worth more than $5 million was 11%, up 7% from the 2019 survey. The specialties at the top of the list of those reporting a net worth of more than $5 million can vary from year to year. Still, orthopedics has been in the top five and dermatology in the top 10 since the 2019 report.
The other end of the scale saw changes as well. In last year's report, no specialty had more than 18% of its doctors reporting a net worth under $500,000. This year, 23 specialties did, led by infectious disease, pediatrics, and family medicine.
Wealth Gaps
On average, male doctors earn more than female doctors, and that has an impact on wealth development, as does the relatively low percentage of women in higher-earning specialties. Only 6% of women physicians were in the $5 million and over club, vs 14% of men, whereas 35% of women reported a net worth of less than $500,000, while only 22% of their male counterparts did.
It does not appear that women are chasing the money, however. Within family medicine, women make roughly 16% less per hour than men, according to Sterling Ransone, Jr, MD, president of the American Academy of Family Physicians. "Still, the percentage of female physicians and female residents in family medicine has increased despite the persistent pay gap," he told Medscape Medical News.
The gap in wealth between White and non-White physicians is also concerning. The share of White physicians with a net worth exceeding $1 million dollars (63%) is higher than that of Asian American doctors (57%), Latinix/Hispanic doctors (49%), and Black doctors (38%).
Careful With Money
Most physicians (93%) reported that they live within or below their means. In addition to the basics — sticking to a budget, being judicious about luxuries — one respondent said, "We make a basic decision that it's not important to be fashionable [or] to impress other people." Others go even further. "We do most of our own home maintenance and repairs," said one physician, while others report bringing their lunches to work and keeping their cars for 15 or more years.
More than half of those polled (61%) put the same or more aside this year for savings than they did last year, and only 9% did not regularly put money in a 401(k) retirement account or tax-deferred college savings account.
This doesn't surprise Lauren Podnos, CFP, financial planner with Wealth Care, a firm that specializes in working with physicians and other healthcare professionals. "In my experience, I find that doctors are really good savers," Podnos told Medscape Medical News. "That may be because they spend so long [during training] making so little, they get used to being careful with their money."
Podnos adds that doctors have an additional motivation for building wealth as quickly as possible. Because burnout is so high among physicians, many like to plan their finances to prepare for that possibility.
"When we're working with physicians," she says, "we're really working to get to the point where they have the freedom to do whatever they want — cut back and work part-time for another 10–20 years or transition into another career, just so that if they do burn out, they have other options."
Win Some, Lose Some
Despite their overall good financial habits, many physicians deal with at least some debt. While doctors owe mortgage payments on their homes at about the same rate as other Americans, from 10% to 31% of physicians, depending on specialty, are working to pay off student loans. Medical school debt is very costly. US physicians pay, on average, $356,000 to $440,000 over time for their educations, with $165,00 to $240,000 of that being interest.
"The challenges of student debt aren't unique to the field of medicine," says Ransone. "However, we do know that student-loan debt is a particular challenge for primary care physicians. Research has shown that loan forgiveness or repayment programs directly influence physician practice choice, and we need more medical students to choose primary care."
While most physicians appear to be good at managing their wealth, investments can be tricky. When asked about investments gone wrong, 56% reported an investment that didn't turn out as they hoped.
Often these results were down to bad luck. "I invested in a medical start-up company that got sued for its name," reported one physician. Some losses, though, were just bad calls. "I bought Tesla stock at its inception but sold far too early," said another.
Avery Hurt is a Birmingham, Alabama–based freelance science writer who writes often about the science and practice of medicine.
For more news, follow Medscape on Facebook, Twitter, Instagram, and YouTube.
Credits:
Images: E+/Getty Images
Medscape Medical News © 2022

Cite this: Avery Hurt. Physician Incomes Rebounding From Pandemic: Survey - Medscape - Jun 10, 2022.