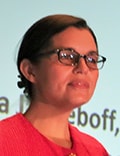 Treatment of people with obesity but no diabetes with the dual incretin agonist tirzepatide safely produced "unprecedented" levels of weight loss in the vast majority of patients in SURMOUNT-1, a placebo-controlled trial with more than 2500 people with obesity or overweight plus at least one weight-related complication.
Although the pivotal trial did not directly compare weekly subcutaneous injection of the twincretin tirzepatide (at 5 mg, 10 mg, or 15 mg) with either bariatric surgery or what has been the reigning champion of weight-loss agents, semaglutide injection 2.4 mg/week (Wegovy), the new findings are impressive, said Ania M. Jastreboff, MD, PhD, lead investigator of SURMOUNT-1, at the American Diabetes Association (ADA) 82nd Scientific Sessions.
First, the highest tested dosage of tirzepatide, 15 mg/week, over 72 weeks, produced a 5% or greater loss in baseline weight in 91%-96% of patients, an effect "not previously seen" in any prior phase 3 trial of a weight-loss agent, noted Jastreboff, an endocrinologist and director of weight management & obesity prevention at the Yale School of Medicine in New Haven, Connecticut.
Second, the average rate of weight loss among the 630 people who received tirzepatide 15 mg/week was 22.5% in the on-treatment analysis and 20.9% in the intention-to-treat analysis, again a magnitude of effect never before seen with any other medical intervention.
And in an exploratory analysis, 40% of people who received the highest-tested tirzepatide dose of 15 mg/week had at least a 25% loss in baseline weight in the on-treatment analysis, another example of unprecedented weight-loss achievement, said Jastreboff.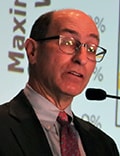 Looking at the data another way, the average baseline weight of those in the trial was 104 kg (230 lb) at the start, and the average weight loss was 35-52 lb by 72 weeks on treatment, Jastreboff told a press conference.
She noted, however, that not everyone will respond to tirzepatide, "but if you do respond to this medicine, you will feel full earlier, you won't want to go back for seconds, and you may eat smaller amounts more often."
Such weight loss agents will need to be taken chronically, similar to medications for hypertension and dyslipidemia, Jastreboff stressed. "If you stop the anti-obesity medication then the body fat mass setpoint will go back up, so this necessitates long-term treatment."
A New Era: Weight Loss "in the Range of Bariatric Surgery"
Tirzepatide, developed by Lilly, has recently been approved in the United States for the treatment of type 2 diabetes under the brand name Mounjaro.
SURMOUNT-1 was designed to examine the effect of the agent in overweight/obesity and the company will be filing for the additional indication of weight loss in the future. Topline results of SURMOUNT-1 generated much excitement when Lilly reported them back in April, including a story in The New York Times.
Semaglutide, a Novo Nordisk drug, is approved in the United States for type 2 diabetes as Ozempic (at doses of 1 mg or 2 mg per week) and for weight loss as Wegovy (at the higher dose of 2.4 mg per week). When Wegovy was given the green light by the FDA a year ago, it too was hailed as a "gamechanger" for obesity.
The weight loss results seen in SURMOUNT-1 "put tirzepatide squarely in the range of weight loss achieved with bariatric surgery," concluded Louis J. Aronne, MD, a trial co-investigator, as well as professor and director of the Center for Weight Management and Metabolic Clinical Research at Weill-Cornell Medicine in New York City
The results are "amazing" and propel the weight-loss field into "a new era of obesity treatment," commented designated discussant Lee M. Kaplan, MD, who was not involved in the study.
Despite the lack of direct comparison, the findings indicate that "tirzepatide causes more weight loss than semaglutide" and provides "an opportunity to meet or exceed" the weight loss effects of bariatric surgery, added Kaplan, who is director of the Obesity, Metabolism and Nutrition Institute at Massachusetts General Hospital in Boston.
Simultaneously with Jastreboff's report at the meeting, the results were published online in The New England Journal of Medicine.
The authors of an accompanying editorial agree with Kaplan. "It is remarkable that the magnitude of weight loss with tirzepatide was similar to that with gastric bypass, which raises the potential for alternative medical approaches to the treatment of obesity," they write.
"The tides are shifting, and there are now more options for people with obesity to lose weight," write Clifford J. Rosen, MD, of Tufts University School of Medicine, Boston, Massachusetts, and Julie R. Ingelfinger, MD, deputy editor at the New England Journal of Medicine.
Dual Incretin Agonism "Enhances Activity," Says Expert
Tirzepatide is the first agent on the US market from a novel class of dual-incretin agonists, with a molecular structure engineered to activate both the glucagon-like protein-1 (GLP-1) receptor and glucose-dependent insulinotropic polypeptide (GIP), the two predominant incretins in the human gut. This combined activity has led to the "twincretin" nickname for tirzepatide.
Semaglutide is a single-incretin agonist, with its activity focused exclusively on the GLP-1 receptor.
Aronne tied the apparently superior efficacy of tirzepatide relative to semaglutide directly to the added incretin activity of tirzepatide. "The dual approach enhances efficacy," he proposed during his presentation at the meeting.
The impressive efficacy and reassuring safety profile reported for SURMOUNT-1 opens the door to a new approach to treating obesity, which in the past has often taken a back seat to treatments for dyslipidemia, hypertension, and diabetes.
"Now that we can treat obesity safely and effectively, it makes sense to treat obesity first," Aronne recommended.
Jastreboff agreed: "Perhaps we can prevent diabetes by treating obesity head-on," she remarked.
Weight Loss Agents Gain US Traction
There have been concerns about patient access to newer weight loss drugs in the United States, given that the retail cost of semaglutide for obesity exceeds $1000 per month, but Aronne reported data that paints a more optimistic picture.
His numbers show that during the first months semaglutide was on the US market as a weight-loss agent, the number of US prescriptions written for branded anti-obesity medications roughly doubled, a spike that seemed mostly driven by the introduction and growing use of semaglutide.
With tirzepatide, every prespecified cardiometabolic parameter assessed in the trial showed clinically meaningful improvements, reported Jastreboff, including an average 17% reduction in waist circumference in patients taking either of the highest two dosages, a 34% average drop in total fat mass, an average 0.5 percentage point cut in baseline A1c at the two highest dosages, substantial cuts in fasting plasma glucose and fasting insulin levels, an average 28% drop in triglyceride levels, and an average systolic blood pressure reduction of about 8 mm Hg that occurred within 24 weeks on treatment.
"I think that insurers will sign up" for tirzepatide coverage based on benefits like these, Aronne predicted.
SURMOUNT-1 randomized 2539 patients with obesity or with overweight plus at least one weight-related complication at any of 119 sites in nine countries. They had a body mass index of 30 kg/m2 or more, or 27 kg/m2 or more and at least one weight-related complication, excluding diabetes. They were randomized in a 1:1:1:1 ratio to receive once-weekly subcutaneous tirzepatide (5 mg, 10 mg, or 15 mg) or placebo for 72 weeks, including a 20-week dose-escalation period.
The two primary endpoints were average percentage change in body weight from study entry to 72 weeks and percentage of participants reaching at least a 5% reduction in baseline body weight by 72 weeks.
The most common adverse events with tirzepatide were gastrointestinal, and most were mild to moderate in severity, occurring primarily during dose escalation. Adverse events led to treatment discontinuation in 4.3%, 7.1%, 6.2%, and 2.6% of participants receiving 5-mg, 10-mg, and 15-mg tirzepatide or placebo, respectively.
The trial ran from December 2019 to April 2022, so during the peak of the COVID-19 pandemic, which Jastreboff described as an "amazing feat."
Jamy Ard, MD, who chaired the SURMOUNT-1 session, quipped after hearing the results: "Wow, that's exciting. If you're not excited by the results, you'd better check your pulse."
Ard is a professor at Wake Forest University School of Medicine and co-director of the Wake Forest Baptist Health Weight Management Center in Winston-Salem, North Carolina.
ADA 2022 Scientific Sessions. Presented on June 4, 2022.
N Engl J Med. Published online June 4, 2022. Full text, Editorial
SURMOUNT-1 was sponsored by Eli Lilly, the company that markets tirzepatide (Mounjaro). Jastreboff has reported being an advisor or consultant for Eli Lilly, as well as Boehringer Ingelheim, Intellihealth, Novo Nordisk, Pfizer, Rhythm Pharmaceuticals, Scholar Rock, and Weight Watchers, and receiving research funding from Eli Lilly and Novo Nordisk. Aronne has reported being a consultant or advisor for, speaker on behalf of, or receiving research funding from Eli Lilly as well as from Altimmune, Amgen, Allurion, Intellihealth, Janssen, Novo Nordisk, Pfizer, and UnitedHealth Group, having ownership interest in ERX, Gelesis, and Intellihealth, and serving on the board of ERX, Jamieson Wellness, and Intellihealth. Kaplan has reported being a consultant for Eli Lilly, as well as to Amgen, Boehringer Ingelheim, Gelesis, Gilead, Novo Nordisk, Optum, Pfizer, Rhythm Pharmaceuticals, the Obesity and Nutrition Institute, and Xeno Biosciences. Ard has reported being a consultant for Eli Lilly, as well as to Nestle Health Sciences and Novo Nordisk, and receiving research funding from Boehringer Ingelheim, Epitomee, Medical, and UnitedHealth Group.
Mitchel L. Zoler is a reporter for Medscape and MDedge based in the Philadelphia area. @mitchelzoler
For more diabetes and endocrinology news, follow us on Twitter and Facebook.
Credits:
Lead image: Dreamstime
Headshots: Mitchel L. Zoler
Medscape Medical News © 2022 WebMD, LLC

Send comments and news tips to news@medscape.net.
Cite this: Tirzepatide Powers 'Unprecedented' Weight Loss in Obesity Trial - Medscape - Jun 04, 2022.