Editor's note: Find the latest COVID-19 news and guidance in Medscape's Coronavirus Resource Center.
NEW ORLEANS – Patients experiencing brain fog and other persistent symptoms of long COVID show significant deficits on neuropsychiatric testing that correspond with prior acute COVID-19 infection, adding to mounting evidence of the significant toll the chronic condition can have on mental health.

"Many clinicians have observed the symptoms we describe in this study, however this report is among the first which identify the specific deficits using neuropsychological testing to better characterize the syndrome," Sean T. Lynch, MD, first author of a study on the issue presented at the annual meeting of the American Psychiatric Association, said in an interview.
Lynch, of the department of psychiatry, Westchester Medical Center Health System, Valhalla, N.Y., and his colleagues enrolled 60 participants who had experienced acute COVID-19 disease 6-8 months earlier and had undergone neuropsychological, psychiatric, medical, functional, and quality-of-life assessments. Results from the study were published online in the Journal of the Academy of Consultation–Liaison Psychiatry (2022 Jan 25. doi: 10.1016/j.jaclp.2022.01.003).
Among the study participants, 32 were seeking treatment for brain fog in a clinical program for survivors of COVID-19, while the remaining 28 were part of an ongoing longitudinal investigation of neuropsychological, medical, and psychiatric sequelae of COVID-19, but were not seeking care for the persistent symptoms.
Assessments for neurocognitive impairment included a battery of tests used in infectious and other diseases, including the Test of Premorbid Function, the Patient Assessment of Own Function, the Trail Making Test parts A and B, the Stroop Color and Word Test, and others.
Overall, the battery of assessments showed that 37 (62%) of participants had neuropsychological test impairment, with results below the 16th percentile in two tests, while 16 (27%) showed scores indicative of severe impairment (below the second percentile in at least one test and below the 16th percentile in one test).
Those reporting brain fog had scores that were even lower than expected on tests of attention, processing speed, memory, and executive function. And among those reporting brain fog, significantly more had scores reflecting severe impairment compared with the controls (38% vs. 14%; P < .04).
"Based on what we've observed in our patients and what others have previously reported, we did expect to find some impairment in this study sample," Lynch noted.
"However, we were surprised to find that 27% of the study sample had extremely low neuropsychological test scores, meaning that they scored at least two standard deviations below the expected score on at least one neuropsychological test based on their age and level of education."
The brain fog group also reported significantly higher levels of depression, fatigue, PTSD, and functional difficulties, and lower quality of life.
Severe impairment on the neuropsychological tests correlated with the extent of acute COVID-19 symptoms, as well as depression scores, number of medical comorbidities, and subjective cognitive complaints.
An analysis of serum levels of the inflammatory markers among 50 of the 60 participants showed that 45% of the patients had an elevated IL-6, 20% had elevated TNF-alpha, and 41% had elevated CRP, compared with reference ranges.
IL-6 levels were found to correlate with acute COVID-19 symptoms, the number of medical comorbidities, fatigue, and measures of executive function, while C-reactive protein (CRP) correlated with current COVID-19 symptoms and depression scores.
In terms of clinical factors that might predict low neuropsychological test scores, Lynch noted that the "markers that we found to be significant included severity of acute COVID-19 illness, current post-COVID-19 symptoms, measures of depression and anxiety, level of fatigue, and number of medical comorbidities."
Lynch noted that the ongoing study will include up to 18-month follow-ups that are currently underway. "The [follow-ups] will examine if symptoms improve over time and evaluate if any intervention that took place was successful," he said.
Survey Supports Findings
The detrimental effects of mental health symptoms in long COVID were further supported in another study at the APA meeting, an online survey of 787 survivors of acute COVID-19.
In the community survey, presented by Michael Van Ameringen, MD, a professor in the department of psychiatry and behavioral neurosciences at McMaster University, in Hamilton, Ont., all respondents (100%) reported having persistent symptoms of the virus, and as many as 68% indicated that they had not returned to normal functioning, despite only 15% of the respondents having been hospitalized with COVID-19.
A large proportion showed significant depression, anxiety, and posttraumatic stress disorder (PTSD), and the most commonly reported persistent symptoms were fatigue in 75.9% of respondents, brain fog in 67.9%, concentration difficulties in 61.1%, and weakness in 51.2%.
As many as 88.2% of patients said they experienced persistent neurocognitive symptoms, with poor memory and concentration; 56% reported problems with word finding; and 54.1% had slowed thinking.
The respondents showed high rates of anxiety (41.7%) as well as depression (61.4%) as determined by scores above 9 on the Generalized Anxiety Disorder–7 (GAD-7) and Patient Health Questionnaires (PHQ-9).
As many as 40.5% of respondents showed probable PTSD, with scores above 30 on the PTSD checklist (PCL-5). Their mean resilience score on the Brief Resilient Coping Scale was 13.5, suggesting low resilience.
Among the respondents, 43.3% said they had received past treatment for mental health, while 33.5% were currently receiving mental health treatment.
Ameringen noted the important limitation of the study being an online survey with no control group, but said the responses nevertheless raise the question of the role of prior psychiatric disorders in long COVID.
"In our sample, 40% of respondents had a past psychiatric history, so you wonder if that also makes you vulnerable to long COVID," he said in an interview.
"About a third were getting psychiatric help, but I think the more impaired you are, the more likely you are to seek help."
Those who were hospitalized with COVID-19 were at a higher risk of PTSD compared with those not hospitalized (P < .001), as were those under the age of 30 (P < .05) or between 31 and 50 vs. over 50 (P < .01).
Ameringen noted that the survey's high rate of subjects who had not returned to normal functioning was especially striking.
"This is not a minor issue – these are people who are no longer functioning in society," he said.
In Pandemics, the Brain Tends to Be "Overlooked"
Further addressing the neurological effects of COVID-19 at the APA meeting, Avindra Nath, MD, clinical director of the National Institutes of Neurologic Disorders and Stroke in Bethesda, Md., noted that the persisting cognitive and psychiatric symptoms after illness, such as brain fog and depression and anxiety, are not necessarily unique to COVID-19.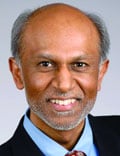 "We have seen this before," he said. "There have been at least seven or eight human coronaviruses, and the interesting thing is each one affects the brain and causes neurological complications."
The effects are classified differently and have slightly different receptors, "but the consequences are the same."
Of note, however, research published in The Lancet Psychiatry (2021 May. doi: 10.1016/S2215-0366[21]00084-5) revealed that symptoms such as dementia, mood, and anxiety are significantly higher after COVID-19 compared with other respiratory infections, with the differences increasing at 180 days since the index event.
Nath noted that, over the decades, he has observed that in pandemics "the brain tends to get overlooked." He explained that "what can be most important in the end is what happened in the brain, because those are the things that really cause the long-term consequences."
"These patients are depressed; they have dementia, they have brain fog, and even now that we recognize these issues, we haven't done a very good job of studying them," he said. "There's so much we still don't know, and a lot of patients are left with these symptoms and nowhere to go."
Lynch, Ameringen, and Nath had no disclosures to report.
This article originally appeared on MDedge.com, part of the Medscape Professional Network.
Credits:
Lead image: Medscape Illustration/Dreamstime
Image 1: New York Medical College
Image 2: Avindra Nath
Medscape Medical News © 2022 WebMD, LLC

Cite this: Long COVID Neuropsychiatric Deficits Greater Than Expected - Medscape - May 31, 2022.