Sparring among professional mixed martial arts (MMA) practitioners may have both positive and negative effects on the brain, early research suggests.
Investigators found sparring, defined as strategically hitting opponents with kicks, punches, and other strikes during practice sessions, is linked to increased white matter hyperintensities in the brain, pointing to possible vascular damage from repeated head trauma. However, the study results also show sparring was associated with a larger bilateral caudate which, in theory, is neuroprotective.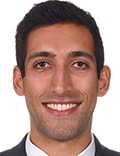 "From our preliminary study, sparring practice in MMA fighters may have a 'double-edged sword' effect on the brain," study investigator Aaron Esagoff, a second-year medical student at Johns Hopkins University School of Medicine, Baltimore, Maryland, told Medscape Medical News.
"The combination of complex movements along with constant strategy and anticipation of your opponent's next move may provide a neuroprotective effect on the caudate," Esagoff said. However, he added, more research is needed into understanding this particular finding.
The study results were presented at the American Psychiatric Association (APA) 2022 Annual Meeting.
Growing Popularity
MMA is a full-contact combat sport that has become increasingly popular over the past 15 years. It combines techniques from boxing, wrestling, karate, judo, and jujitsu.
To prepare for fights, MMA practitioners incorporate sparring and grappling, which use techniques such as chokes and locks to submit an opponent. Head protection is sometimes incorporated during practice, but is not the norm during a fight, said Esagoff.
The study investigated sparring during practice rather than fights because, he said, MMA competitors only fight a few times a year but spend hundreds of hours training. "So the health effects of training are going to be really important," he said.
As with other combat sports, MMA involves hits to the head. Previous research has shown repetitive head trauma can lead to neurodegenerative diseases including chronic traumatic encephalopathy (CTE) and Alzheimer's disease, Esagoff noted.
Previous studies have also linked more professional fights and years of fighting to a decrease in brain volume among MMA fighters, he added.
The new analysis was conducted as part of the Professional Fighters Brain Health Study, a longitudinal cohort study of MMA professional fighters. It included 92 fighters with data available on MRI and habits regarding practicing. The mean age of the participants was 30 years, 62% were White, and 85% were men.
The study examined sparring but did not include grappling because of "several challenges" with the current data analysis, Esagoff said. Researchers adjusted for age, sex, education, race, number of fights, total intracranial volume, and type of MRI scanner used.
A "Highly Strategic" Sport
Results showed a strong association between the number of sparring rounds per week and increased white matter hyperintensity volume (μL) on MRI (P = .039).
This suggests white matter damage, possibly a result of direct neuronal injury, vascular damage, or immune modulation, said Esagoff. However, another mechanism may be involved, he added.
There was also a significant association between sparring and increased size of the caudate nucleus, an area of the brain involved in movement, learning, and memory (P = .014 for right caudate volume, P = .012 for left caudate volume).
There are some theories that might explain this finding, said Esagoff. For example, individuals who spar more may get better at avoiding impacts and injuries during a fight, which might in turn affect the size of the caudate.
The controlled movements and techniques used during sparring could also affect the caudate. "Some research has shown that behavior, learning, and/or exercise may increase the size of certain brain regions," Esagoff said.
He noted the "highly strategic" nature of combat sports — and used the example of Brazilian jiu-jitsu. That sport "is known as human chess because it takes a thoughtful approach to defeat a larger opponent with base, leverage, and technique," he said.
However, Esagoff stressed that while it is possible movements involved in MMA increase caudate size, this is just a theory at this point.
A study limitation was that fighters volunteered to participate and may not represent all fighters. As well, the study was cross-sectional and looked at only one point in time, so it cannot infer causation.
Overall, the new findings should help inform fighters, governing bodies, and the public about the potential risks and benefits of different styles of MMA fighting and practice, although more research is needed, said Esagoff.
He and his team now plan to conduct a longer-term study and investigate effects of grappling on brain structure and function in addition to sparring.
Jury Still Out
Commenting on the study, Howard Liu, MD, chair of the University of Nebraska Medical Center Department of Psychiatry and incoming chair of the APA's Council on Communications, said the jury "is clearly still out" when it comes to the investigation of brain impacts.
"We don't know quite what these changes fully correlate to," said Liu, who moderated a press briefing highlighting the study.
He underlined the importance of protecting athletes vulnerable to head trauma, be they professionals or those involved at the youth sports level.
Liu also noted the "extreme popularity" and rapid growth of MMA around the world, which he said provides an opportunity for researchers to study these professional fighters.
"This is a unique population that signed up in the midst of hundreds of hours of sparring to advance neuroscience, and that's quite amazing," he said.
American Psychiatric Association (APA) 2022 Annual Meeting: Abstract 5548. Presented May 21, 2022.
For more Medscape Psychiatry news, join us on Facebook and Twitter
Credits:
Lead image: Digital Vision / Getty Images
Image1: Johns Hopkins
Medscape Medical News © 2022 WebMD, LLC

Send news tips to news@medscape.net.
Cite this: Counterintuitive Effect of Sparring on the Brains of Mixed Martial Arts Fighters - Medscape - May 26, 2022.