A Kentucky pediatrician accused of hiring a hit man to kill her ex-husband — and type a fake suicide text on his cell phone to disguise the plot — initially hatched the scheme 4 years ago during a custody dispute, according to court documents.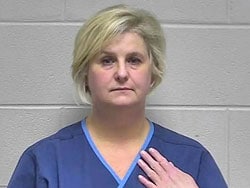 On May 19, agents with the Federal Bureau of Investigation arrested Stephanie Russell, MD, on a charge of using interstate commerce facilities in the commission of murder-for-hire, which carries a maximum 10-year sentence in federal prison.
Russell, who prosecutors said is 52, vehemently denied the plot when it was first relayed to investigators in 2020. She also dismissed suspicion from a court-appointed guardian at the time that the doctor harmed her own son, then 2, in a way "to make it appear" as if his father had hurt the child.
According to an FBI agent's affidavit, Russell tried to recruit a killer through employees and ex-employees of Kidz Life Pediatrics, in Prospect, an upscale suburb of Louisville, Kentucky. She allegedly planned to time the murder during a 2-hour visitation period with her two children on the last day of the school year.
Magistrate Judge Regina Edwards, of the US District Court for the Western District of Kentucky, on Tuesday ordered Russell to remain in custody. A future date for the next hearing has not been set.
'No Red Flags'
The case has upended the Norton Commons development in Prospect, one of Kentucky's wealthiest communities.
"There were no red flags," said Lance Dooley, whose two daughters had been under Russell's care at Kidz Life. "This neighborhood was like, 'What the hell?' Everybody went to her and trusted and respected her judgment."
According to prosecutors, on May 15 — after having failed to have her ex-husband murdered during the holidays — Russell contacted a person she thought she had hired to murder her ex-husband in exchange for $7000.
On May 18, Russell placed a $3500 down payment in a specimen drop box outside her medical office. She agreed to pay the remaining half after the murder was done, according to prosecutors. The purported hit man was an undercover FBI agent.
While making plans, Russell used several burner phones and used the word "flowers" as a code word for killing her ex-husband, Ricky Crabtree, whom she had accused of sexually abusing their children. Crabtree, a financial planner, did not return phone messages left at his office.
Family Court Judge Denise Brown had earlier appointed a guardian to represent the children and an evaluator to monitor the couple's custodial issues.
Russell sued the judge, saying Brown acted because of allegations that Russell was "coaching" her children and inflicting "emotional harm." Russell also objected to what she called "a vague suggestion" that previously she "'may' have injured the older male child in a way to make it appear that Crabtree had done so."
"There wasn't any proof of it," said David Mour, an attorney who represented Russell in that action. The state gave custody to the father in what Mour called a "Star Chamber" action based on unsubstantiated allegations. "I don't believe a damned thing," he said.
In her suit against Brown, which was dismissed in 2021, Russell criticized as "preposterous" allegations that, in May 2018, she "'attempted to hire' a 'hit man' to kill Crabtree."
The FBI affidavit, however, displayed numerous text messages between Russell and a former nurse who she thought knew a hit man, and an FBI agent posing as the purported killer. When one witness initially agreed to find an assassin who would do the job over the 2021 holiday season, Russell texted, "I am hysterically crying tears of relief."
The witness quit Kidz Life Pediatrics and ended contact with Russell when they realized Russell was "serious" about the plot, the affidavit stated. And when Russell found a willing contractor in May, she told the hit man to write a suicide text. The killer would have to unlock Crabtree's cell phone by having the device recognize the face of his dead body.
Dooley said Kidz Life Pediatrics was closed during business hours when he tried to retrieve his children's medical records. He has since found another pediatrician. Russell had cared for his children for more than 4 years, he said, betraying no clue of any darkness underneath. Kidz Life Pediatrics did not return phone calls seeking comment.
"It's very close to home," said Dooley, who runs an advertising agency with his wife. "Dr. Russell was really good."
John Dillon is a journalist in Boston, Massachusetts.
For more news, follow Medscape on Facebook, Twitter, Instagram, and YouTube.
Credits:
Images: Oldham County Detention Center
Medscape Medical News © 2022

Cite this: $7000 for 'Flowers': KY Doc Accused in Murder Plot Against Ex - Medscape - May 24, 2022.