Children who have first-degree relatives with celiac disease (CD) may be at higher risk of developing CD before age 10 than previously thought, according to results of an analysis of 10-year follow-up data. This analysis also yielded a web-based prediction model to help with screening for CD in children.
Screening is recommended for children who have a first-degree relative with celiac disease (CD) because they have a much higher risk for CD, but it has been unclear when to screen such children and how frequently. The researchers, led by Caroline Meijer, MD, in the department of pediatrics and medical statistics at Leiden (the Netherlands) University Medical Center, wrote in Gastroenterology that a prediction model they developed can help parents and providers with those questions.
The researchers analyzed prospective data from 10 years of follow-up from the PreventCD birth cohort with 944 children genetically predisposed to celiac disease with at least one first-degree relative affected. The children were enrolled at birth between 2007 and 2010 in Croatia, Germany, Hungary, Israel, Italy, the Netherlands, Poland, and Spain.
"The data of the follow-up of the PreventCD cohort at the mean age of 10 years offers a unique opportunity to study the natural development of CD in children from high risk families," the authors wrote.
Children were assessed regularly from birth for CD development at specific intervals, including seven times during the first 3 years of age and once a year after that or at least once between March 2016 and March 2019.
The researchers monitored parent-reported health status, recorded weight and height and gluten consumption and serum IgA against anti-transglutaminase. They found that risk for CD differs by gender, age, and human leukocyte antigen (HLA-DQ) genes. Variables that significantly affected the risk were combined to develop a risk score.
The noted that CD affects as many as 1%-3% of the general population. Until recently, the lifetime risk of CD when a child has a first-degree CD connection was considered to be 5%-10%, with one review indicating a pooled prevalence of 7.5%. However, the investigators found that the cumulative incidence of CD was 7.5%, 16.6%, and 17.5% at 3, 8, and 10 years of age, respectively.
"Our data show that, at the age of 8 years, this is as high as 17%, emphasizing the importance of a sound advice for early screening," Meijer and coauthors wrote. "We also confirm that CD develops in children with affected FDR at a very young age, as the mean age of diagnosis in our cohort was 4 years of age."
They found that CD developed more often in girls (P = .0005). Data show that, at the age of 10 years, girls in the cohort have a 7.7% higher cumulative incidence compared to boys (21.5% vs 13.8%). CD also developed more often in HLA-DQ2 homozygous participants than in other HLA-risk groups (8-year cumulative incidence of 35.4% vs. the maximum of the other groups of 18.2%; P < .001).
Benjamin Lebwohl, MD, MS, said the study provides data that can help parents of a child with a family history of celiac disease.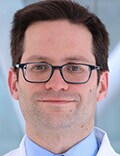 "The results of the study include an estimate of celiac disease risk over time, based on the child's age, number of affected relatives, and genetic test results. Using this information, the web-based prediction model provides advice on how often to test the child for celiac disease, based on the child's risk of developing the condition in the years ahead," said Lebwohl, director of clinical research at the Celiac Disease Center at Columbia University Medical Center, New York, said in an interview.
"Overall," he said, "the study advances our understanding of the natural history of celiac disease among children with a family history and gives clinicians and families practical advice on when to test."
Validation of the prediction model was done with data from the independent NeoCel cohort. In that cohort, all children were assessed regularly from birth for CD development at predefined intervals, in a similar way as in the PreventCD cohort.
The investigators concluded that children should be screened early in life and that screening should include HLA-DQ2/8-typing. If children are genetically predisposed to CD, they should get further personalized screening advice using the web-based prediction "app" developed by the investigators.
"If the prediction for CD development [according to the app] is higher than 10% in the next 2 years, we advise to repeat the screening after 6 months. If the prediction is between 5%-10%, the advice is to repeat the screening after 1 year and if the prediction is lower than 5%, to repeat the screening after 2 years."
The study authors reported no relevant financial relationships. The work is supported by funding from the European Commission; the Azrieli Foundation; Deutsche Zöliakie Gesellschaft; Eurospital; Fondazione Celiachia; Fria Bröd Sweden; Instituto de Salud Carlos III; Spanish Society for Pediatric Gastroenterology, Hepatology, and Nutrition; Komitet Badań Naukowych; Fundacja Nutricia; Hungarian Scientific Research Funds; and TAMOP; Stichting Coeliakie Onderzoek Nederland; Thermo Fisher Scientific; and the European Society for Pediatric Gastroenterology, Hepatology, and Nutrition. Lebwohl reported having no relevant disclosures.
This article originally appeared on MDedge.com, part of the Medscape Professional Network.
Credits:
Lead image: iStock/Getty Images
Image 1: Dr Benajmin Lebwohl
Medscape Medical News © 2022 WebMD, LLC

Cite this: More First-degree Relatives Develop Celiac Disease Than Expected - Medscape - May 24, 2022.